First Selectwoman Nestor Recaps Year One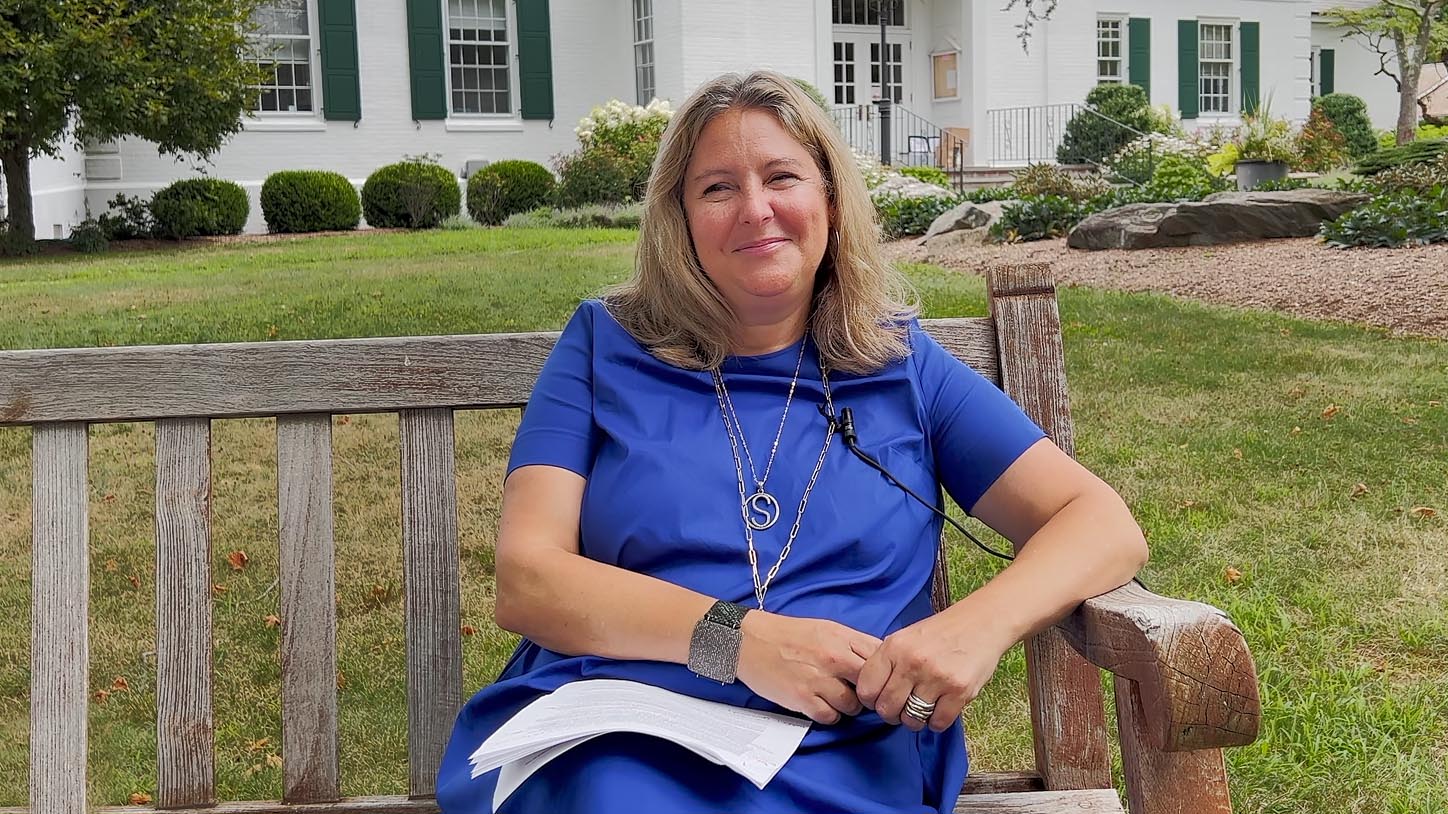 Marking her anniversary of taking office, First Selectwoman Samantha Nestor sat with us at the Town Hall gazebo to recap her first year as the town's chief executive and provide something akin to an informal "state of the town."
She also agreed to a "lightning round" summary of where the ARPA projects stand, the 20 items funded by the $3 million allocated to Weston by the American Rescue Plan Act. Voters approved the projects only a few weeks ago, but already there is action.
Challenges
In the video interview, Ms. Nestor said she faced two immediate challenges upon taking office: the "contraction" caused by the arrival of the Delta Covid-19 variant at a time when vaccines were still not available for all age groups, and an accelerated time frame following the resignation, for health reasons, of First Selectman Chris Spaulding. Replacing her friend and mentor, she said, "broke my heart a little bit."
She praised colleague Selectman Stephan Grozinger, Lt. Governor Susan Bysiewicz, Town Administrator Jonathan Luiz, and her counterparts in neighboring towns for helping ease the transition.
Results
Ms. Nestor said she is proud of her efforts to rebuild a sense of community after a period, during the early days of the pandemic, when there was "little engagement" other than on social media. Now, she said, "we have brought back beloved events" like Memorial Day Weekend and added new ones.
She said her efforts to prioritize infrastructure have borne fruit: over $14 million in state and federal funds, much of it already in use to renovate four bridges, the recent beginning of the sidewalks project, where Phase 1 is underway and phases two and three are in the design process.
Ms. Nestor said roads are "the most important component" of infrastructure, that the Town started paving work early this year, has dramatically increased funding, and that millions of dollars have been secured from the state to rehabilitate Valley Forge Road and Lyons Plain Road.
Biggest surprise?
PFAS. The First Selectwoman said she never expected to find "on my bingo card" the presence of forever chemicals in the water system operated by the Town.
Ms. Nestor said she is proud of the immediate action taken to remediate PFAS and praised school district officials, the Aspetuck Health District, and the state's Department of Public Health and Department of Energy and Environmental Protection (DEEP) for their cooperation.
She added that a filtration system has been installed, PFAS no longer exist in the water system at detectable levels, and that the system will be ready for the new school year.
The ARPA lightning round
We asked the First Selectwoman for rapid-response status reports on the 20 ARPA projects approved by voters. That brief segment of the interview begins 12 minutes and 49 seconds into the video.
Some of the projects will take time, but a good number are well underway.
Related Stories: 2021
August 2, 2021: Samantha Nestor Takes Office
July 29, 2021: First Selectman Spaulding Makes it Official
Related Stories: 2022
March 16, 2022: "Forever Chemicals" Found in Town, School District Water
March 30, 2022: Public Briefed on PFAS
May 12, 2022: Voters to Decide Use of Federal Funds
May 18, 2022: Paving Plans Set With More Funds Committed
June 2, 2022: Revised ARPA Plan Set for Town Vote
June 16, 2022: Town Votes Saturday on $3 Million ARPA Plan
June 18, 2022: Voters Approve ARPA Plan
June 29, 2022: PFAS Remediation Plans Approved