On Thursday morning, a much-needed transport van was delivered to Siversk, Ukraine, thanks to ongoing Weston fundraising efforts, and more than 500 children will soon have an opportunity to heal emotionally and reconnect with teachers and fellow students.
The vehicle will be used immediately to deliver food and bread to the 1,200 or so citizens who remain in Siversk and surrounding villages.
First Selectwoman Samantha Nestor was able to see the vehicle's arrival in an early morning virtual call on Thursday. The day before, she had met virtually with Alexei Vorobyov, effectively Siversk's mayor, who asked if Weston could also help fund a program to provide a measure of relief for children.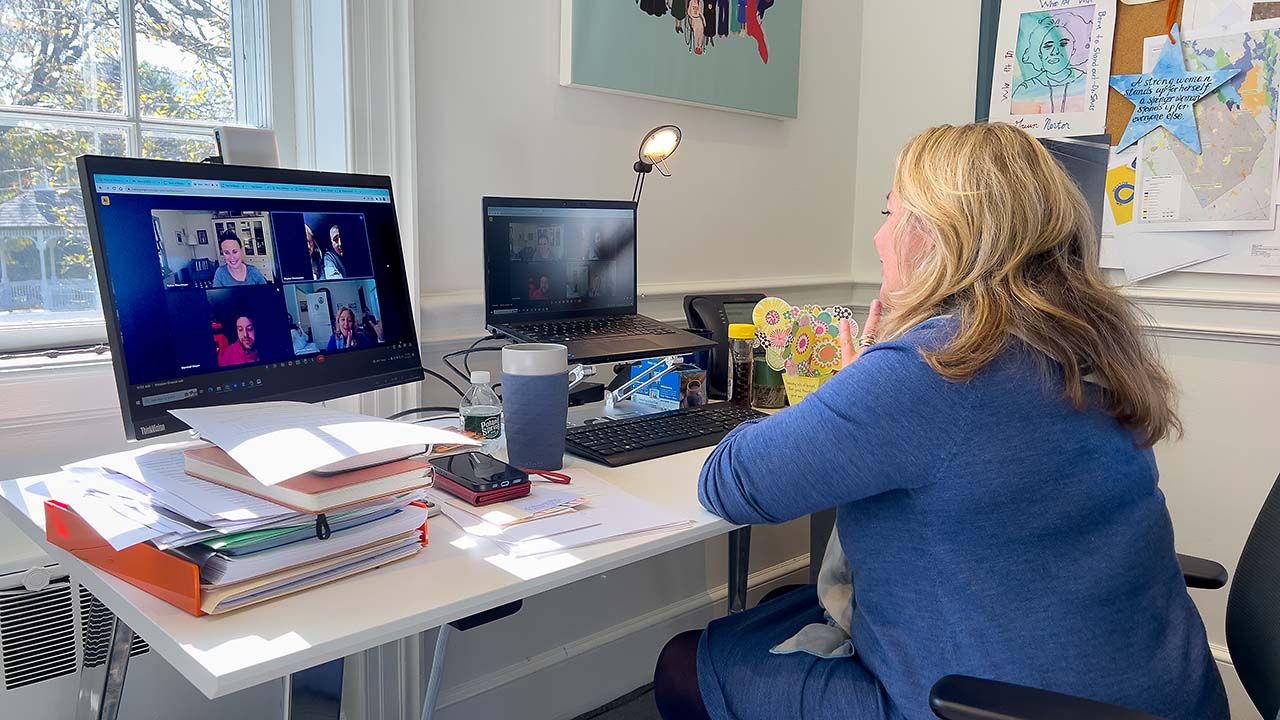 Weston Today
Months ago, the children of Siversk were dispersed to various parts of the country. They are educated remotely. Mr. Vorobyov is working with Ukraine Aid International, which created the Sister City Partnership program, to organize sessions of a two-week camp in the mountains for 505 students, a chance to "get kids away from war" for a while.
Less than 24 hours later, the first camp was funded by a donation from the Pesco family.
"Anything that involves kids speaks to me," said Tony Pesco, the former chair of Weston's Board of Education. "Children in Ukraine are suffering, and need our help. And now, children in the Middle East are suffering. We have to find ways to help them too."
Initial plans for the children's retreat include study, hiking, hot springs, and skiing. "The social and emotional connections and the healing are the most important part," said Ms. Nestor. "We don't want these kids to lose the thread that binds them together. I hope we can make more programs like this happen in the future."
So, the initiative to raise funds and provide life-saving support continues, and likely will need to for some time as the war grinds on. Ms. Nestor said some funds will accumulate to fill larger and more costly needs. The plan is to have some flow on a regular basis to Siversk for essential services.
As an example of the latter, since Siversk no longer has a hospital, basic medical and dental services are provided in clinics. Health professionals who treat patients are paid a stipend. But Mr. Vorobyov's administration has extremely limited funds. Money for services of this kind can be an invaluable contribution. Mr. Vorobyov says citizens of Siversk are well aware of Weston's support, and are deeply grateful.
Related Stories:
September 28, 2023: An Urgent Plea From Siversk
July 28, 2023: First Weston Aid to Siversk Set for Delivery
June 30, 2023: Weston and Siversk: Partnership, Friendship
June 26, 2023: Siversk Partnership to Launch
May 17, 2023: Weston, Siversk in Sister City Partnership