Upper right, Mayor Alexei Vorobyov and translator. Weston Today
Weston now has friends in the city of Siversk, Ukraine, and Siversk has friends in Weston.
In a thirty-minute virtual session on May 12, First Selectwoman Samantha Nestor met with Siversk Mayor Alexei Vorobyov, a connection arranged by Ukraine Aid International, whose Sister City Partnership program connects war torn cities in Ukraine with American municipalities willing and able to provide help.
Ms. Nestor is forming a committee to organize fundraising efforts to support Siversk. Iryna Akolzina, long active in Weston efforts to provide aid to Ukraine, will serve as chair. Ms. Akolzina recently signed on with the Connecticut Institute for Refugees and Immigrants as a case manager for Ukrainian refugees.
"We want to move quickly," said the First Selectwoman, who asks those in the community interested in joining the effort to be in touch.
About Siversk
Siversk is located in the Donetsk Province of eastern Ukraine, the first part of the country laid waste by the Russian invasion. The city was, said Mayor Vorobyov, "flattened." Russia occupied Siversk in July of last year, but was pushed out by the Ukrainian military in September. A Voice of America video of the destruction can be seen below.
The city is less than four miles from the battlefront, and still suffers artillery attacks, one of which was launched while Mr. Vorobyov was online with Ms. Nestor.
The mayor said Siversk had a population of 9,500 at the beginning of the war. There are now 1,400 living in the city, and about the same number among five surrounding villages.
Mr. Vorobyov said the city had mainly been an agricultural center but also was home to mining operations. He said the beautiful scenery of Siversk made it a tourist attraction, that residents are highly focused on preserving nature, and that it is a family-friendly town.
"I can understand why we are sister cities," said Ms. Nestor, describing Weston's open space, woods, parks, hiking trails, and history. "As a town, we are about education and children. We are a caring community. Volunteerism is an important part of our town. We all come together."
Children, meeting needs
There are virtually no children in Siversk. Only one school is still standing. The rest were obliterated by bombs.
Mr. Vorobyov said he made evacuating children his top priority upon taking office last June. About 150 children went to a kids camp in the mountains. Romania agreed to take 60 children each month and provide them with free housing and education. 20 children, including the mayor's son, will soon come to the United States.
Residents of Siversk have been without lights, gas, and electricity for over a year. Ms. Nestor asked the mayor how he is keeping up morale.
Mr. Vorobyov said the basic needs of food and hygiene are being met, and praised the Red Cross and the United Nations. He said the approach to maintaining morale was to ensure consistency and provide a structure people can rely on. Food and water are delivered on a regular basis, and Siversk is one of the few cities in the region that has kept up paying pensions.
The mayor said the provincial governor had generators installed in every home and provides money for fuel. He expressed gratitude to President Volodymyr Zelensky, the regional government, and the United States.
At the moment, a major challenge is trash.
The needs
The city's garbage trucks were all destroyed by bombs or taken away when Siversk was occupied. Trash has been piling up on the streets for months, and now with warm weather there is a pervasive stench.
So Mayor Vorobyov asked Ms. Nestor — and the people of Weston — for help with funds to buy a garbage truck. Ukraine Aid International says they can purchase one in Germany for about $20,000 and transport it to Siversk. (The people of Easton recently purchased one for Sviatohirsk, their town's sister city.)
To evacuate civilians during artillery strikes, Siversk needs two armored vehicles, which UAI says can be purchased for about $25,000 each.
To provide another basic need for citizens, Siversk opened a public laundry. Three washing machines are needed, at a cost of about $1,000 each. UAI says these can be purchased within Ukraine, and prefers to buy from and support the country's businesses.
The city also needs to provide clean water to residents. The hope is that two water filtration systems can be purchased within Ukraine. They cost about $15,000 each.
Heart
At the end of their conversation, Mr. Vorobyov invited Ms. Nestor to visit Siversk when circumstances permit. She said she would bring her children. He asked that she also bring her dogs. (Earlier, they had discovered a mutual love of dogs.)
The two pledged to stay in close contact. "Weston is honored to help," said Ms. Nestor.
Mr. Vorobyov said, "Even if a piece of the American heart comes into Siversk, it will make the Siversk heart much bigger."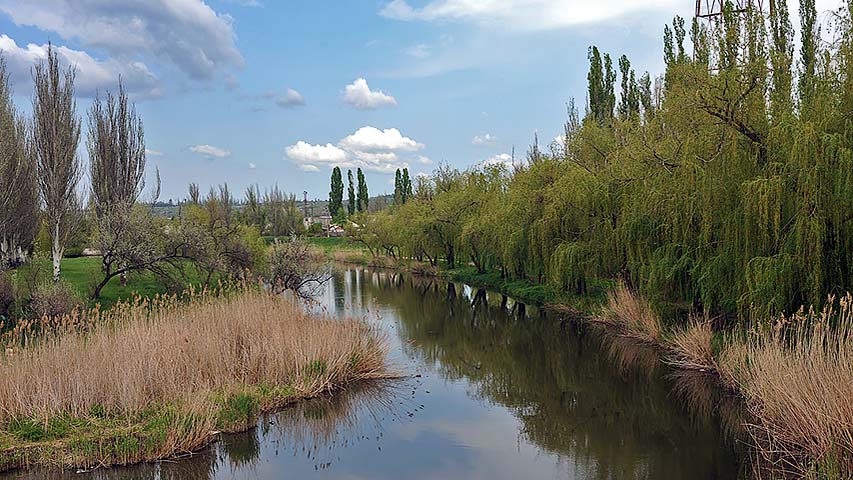 The Bakhmutka River approaching Siversk, 2009. (Credit 1 below)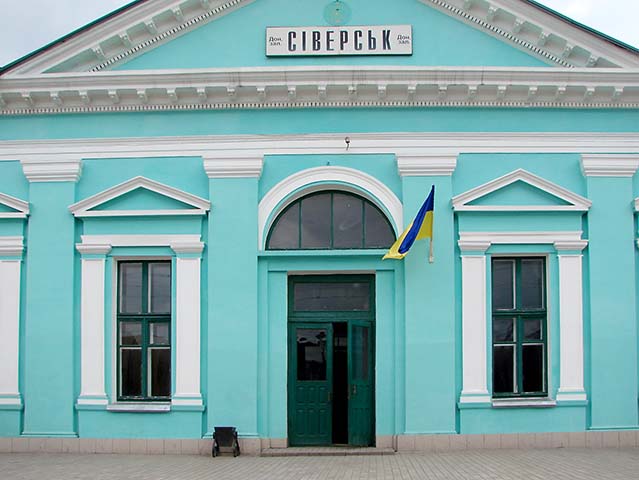 Siversk railway station, 2007. (Credit 2 below)
Destruction in Siversk, 2022. (Voice of America video)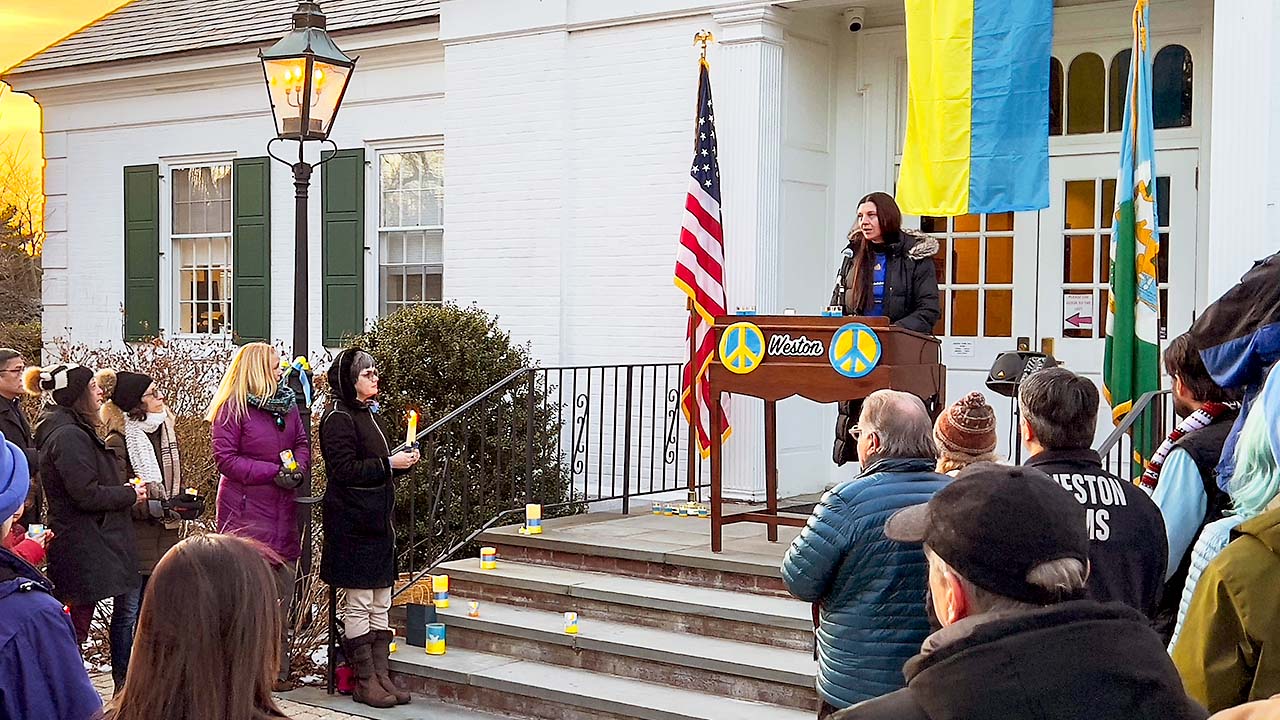 Ms. Akolzina at Weston's Ukraine rally, 2022. (Weston Today)