A former technical school in Siversk. Yan Boechat/VOA
"Our gratitude for your support and solidarity knows no bounds," said Mayor Alexei Vorobyov of Siversk, Ukraine in a letter to First Selectwoman Samantha Nestor on September 21.
His letter contained an urgent request for assistance that illustrates in stark terms conditions in his city.
Siversk desperately needs rat poison and boots.
"Siversk is currently facing a significant humanitarian challenge that requires immediate attention," wrote Mr. Vorobyov.
"Our city has been plagued by a severe infestation of rats in the basements where our civilians reside and store their food supplies. The gravity of this situation cannot be overstated, as it poses a serious threat to the health and well-being of our citizens."
Mr. Vorobyov calculated that ten buckets are needed, costing about $300, "to address the infestation in all 24 basements across Siversk effectively." As we understand it, that request is being filled.
An "equally urgent situation," said the mayor, is a need for 1,400 pair of rubber boots.
"Siversk has been left with unpaved roads, which with the rapid changes in weather conditions, have turned into dirt paths and swamps."
The lack of proper footwear on "challenging terrains," said the mayor, exposes citizens "to various health risks and diseases." He added that the boots "would significantly enhance the quality of life and health of our residents."
Weston efforts to come to the aid of Siversk are the work not of Town government, but of volunteers, who have made steady progress raising funds. More is obviously needed, and more quickly.
Donations directly to Siversk through Ukraine Aid International can be made here. And there is another, perhaps smaller way, below.
Conditions in Siversk are dire and dangerous.
Imagine that a hostile foreign military has occupied Westport. And every day, from that short a distance, it rains down artillery shells on Weston, almost all of which is already destroyed. For the roughly ten percent of the population that remains, there has been no heat, no electricity, and no water supply for a year and a half.
That is how close the Russian army is to Siversk, and that is the pain it inflicts on Siversk every day.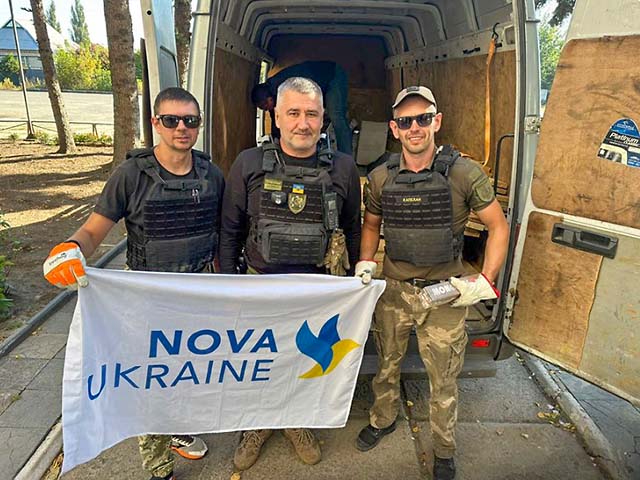 Mr. Vorobyov, center
"I cannot stress enough the urgency of these needs," wrote Mr. Vorobyov. "Siversk looks to its sister city, Weston, with hope and humility … any assistance you can provide would be a tremendous relief to the people of Siversk during these trying times."
Ms. Nestor and Mr. Vorobyov have not been in direct contact for several weeks. Apparently, it has not been possible. As we understand it, he is essentially unable to leave his bunker.
In the meantime, hopes to supply Siversk with equipment to make life a bit more livable appear to be on hold, out of concern that anything of value would simply be stolen by the Russians. So the immediate request is more basic: rat poison and boots.
"Hearts for Ukraine"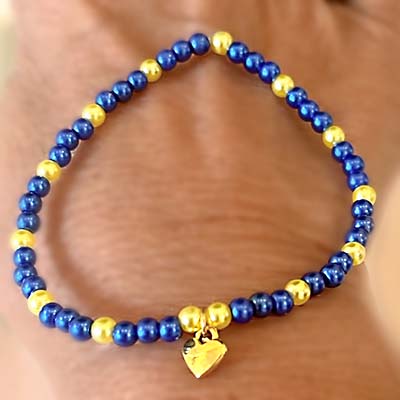 At Lachat's International Festival and Market on Saturday, September 30, Ukrainian culture will be on display and volunteers will be selling handmade bracelets and kits, complete with instructions, for those wishing to make them at home.
In the photo below, the first batch of bracelets and kits is produced at a workshop earlier this month by middle school moms and daughters.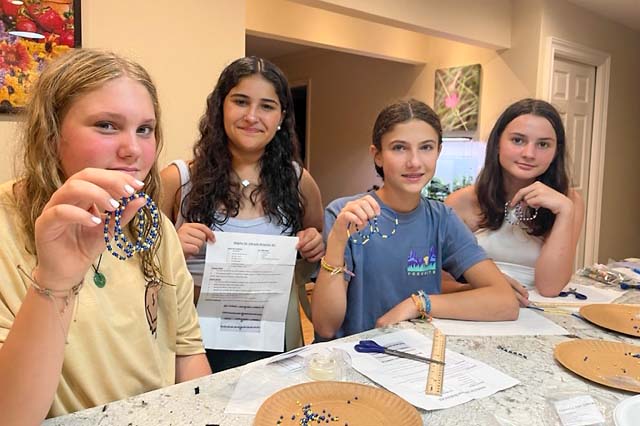 Related Stories:
July 28, 2023: First Weston Aid to Siversk Set for Delivery
June 30, 2023: Weston and Siversk: Partnership, Friendship
June 26, 2023: Siversk Partnership to Launch
May 17, 2023: Weston, Siversk in Sister City Partnership