Soon, the first measure of assistance from Weston will be on its way to Siversk. Funds already raised are sufficient to purchase a dump truck to remove debris. Next up, a backhoe excavator.
Both items meet a variety of needs. They could also speed up search and rescue operations. "This stuff will save lives," said Marshall Mayer of Ukraine Aid International. "This is emergency response equipment."
Donations to aid Siversk through Weston's Sister City Partnership initiative can be made here.
The city has already managed to obtain reinforced vehicles to help evacuate citizens, and is still considering the practicalities of mobile water filtration. "Maybe after the front is pushed back some," said Siversk Mayor Alexei Vorobyov. "You can't ask civilian trucks to come into a combat area." Plans are also underway to cope with the arrival of winter.
Ongoing attacks
On July 25, hours before the third virtual meeting between Mayor Vorobyov and First Selectwoman Samantha Nestor, the last previously unscathed building in Siversk was struck by Russian artillery.
It was the hospital.
Siversk's hospital had been considered a safe spot from daily shellings. People were sheltering in the basement. Mayor Vorobyov did not provide details on casualties or damage.
The hospital is in the background of the photo at the top of the page. The picture, taken in April by Yan Boechat, shows the hospital gardens where residents created a makeshift graveyard. The local cemetery was deemed too close to the front lines for safe conduct of funerals.
Gratitude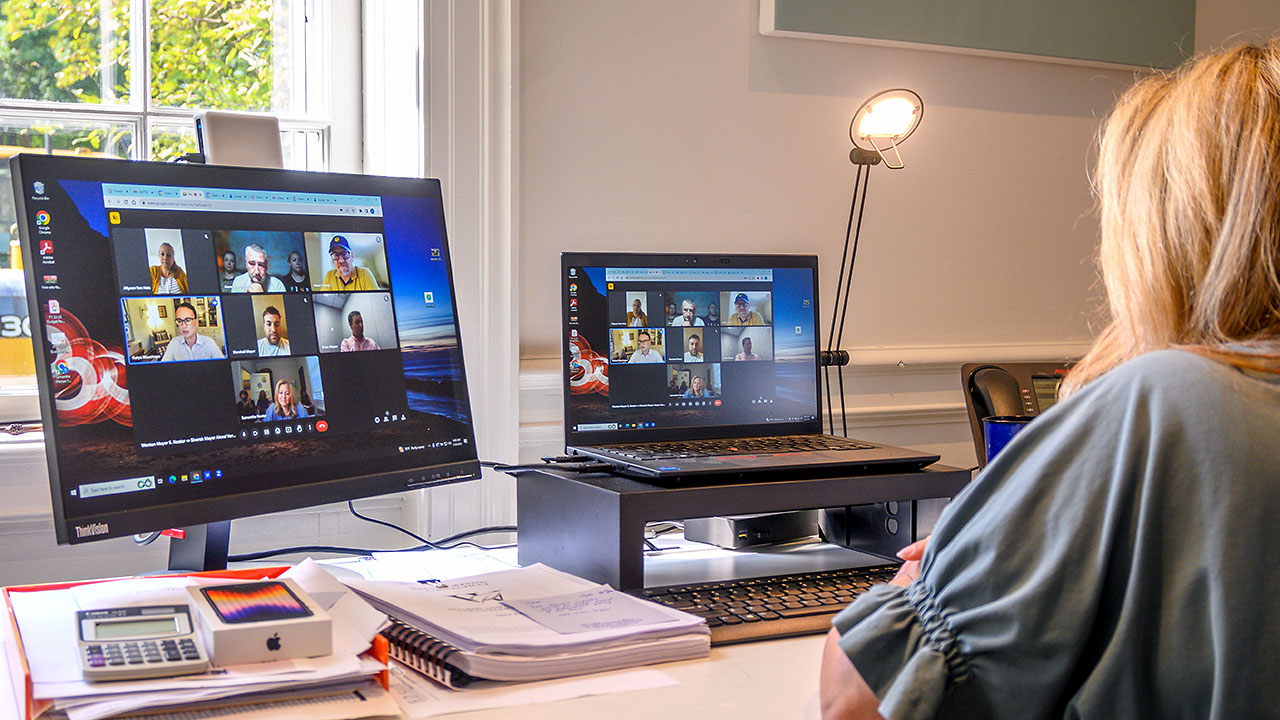 Ms. Nestor and Mr. Vorobyov meet. (Weston Today)
Conversations between Ms. Nestor and Mr. Vorobyov are warm. They are also relatively brief. The mayor said he cannot stay in one place very long. He misses no opportunity to express gratitude.
"The whole country feels the relationship with the United States is vital," said Mr. Vorobyov. "It is driving their fight. It means the world to have partners with towns like Weston. After the war, how fun it will be to welcome you to visit liberated Ukraine and see how thankful everyone is."
For now, he said, "We're alive. We keep going."
Related Stories:
June 30, 2023: Weston and Siversk: Partnership, Friendship
June 26, 2023: Siversk Partnership to Launch
May 17, 2023: Weston, Siversk in Sister City Partnership