The Weston initiative to come to the aid of Siversk, Ukraine formally launched on Wednesday evening in a ceremony at Town Hall, one day after First Selectwoman Samantha Nestor met again with Siversk mayor Alexei Vorobyov.
Volunteers driving the Sister City Partnership fundraising campaign will be at the Farmers Markets at Lachat, at Tuesday's July Fourth celebration, and at other events as the effort continues.
Online donations can be made and directed to Siversk on the Ukraine International Aid website. Scroll down to "Designation," then pull down the "Where It is Needed Most" menu and select Weston–Siversk Sister City.
Urgent needs
On Tuesday morning, Ms. Nestor met again with Mayor Vorobyov on a video call.
Mr. Vorobyov said Siversk has a critical shortage of clean drinking water and an urgent need for armored vehicles to transport civilians who continue to be threatened by Russian artillery strikes.
The mayor hopes Weston can help Siversk procure a mobile water filtration system. A fixed installation that could become a target has been ruled out, at least for now, and Mr. Vorobyov said continued reliance on bottled water is bad for the environment.
The need for armored transport is acute. Members of Ukraine Aid International who were on the call said the mayor had not allowed them to come into Siversk in an unarmored vehicle because the situation is "too unpredictable."
Siversk is not looking for combat-grade personnel carriers. The hope is that Weston can help the city buy utility vans that can be fitted with protective Kevlar, so civilians can be evacuated safely when necessary.
In the past few weeks, the city borrowed a dump truck from a neighboring town to remove refuse and debris, and managed to obtain a few washing machines for the makeshift community laundry. Those needs still exist, but for now the priorities are clean water and safe transport.
A friendship develops
Ms. Nestor expressed optimism that Weston can help. Mr. Vorobyov expressed gratitude.
"But it's not only about help," he said. "Friendship itself is very important. Being able to help depends on resources and finances, but friendships are priceless. They are invaluable. This friendship will bring up spirits in Siversk."
"Artillery doesn't cancel friendship," said the mayor. "Through this friendship, together we walk towards victory and safety for all."
The launch
At the launch of the Weston effort on Wednesday, Ms. Nestor recalled "the dark day in February of 2022" when the Russian invasion began and residents gathered on the Town Green for a vigil.
Brian Mayer of Ukraine Aid International joined the meeting on video and thanked the town for coming together to support a small community half a world away, one "that might have otherwise gone unnoticed."
Iryna Akolzina, who chairs the Weston steering committee, said news of the invasion left her "destroyed" and worried for the safety of her family in Ukraine. She said she hopes that "one day there will be an exchange" between Weston and Siversk.
State Senator Ceci Maher said she had been "aghast" at the stories of destruction she heard from Mr. Mayer when they first met in December but "was inspired by the stories of resilience." She noted that Sister City Partnerships in Westport and Stamford are already active and producing results.
State Representative Anne Hughes cited Easton's efforts and said, "It's moving the way communities come together, extend our solidarity and stand up" while "families just like ours are living a nightmare."
In the photo at the top of the page, from left to right, steering committee members Julie O'Connor, Dan Burstein, Kerry Sheffield, Lynn Jeffery, Stacy Kamisar, Maria Proto, Kirby Brendsel, Ms. Nestor, Ms. Akolzina, Kathy Failla, Tony Pesco, Michael Imber, Amy Gare.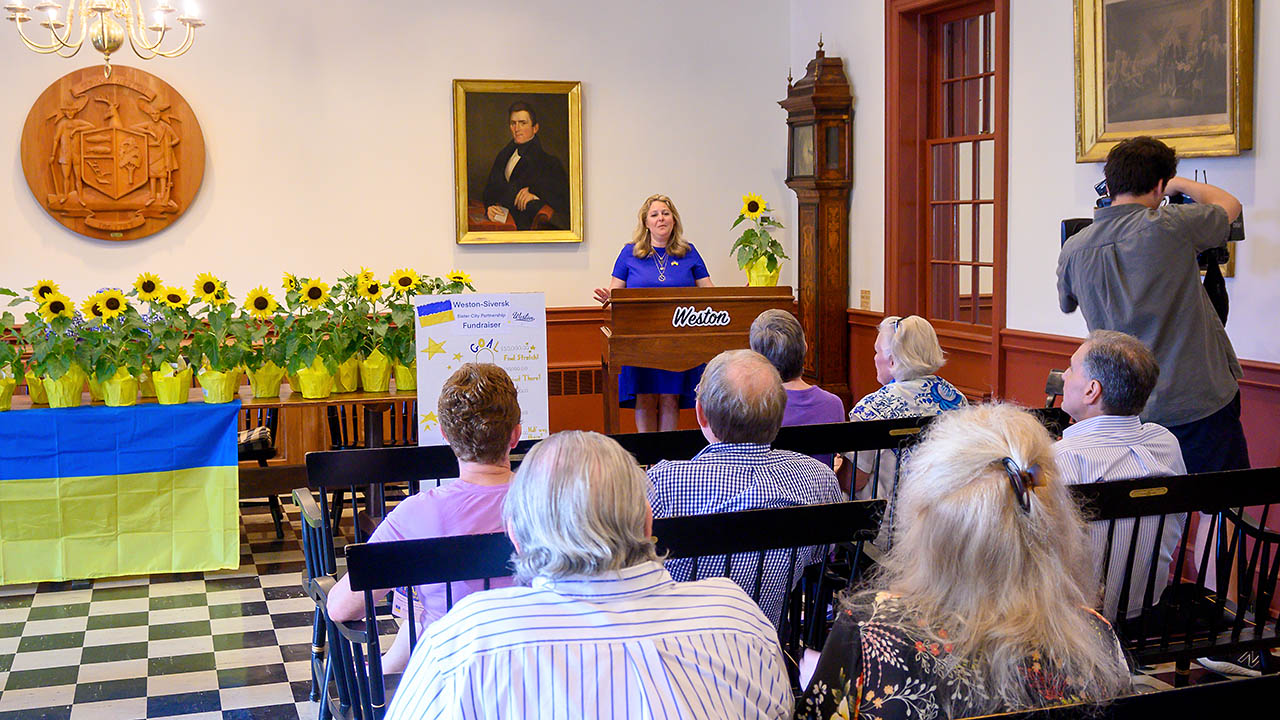 Ms. Nestor welcomes everyone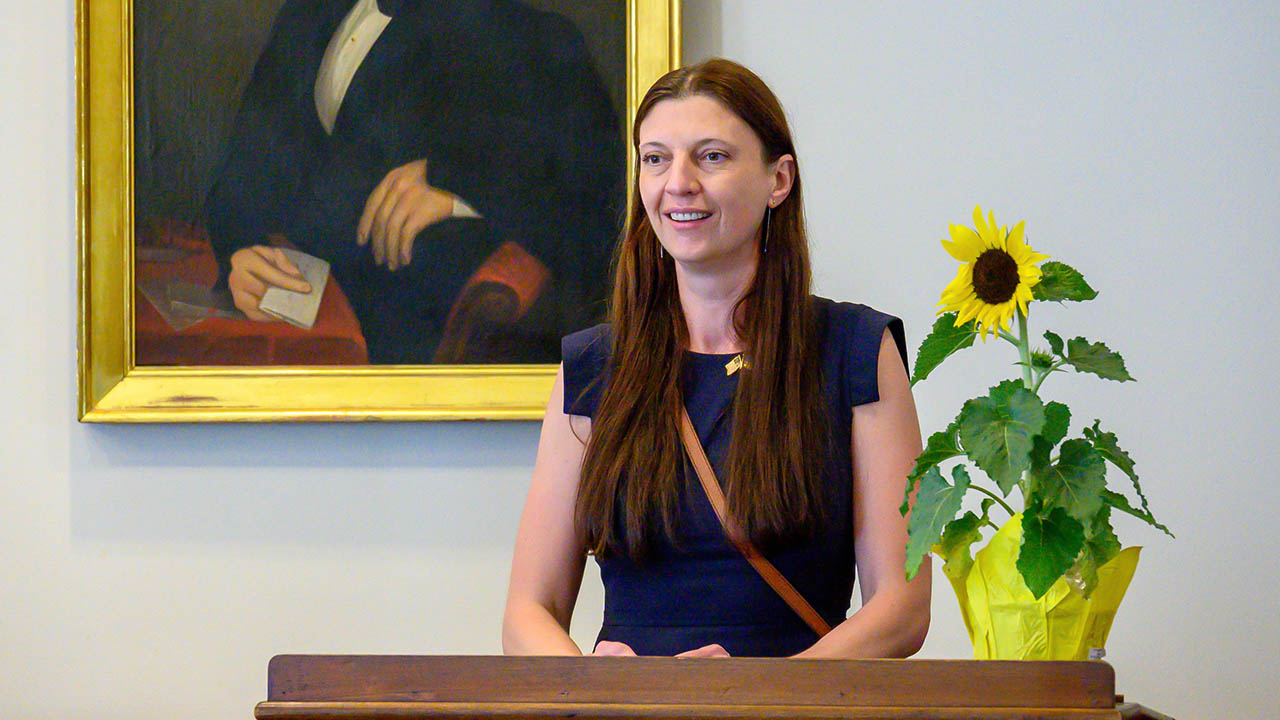 Ms. Akolzina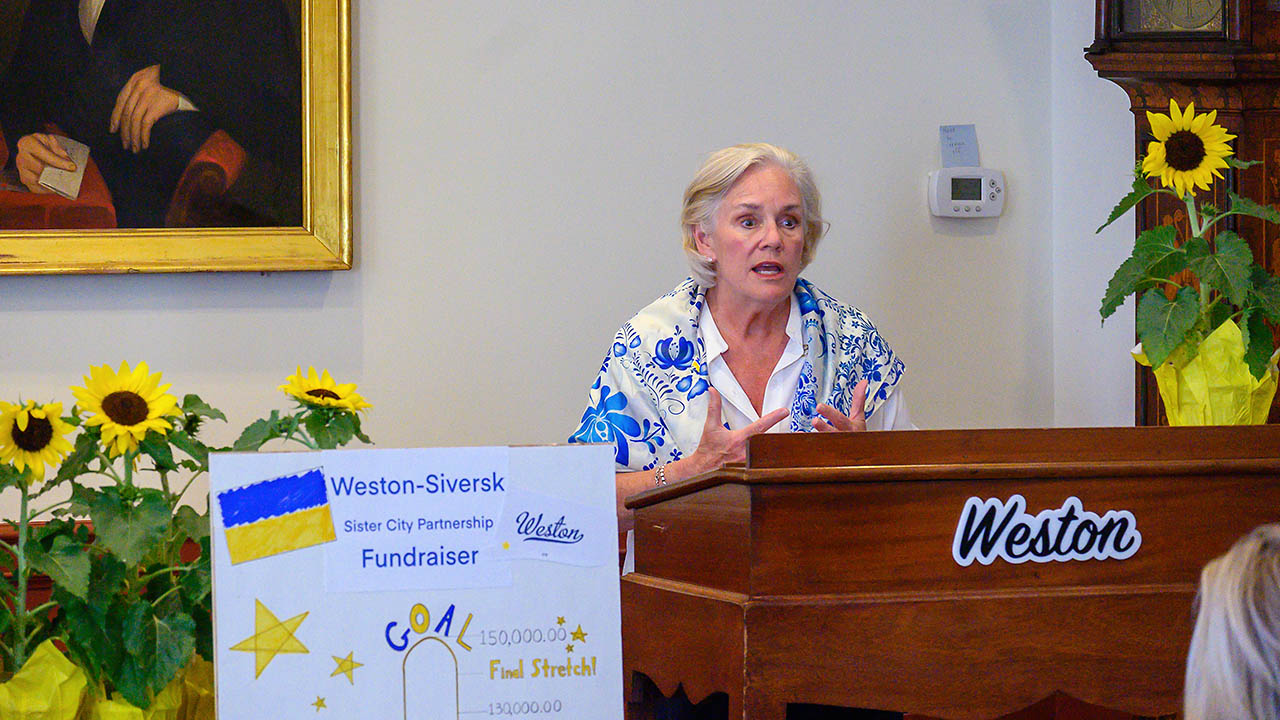 Sen. Maher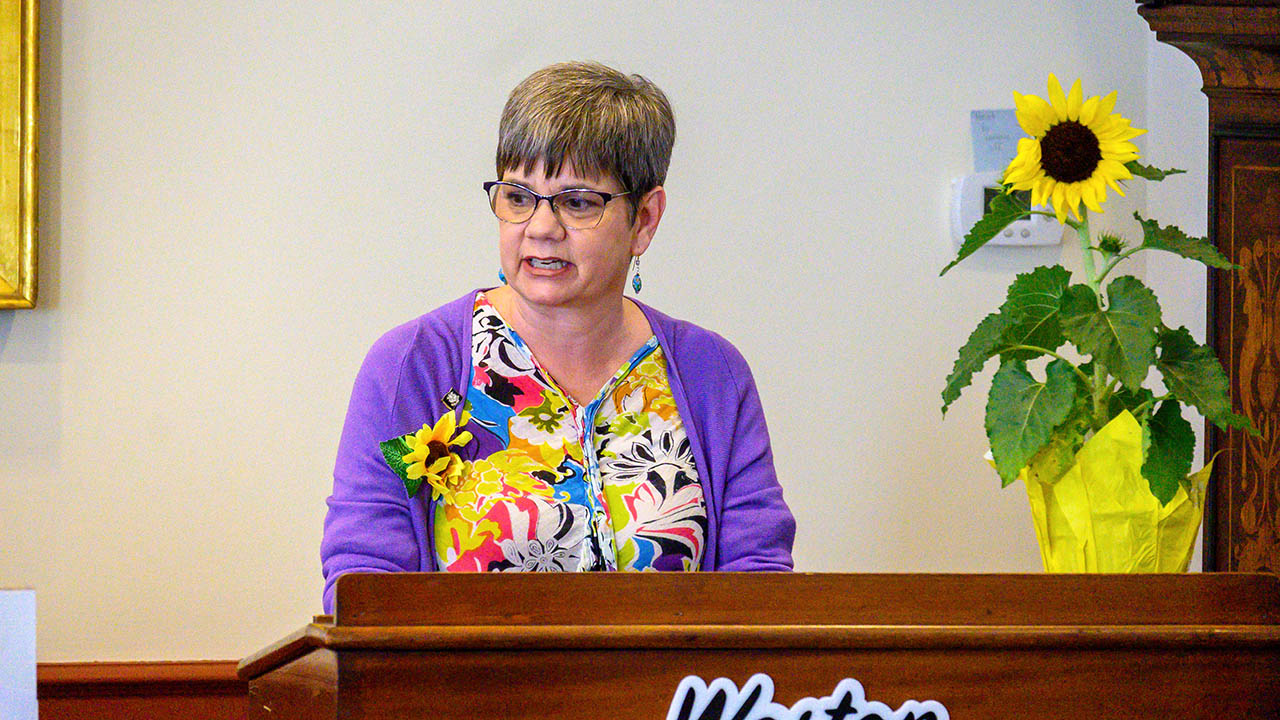 Rep. Hughes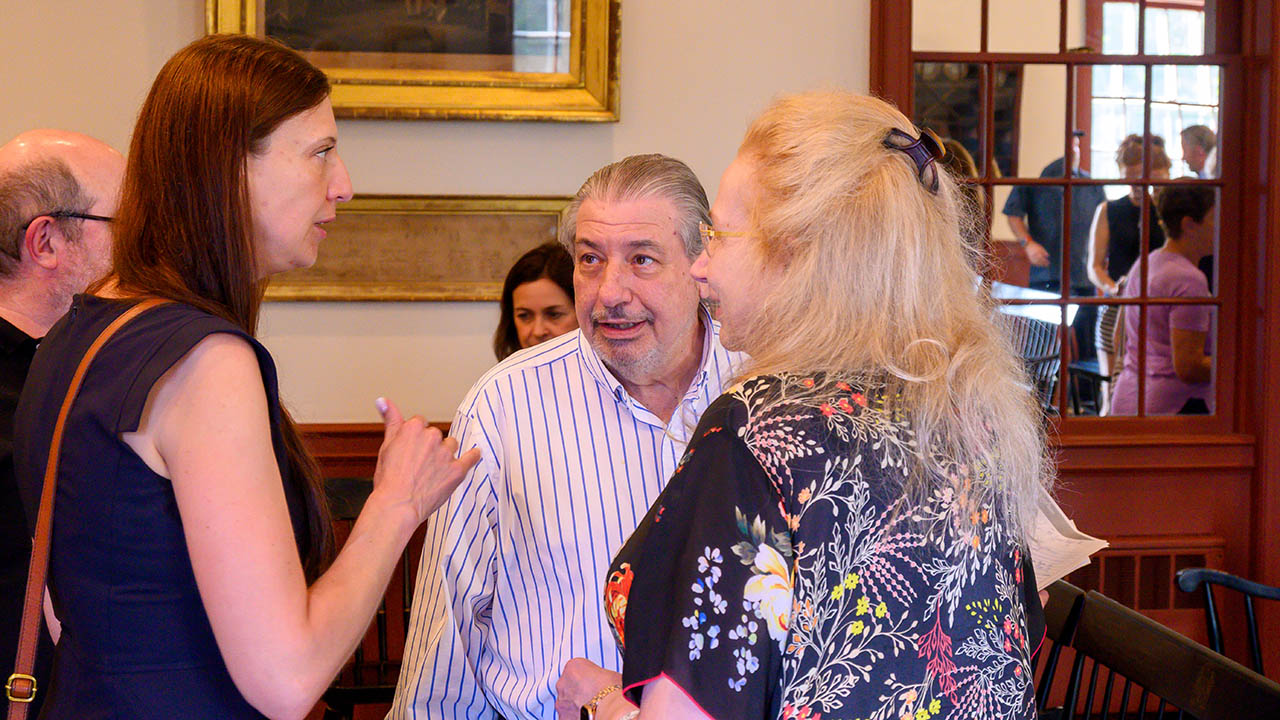 Ms. Akolzina, Dan Burstein, Julie O'Connor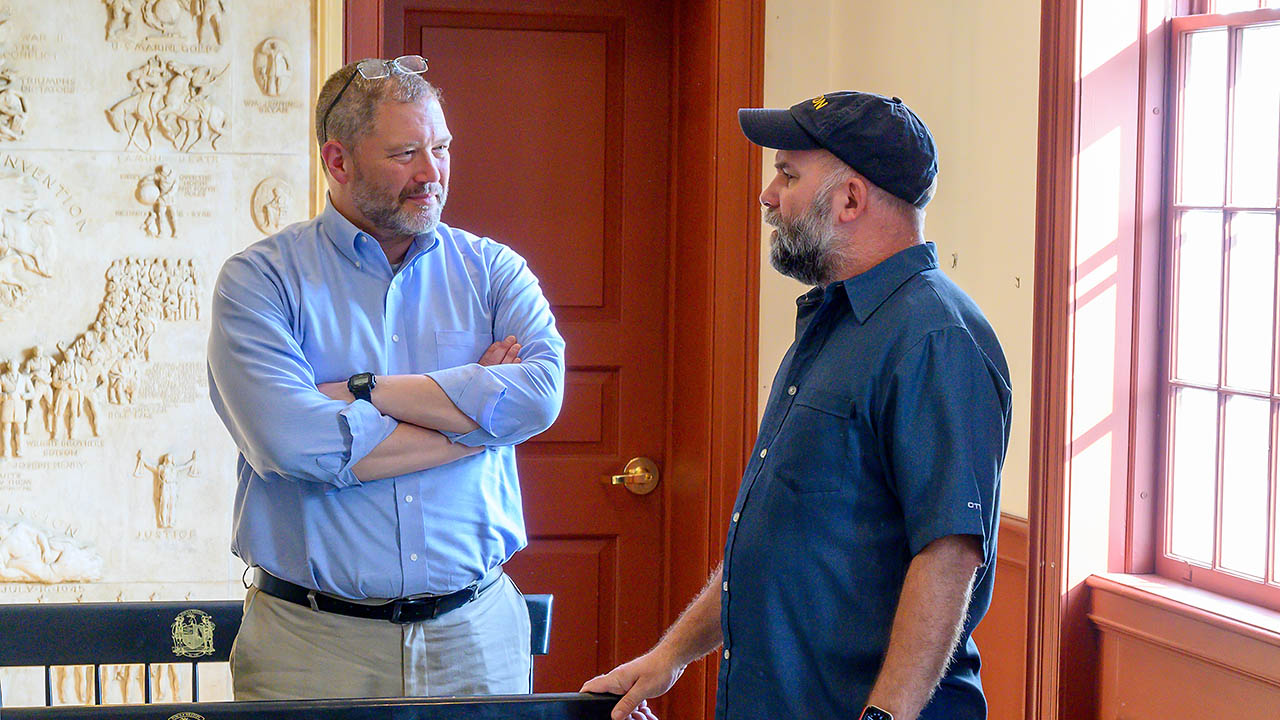 Stephan Grozinger, Kirby Brendsel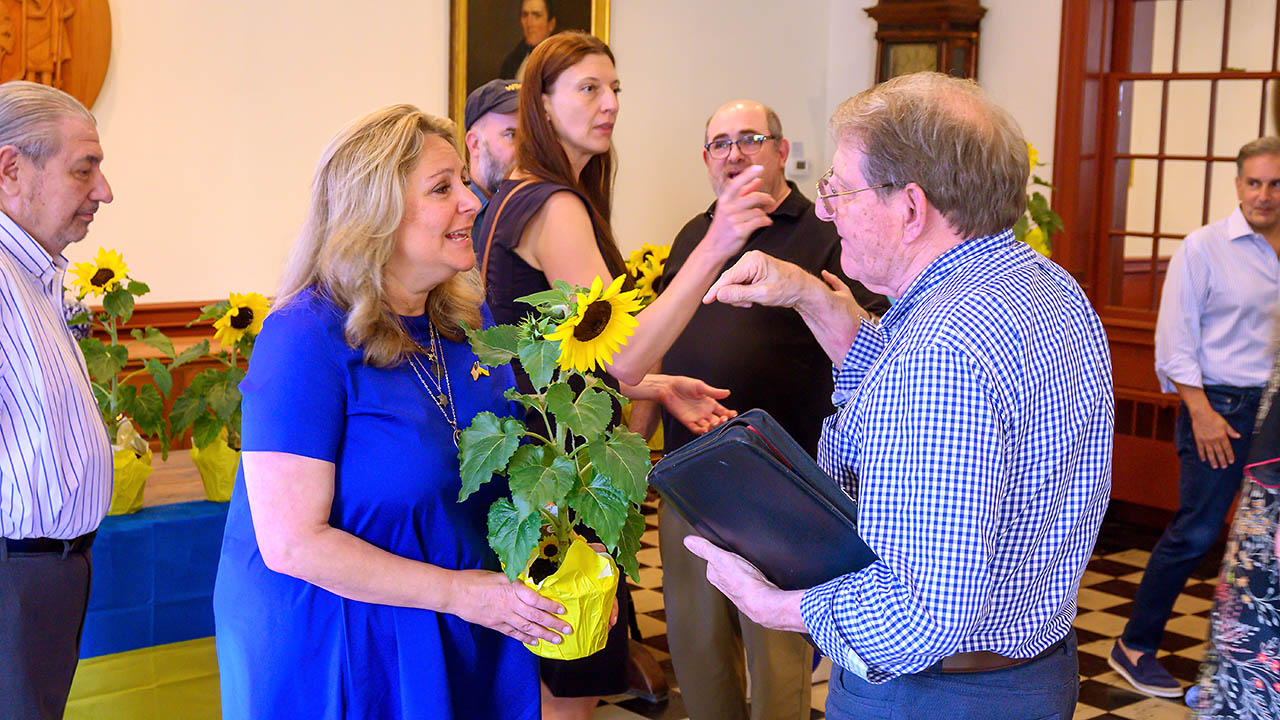 Ms. Nestor, Woody Bliss
Related Stories:
June 26, 2023: Siversk Partnership Set to Launch
May 17, 2023: Weston, Siversk Plan Sister City Partnership