How Weston Schools Will Reopen: The Plan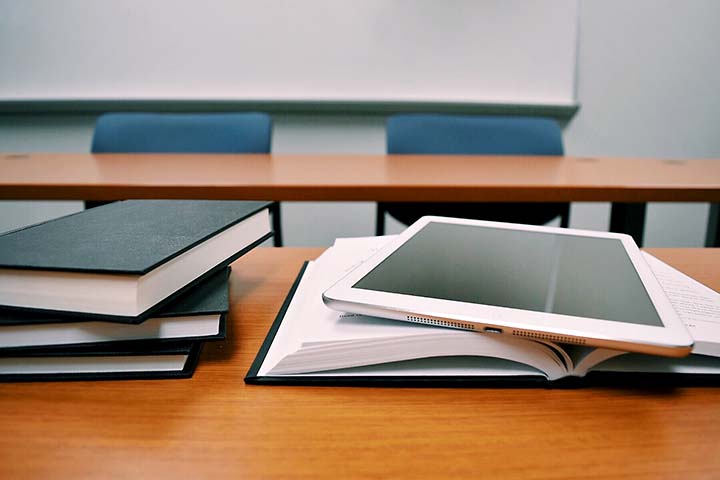 Weston public schools open on September 8—if all goes as planned— with a blend of in-person and online instruction, a full curriculum, and a more populace student body. At this writing, questions remain about athletics, with a shift to spring possible for two autumn sports.
At the moment, it is not clear how many students will actually attend classes in person. Parents have the option to keep children home to study entirely online, a choice referred to locally as "voluntary distance learning."
Students at each school have been divided, alphabetically, into two groups: Blue and Gold.
The groups attend school every other morning, either in person or, in the case of distance-only learners, by watching a non-interactive livestream at home. At the high school and middle school levels, all students, from both groups, learn online every day. On their off mornings, students work on assignments and projects.
It works the same way for grades K–5, except the elementary schools are essentially on early dismissal every day. On many days, this frees teachers to focus on distance learners in the afternoon. That advantage, however, will be lost if or when the district shifts to a model with all-day classroom instruction.
This is the plan for at least the month of September. Later, if health conditions cooperate, the district may shift to a different mode. Hope remains that, at some point, full in-person school can resume. Whether or when it can is anyone's guess.
In the classroom
All students and staff will be required to wear face coverings at all times in class. In the elementary grades, students will stay in one classroom and eat lunch there.
The curriculum at the high school and middle school is essentially business as usual, despite the unusual delivery means. There are still four morning and four afternoon periods, although the length of classes is reduced to forty minutes.
With the alternating half-day approach, it appears all schools will be able to arrange desks at least six feet apart. That would not be the case with models that have more students on campus. As distance shrinks, mask-wearing and ventilation become more critical. District administrators are still working on ways to improve air flow at the schools, where many classrooms have no air conditioning and some have no windows.
All-distance
Parents who wish to opt students out of in-person instruction have been asked to notify the school district by August 19.
An August 5 district memo to parents caused alarm by stating that voluntary distance students would not be able to take electives or participate in clubs, athletics, and "other extracurricular activities."
Except for athletics, that was corrected fairly quickly.
The administration and principals later assured parents that all students will be able to take all classes, core and elective. Clubs are to be conducted virtually. School buildings will be sanitized in the afternoons, so they cannot be used for after-school activities.
But the district, at least currently, does not intend to allow voluntary distance students to participate in high school sports. More on sports later.
Special education, transportation
"We're sitting here on the 13th with still a lot to figure out," Superintendent William McKersie told the Board of Education last week.
Tracy Edwards
, the district's new director of Pupil Personnel Services, told the Board that plans for special education, which is highly personalized, were complicated hours before the Board meeting by new guidance from the State Department of Education.
The guidance appears to take away the district's flexibility to adapt or modify a student's individual education plan. The district would have leeway in terms of how services are provided, but none in what services are provided.
As for transportation, Finance Director Phillip Cross said the district has little insight at this point about how many students will ride school buses, and thus no clear view of how much space there will be between students on buses.
The district is hoping parents will drive students to school, and also hoping this will not lead to a need to stagger arrival and departure times due to traffic congestion. Dr. McKersie said the district is working closely with the Weston Police Department on potential traffic issues.
Dr. McKersie noted that some districts thought about adding bus routes to ensure distancing. Only a few weeks ago, the Weston district considered buying more buses and hiring more drivers. Dr. McKersie said neither are available. This reduces the district's estimates of reopening costs by several hundred thousand dollars. (See our July 14 article.)
What about the teachers?
A survey of district personnel some weeks ago said 135 staff members had "particular concerns about their ability to come to work in the midst of a pandemic."
Assistant Superintendent Kenneth Craw told the Board of Education last week that, after follow-up discussions, the number is now down to 50. He did not say they are all teachers, and suggested that discussions are ongoing.
Dr. McKersie, citing a union leader's comments, said "teachers are nervous." Principals Lisa Wolak and Dan Doak agreed. There is a "high level of concern," said Mr. Doak, about safety, adhering to hygiene protocols and social distance guidelines, worries about bringing the virus home, and questions about whether teachers have liability if they inadvertently spread the disease themselves.
This week, the Connecticut Education Association called for a two-week delay in school reopenings and "additional precautions, including strict social distancing and access to COVID-19 testing, that are not currently included in the state plan." Weston's school opening has already been delayed one week, due to power outages caused by Tropical Storm Isaias.
Fall sports
The plan was to ease into autumn sports over several weeks with protocols that gradually relax restrictions if all goes well. At the moment, the plan is suspended.
The wisdom of playing football has been a question for weeks. Dr. Ezekiel Emanuel, who the governor describes as "our Dr. Fauci," recommended against it. The actual Dr. Anthony Fauci, in a press call with the governor on August 3, was less explicit, but said decisions should be made based on community health metrics, whether spectators would be allowed, and the level of contact involved in a given sport.
No sport is more "contact" than football. On August 12, after the football committee of the Connecticut Interscholastic Athletic Conference (CIAC) voted to recommend shifting to a spring season, the full CIAC board voted to reject the recommendation, saying football had been "deemed safe."
Nothing in the course of this pandemic has been deemed safe. Infectious disease experts, according to Dr. Matthew Cartter, the State's chief epidemiologist, never use the word safe.
Football, volleyball in doubt
The CIAC board made its decision before hearing from the Connecticut Department of Public Health. That came the next day, a recommendation to postpone football to spring, and volleyball as well. The department rates all other fall sports as low-risk activities. Volleyball, partly because it is played indoors, is rated a moderate risk. Football is rated as high-risk.
In response, at this writing, CIAC has paused all high school sports activities, including pre-season conditioning. The board has "invited" the Department of Public Health to meet next week with its own sports medicine advisors, none of whom appear to be epidemiologists. The Hartford Courant quoted executive director Glenn Lungarini as saying CIAC would give the opinions of the Health Department and Governor Ned Lamont "strong consideration."
It seems likely the opinions of the governor and the Health Department could have more force than that. In addition, local officials and school districts have the final say about whether to proceed.
Enrollments continue to climb
We reported on July 29 that Weston school enrollments had risen by a couple of dozen students. Since then, they have grown even more, a trend that appears likely to continue.
Dr. McKersie told the Board of Education on August 12 that enrollments are now 60 higher than last year, and that 75 students are new to the district.
The largest growth is in kindergarten, first grade, and sixth grade. Dr. Craw said there is plenty of time for more registrations, which could continue to arrive through the fall.
Dr. Craw said first grade already exceeds class size guidelines and kindergarten is only two students away from maxing out. In the next week or so, the Board of Education will consider adding a section to one or both of those grades, which will require hiring one or two teachers and allocating funds to do so.