Paving Work to Resume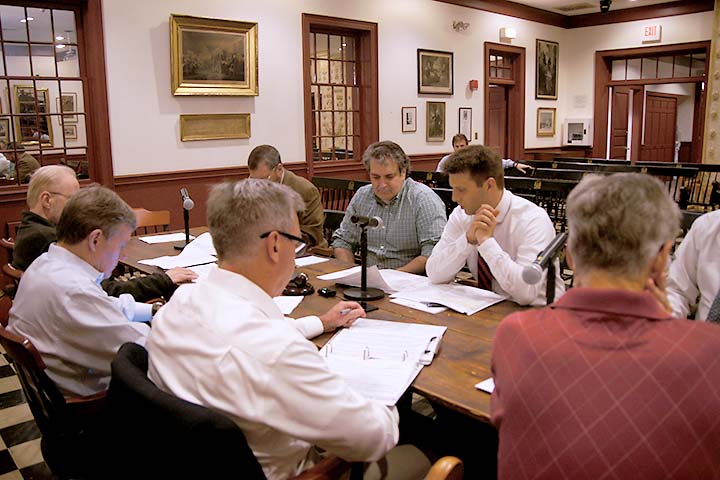 Photo: M.S. Wirtenberg
Paving on five Weston roads, originally scheduled for July, will be done in October. Weather permitting, it will be finished by the end of the month.
The most distressed portion of School Road, a roughly 600-foot stretch near the high school entrance, was completely repaired before the start of school. The other roads on this year's schedule — Cannondale Road, Codfish Lane, High Noon Road, and Old Mill Road — will be fully milled and paved in October. So will the roughest portion of Steep Hill Road, from Old Hyde Road to Tannery Lane South.
For a time, Town officials had hoped to mill and pave all of Steep Hill Road. But the revised plan, which greatly exceeds the minimal work planned by the Department of Public Works, means going the full distance would cost an additional $264 thousand.
On September 12, the Selectmen essentially left it to the Board of Finance to decide whether to allocate that amount from reserves. The Board declined.
Finance Board member Allan Grauberd argued in favor of the appropriation, saying that while the rest of Steep Hill Road is in better shape than the stretch from Old Hyde to Tannery South, it is "far enough along" to be repaired now. He said the town needs to "amp up spending" on road improvements and "invest in Weston to make it attractive to people."
"For this town to be an attractive, functional place," said Mr. Grauberd, "roads are as important as schools and the police." His board colleagues agreed, including those who ultimately voted against the appropriation. Jeffrey Farr said: "One hundred percent of the community use our roads, while only about forty-five percent participate in schools." But he added that the town issued bonds to build the schools, and said "I think we need to do the same thing for the roads."
That idea has come up before, and may be gaining traction. It would increase Town debt, but would provide an infusion of cash to bring roads up to par. It would also relieve pressure on the Town's annual operating budget. Finance Board chair Steve Ezzes has hinted several times that it may be considered. Officials generally acknowledge that the town under-invests in road maintenance, and there appears to be a diminishing willingness to allow conditions to further erode.
But for this supplemental appropriation, Mr. Grauberd and Mr. Ezzes were outvoted by Mr. Farr, Gregory Murphy, and Richard Bochinski. With most of Steep Hill and the other roads set for repair, Mr. Bochinski and Mr. Farr advocated deferring other decisions until a thorough road assessment is finished and a longer-term plan prepared.
The assessment will be complete in the next few weeks and a plan will be developed shortly thereafter, just in time for budget season. The Town contracted with Beta Group Inc. to perform the assessment, a decision that paid dividends almost immediately. Beta engineers were brought in early to provide an independent analysis of the work needed this year. Their findings, and those of Town Engineer John Conte, informed decisions about postponing the work planned for July in favor of a more lasting solution.
Previous articles on this topic:
August 23, 2019: "The Latest on the Roads, August 23"
August 15, 2019: "Update on Road Paving, August 15"
July 26, 2019: "Paving Delayed as Plans are Reconsidered"
July 9, 2019: "Detailed Road Condition Assessment to Begin"