Budgets Submitted to Board of Finance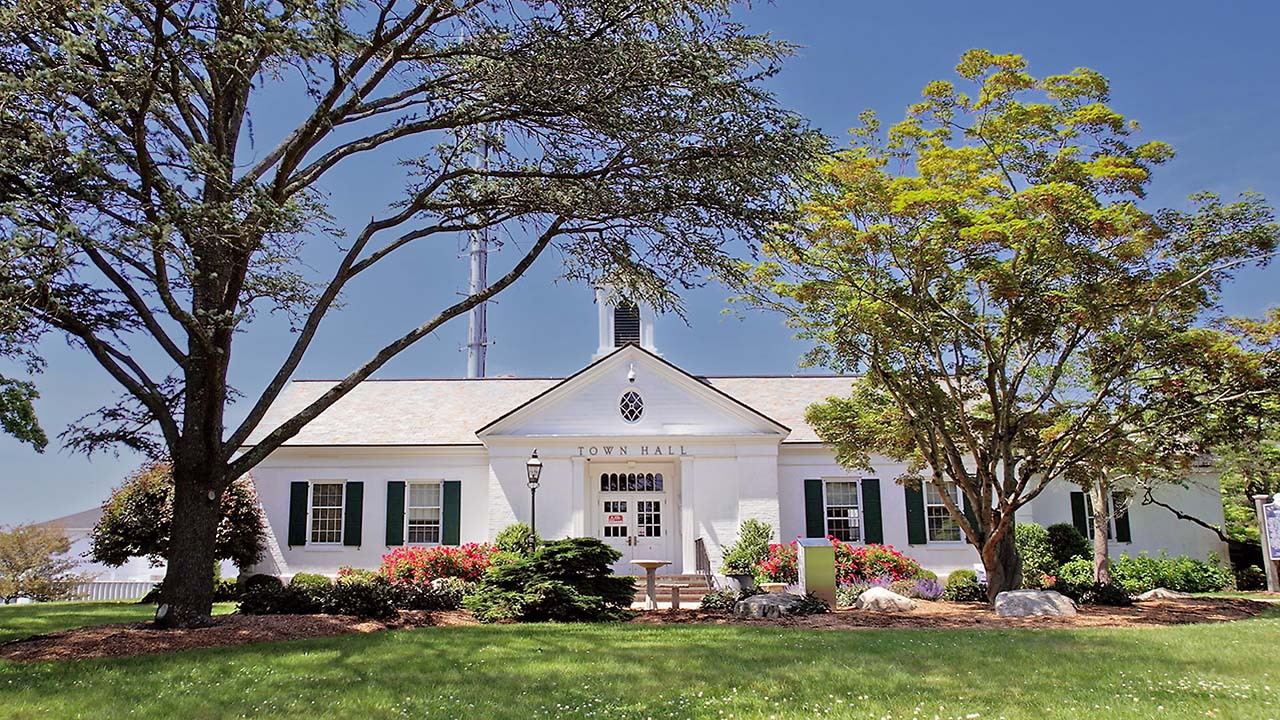 Photo: Weston Today
Budget requests for the Town and school district are on their way to the Board of Finance, which begins its review and approval process in early March.
Both operating budget requests show spending increases, both mainly pressured by the same factors: higher costs in almost every category and rising insurance premiums. The budget for big-ticket capital items also increases.
As the requests stand, if the Board of Finance accepts changes to the school budget recommended by First Selectwoman Samantha Nestor, the mill rate would increase by 1.22 percent. Otherwise, it would grow by 2.22 percent. The Board of Finance could make other adjustments on its own.
Ms. Nestor said a 1.22 percent would translate to a tax increase of $192.68 per year for a house appraised at the town's median value of $688,143. A 2.22 percent rise would mean an increase of $351.64 for the same house.
The First Selectwoman's recommendation includes deferring $550,000 for paving on the school grounds, shifting costs for duct cleaning from capital to the operating budget, and having the district draw $200,000 from a remaining special reserve to reduce an operating allocation for dental claims.
Board of Education chair Tony Pesco and schools Superintendent Lisa Wolak seemed willing to at least consider supporting Ms. Nestor's recommendations, which were included in the budgets transmitted by the Selectmen to the Board of Finance on Tuesday evening.
A growing tax base
Considering that the Town's operating budget request calls for a 4.95 percent spending increase and the Board of Education's rises by 3.46 percent, were it not for several cooperating factors a mill rate increase would be larger and more closely in line with inflation.
It helps that a feared revenue storm caused by the pandemic never materialized, that the Town has funds left over from closed-out capital projects, that more than $1 million came in from the sale of the Fromson-Strassler property, and that the Grand List grew.
You read that last part correctly. After years of virtually no growth in the town's tax base (and one recent year when it shrank by a lot) Weston's Grand List has increased by 2.5 percent, even though this is not a year in which all properties are revalued. Growth anywhere near that magnitude has not occurred in well over a decade.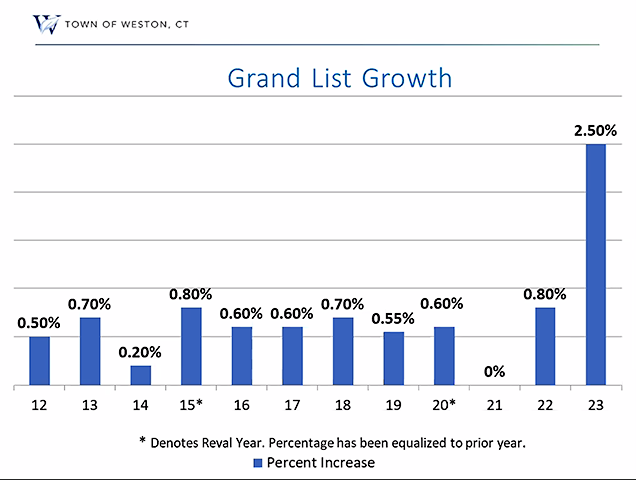 You may have gotten a taste of higher valuation in your latest motor vehicle tax bill. In addition to new construction and home remodeling, much of the Grand List increase is due to greater vehicle values caused by the limited supply of new cars and trucks.
One possible wrinkle in the Town's expectations for motor vehicle tax revenues is a proposal by Governor Ned Lamont to cap the rate at 29 mills, about ten percent lower than Weston's current rate. But the proposal as drafted and pending in the General Assembly promises to compensate towns for lost revenue.
The requests
The Board of Education requests $56,976,717 for the school district operating budget, a figure that would increase by $65,000 if the Board of Finance accepts the First Selectwoman's recommendations. It would also change if the Board makes adjustments of its own.
The Town requests operating funds in the amount of $14,773,740.
Together, the Town and Board of Education request capital allocations totaling just over $3.4 million. That figure would drop to under $2.6 million if Ms. Nestor's recommendations are accepted, and could shrink more if the Board of Finance elects to defer some projects.
About $1 million of the Town's nearly $1.8 million capital request is for road paving, construction project management, designs for Valley Forge Road and Lyons Plain Road, and replacement of bridges on Davis Hill Road and River Road.
Next steps
The Board of Finance begins a series of meetings to review budget requests on March 7. A public hearing is set for March 29. The Board deliberates in early April and eventually submits a formal proposal to the Annual Town Budget Meeting.
The ATBM begins for discussion and voting on April 28. It then adjourns until May 7, when polls open again for the Budget Referendum. The mill rate is set on May 9.
Related Story:
January 20, 2022: School District Budget Review Continues