An emergency fundraising campaign by trustees of the Westport Country Playhouse essentially hit its target, bringing in cash and pledges totaling $1,941,557 by the July 31 deadline.
Board of Trustees chair Athena Adamson said ongoing "major gift conversations" could bring the final amount beyond the original $2 million goal.
"We can thank our wonderful community who stepped up to 'Save the Playhouse' and shape it for future generations," said Ms. Adamson. The campaign was designed to relieve pandemic-related financial pressure on the Playhouse and build for its future as a theater and performing arts center with broad appeal.
A series of single night events are planned to begin in January of 2024, including cabaret, comedy, music, playreadings, and speakers. Between August of 2024 and the following March, the Playhouse will stage three theatrical productions.
"An Evening with … "

Justin Paul, Kelli O'Hara, James Naughton
Coming up at the theater: a major benefit concert on Saturday, September 9, "An Evening with Justin Paul & Friends with Kelli O'Hara and James Naughton." Tickets are on sale at the Playhouse website.
Before that, on August 21, the theater hosts a script-in-hand playreading of "Maytag Virgin," a romantic comedy with Audrey Cefaly, Jeffrey Binder, and Carolyn Messina. Tickets can be purchased here.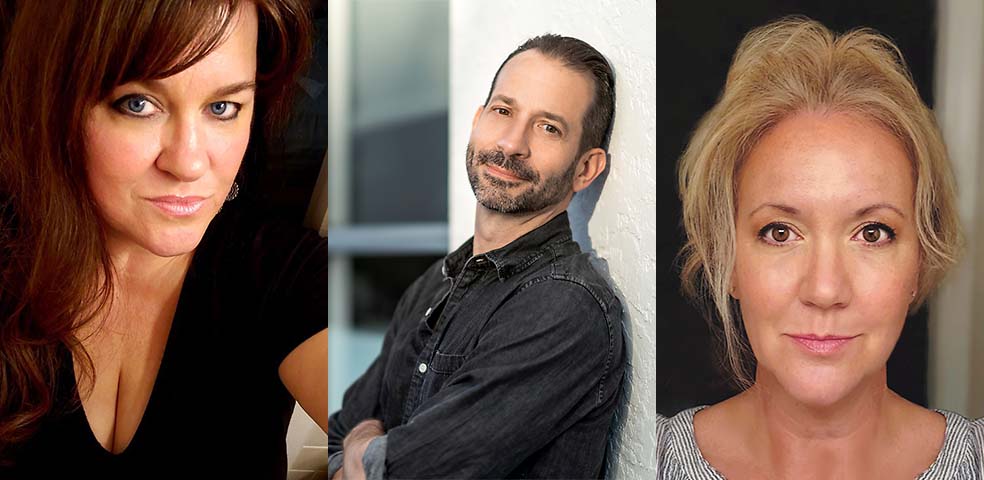 Audrey Cefaly, Jeffrey Binder, Carolyn Messina
Contributions to the fundraising effort are still welcome. The Playhouse is a 501(c)(3) nonprofit.
Related Story:
June 27, 2023: Trustees Act to "Save Your Playhouse"