Vietnam Veterans Honored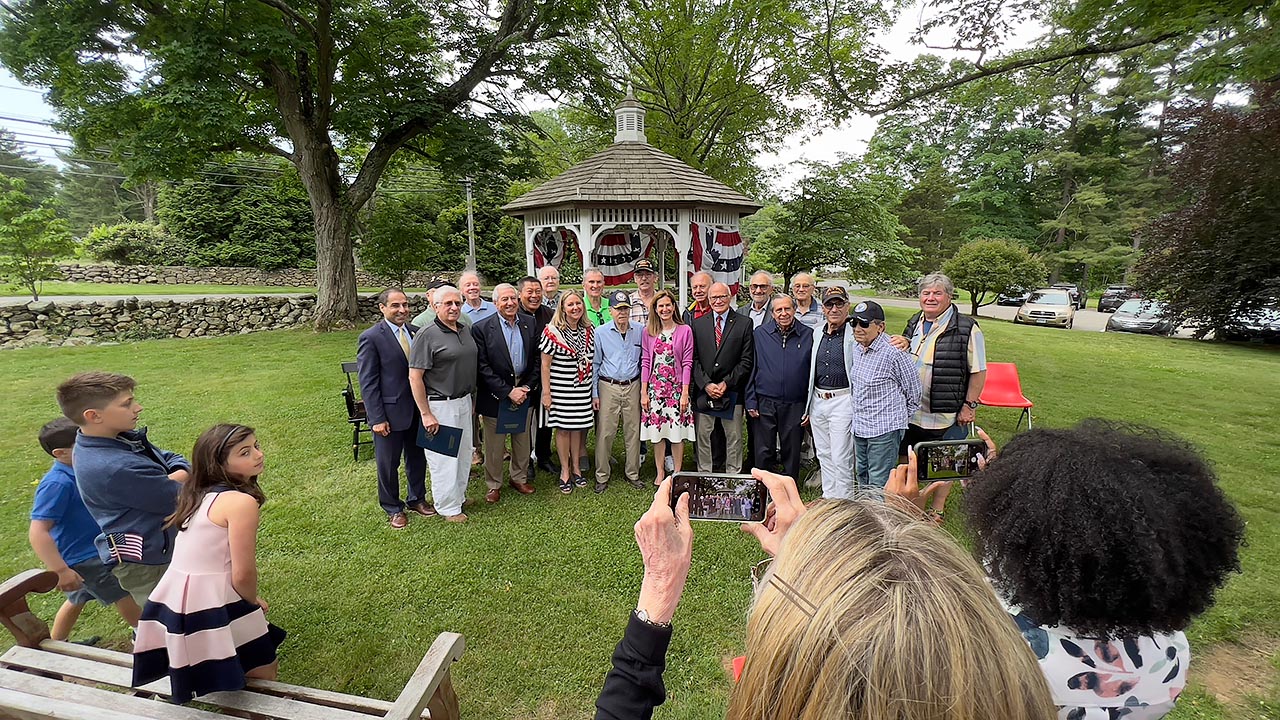 Photos: Weston Today
Weston veterans of the Vietnam War were honored at a ceremony hosted by First Selectwoman Samantha Nestor and led by Lt. Governor Susan Bysiewicz at the Town Hall gazebo on June 7.
In November, the lieutenant governor led a similar ceremony honoring Weston's Korean War veterans, part of a series of events for veterans she has conducted since 2008.
"Unlike some of their counterparts, who were welcomed home with the warm embrace of a grateful country," said Ms. Bysiewicz, "many of our Vietnam veterans returned home to jeers and unspeakable acts." She said the purpose of the ceremony was "to say thank you and make amends for how some of you may have been treated when you came home."
"There's more to be done," said Thomas Saadi, the state's Commissioner of Veterans Affairs. Mr. Saadi, himself a veteran, said progress has been made in the federal Veterans Administration and in the legislative process to develop "a full appreciation of the scope of service in Southeast Asia" and all that it entailed for those who served.
In addition to opening remarks by Ms. Nestor, those in attendance also heard recognition and appreciation from State Senator Will Haskell, State Representative Anne Hughes, and State Senator Tony Hwang.
Boy Scouts posted the colors, and the Weston High School Chamber Singers sang the national anthem. Chief Edwin Henion of the Weston Police, Weston Volunteer Fire Department Chief John Pokorny, and EMS president Jon Weingarten led the Pledge of Allegiance. Father Augustine Nyugen of St. Francis delivered the invocation, Pastor Thomas Burke of Norfield Church provided the benediction.
Several of the veterans gathered spoke of their service experiences. All received a certificate and posed for photos with the officials, some joined by members of their families.