Korean War Veterans Honored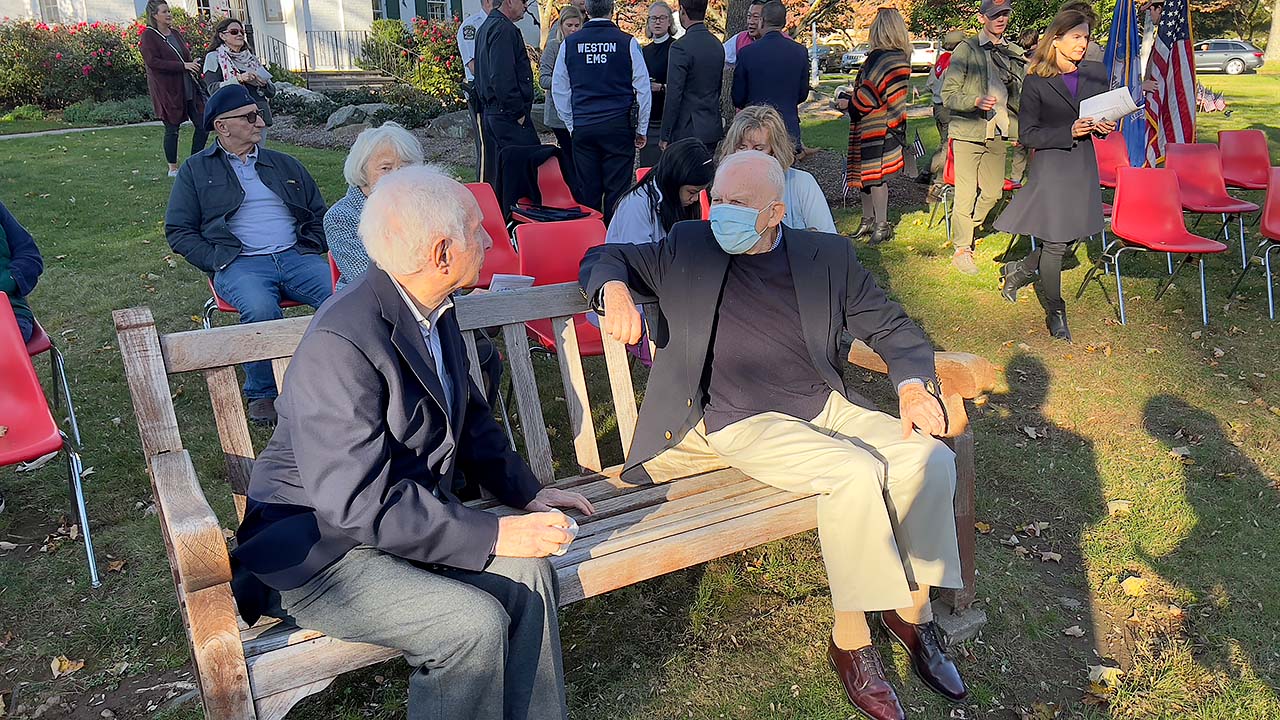 Veterans of the Korean War were honored at a Town Hall ceremony led by Lt. Governor Susan Bysiewicz and First Selectwoman Samantha Nestor on October 19.
Ms. Bysiewicz told those assembled she "started this journey of honoring veterans" years ago when she was Secretary of the State, conducting similar events for veterans of World War II. Many of those veterans, she said, also served in Korea, and frequently asked that those who wore the uniform in that conflict not be forgotten.
"When those gentlemen returned home, they didn't get the parades and accolades," said the Lt. Governor, "despite having dealt with some of the harshest conditions on record in a war that was never officially declared, and never officially ended."
Ms. Nestor recalled words of the late General Colin Powell, who once said of veterans of America's wars in Southeast Asia, "These veterans came home to continue to serve their country in peacetime. In war, they did their best to defend liberty. In peace, they sought to build a better world."
Four Weston veterans of the Korean War — Donald Saltzman, David Hall, Joel Hutzler, and Gordon Green — shared thoughts and memories, and were presented commendations by the Lt. Governor, the First Selectwoman, Selectman Martin Mohabeer, State Representative Anne Hughes, State Senator Tony Hwang, and Connecticut Department of Veterans Affairs Commissioner Thomas Saadi.
Cheri McKenzie, whose father was an aircraft mechanic in the war, showed memorabilia given to her father by a pilot who did not survive the war, and spoke of the bond between the two men.
"No longer the forgotten war"
Commissioner Saadi said, "while the Korean War is no longer the Forgotten War, most people do not know of the great sacrifices made during that distant war. While most Americans were still basking in the Allied victory of World War II and absorbed in the postwar economic boom and new comforts at home and work, some of the fiercest fighting in the harshest of conditions in our nation's history were taking place in Korea."
"Yet our service members endured and fought for the next two years to achieve victory, and it was truly a victory as, today, South Korea is a thriving democracy, in contrast to the oppressive dictatorship in North Korea."
The ceremony opened with the national anthem sung by the high school a capella group, the WesTones, and the Pledge of Allegiance led by police, fire, and EMS chiefs Ed Henion, John Pokorny, and Michael Schlechter. An opening benediction was delivered by Rev. Katy Piazza of Emmanuel Episcopal Church, a closing one by Norfield Congregational Church Pastor Thomas Burke.
Earlier, flags had been placed around the Town Green by Weston High School American Heroes Club members Noel Villepigue, Dylan Mondrus, and Becan Huck.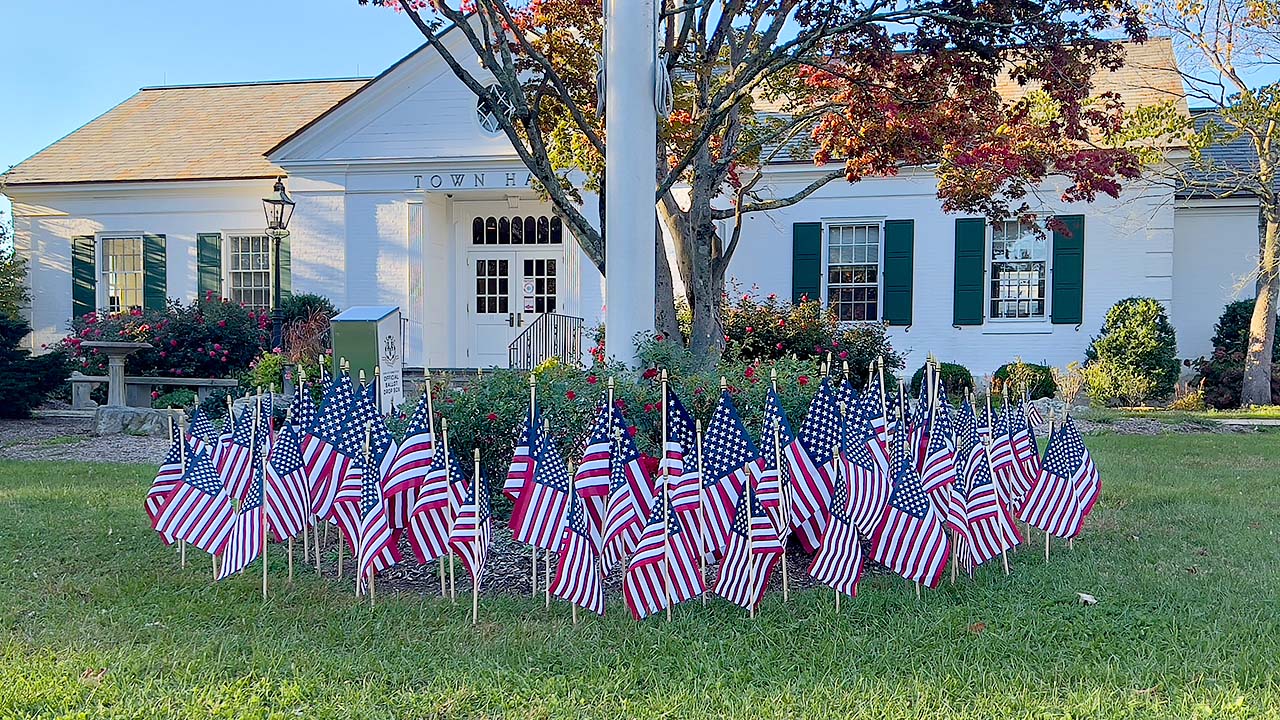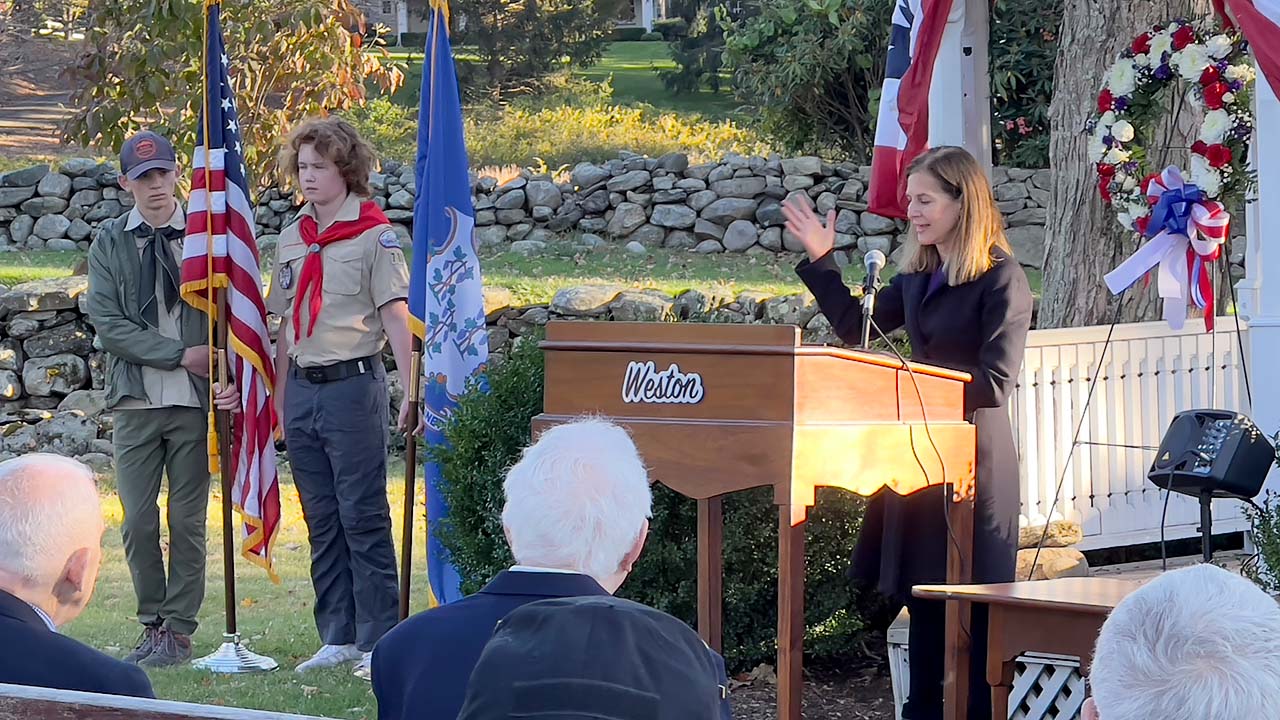 Lt. Governor Bysiewicz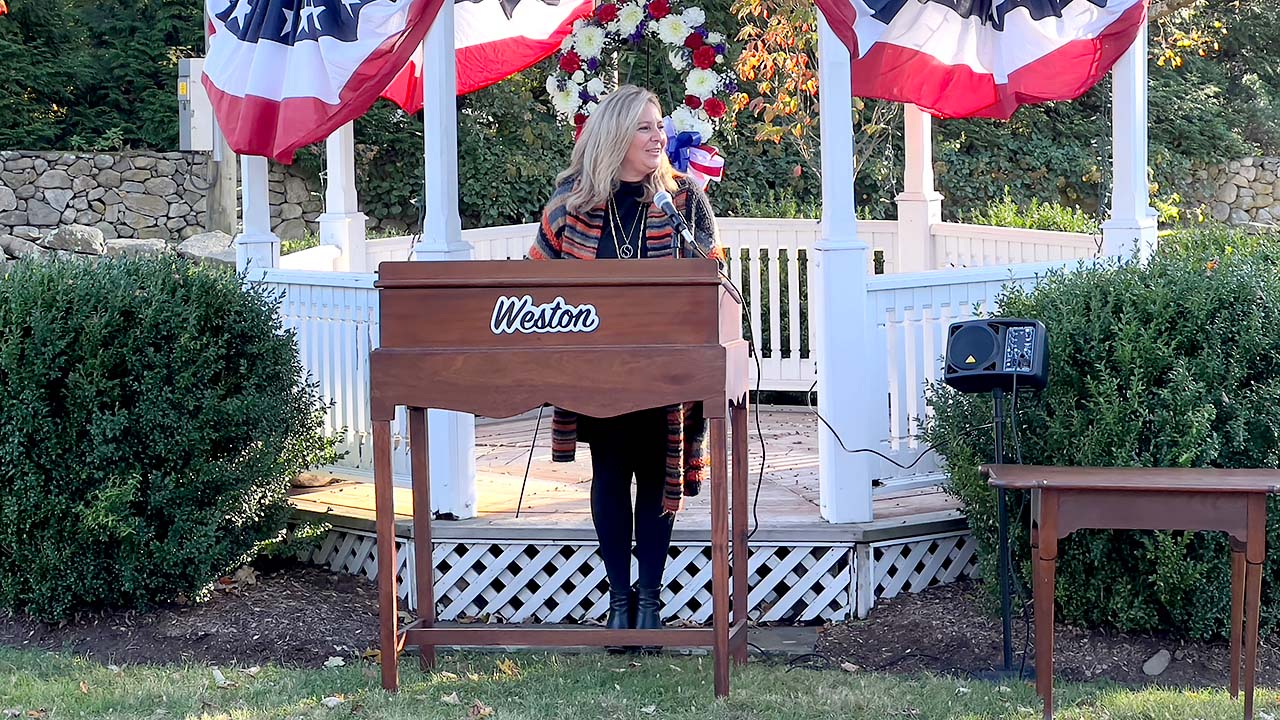 First Selectwoman Nestor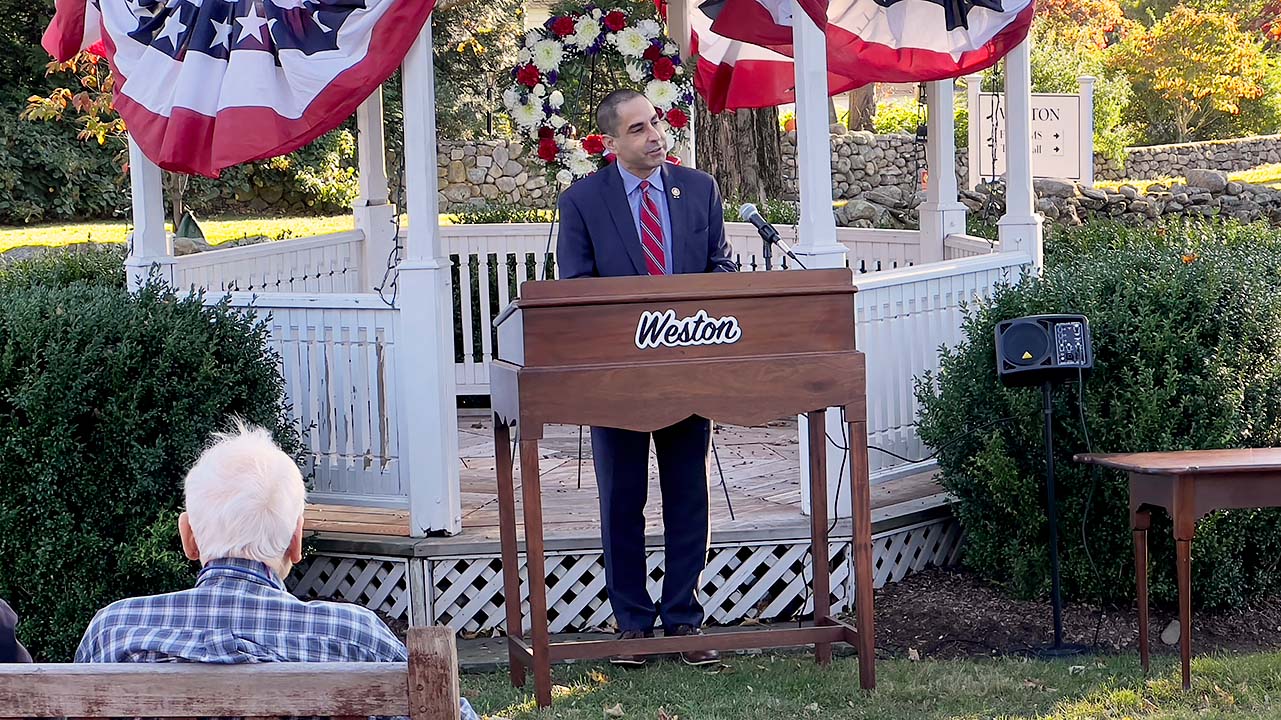 Commissioner Saadi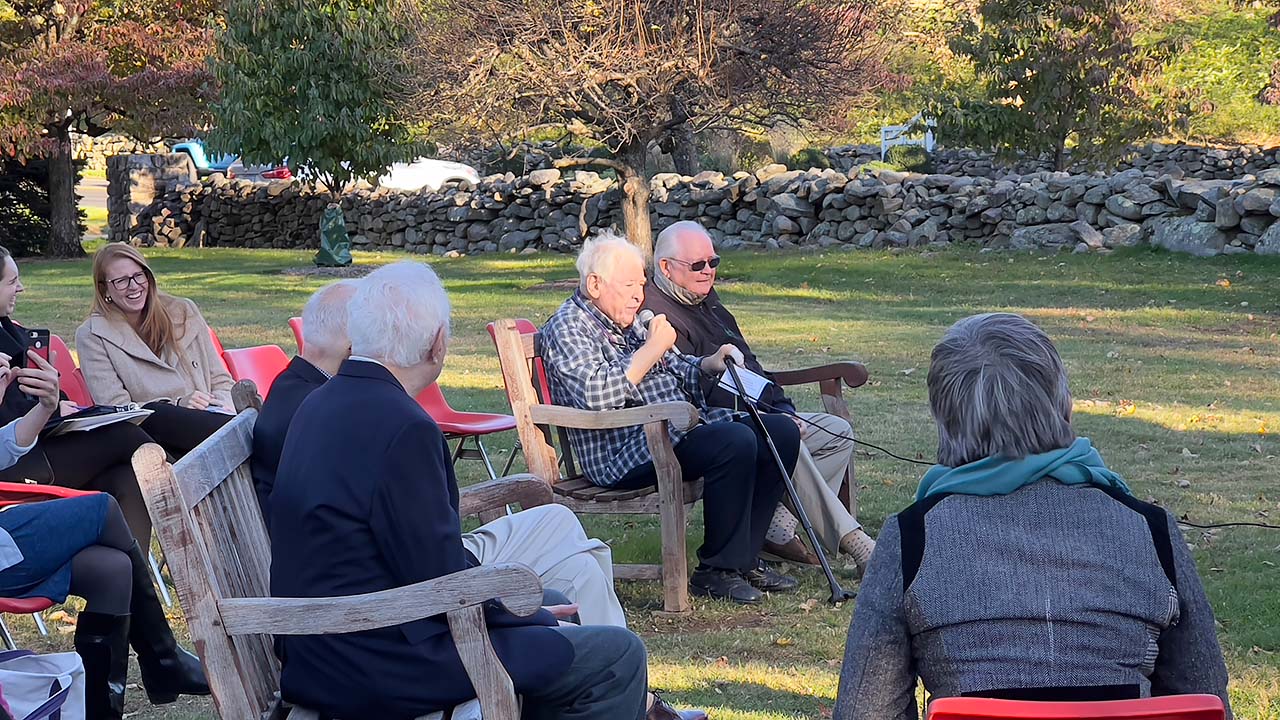 Mr. Saltzman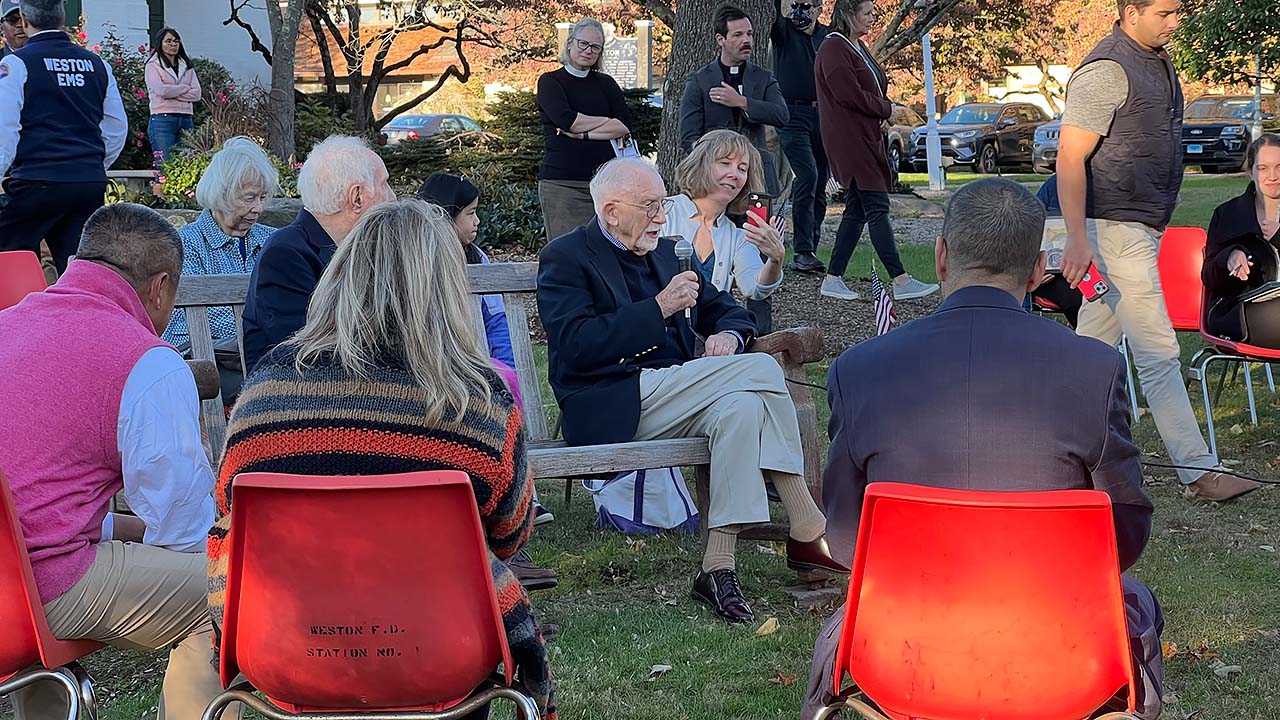 Mr. Hall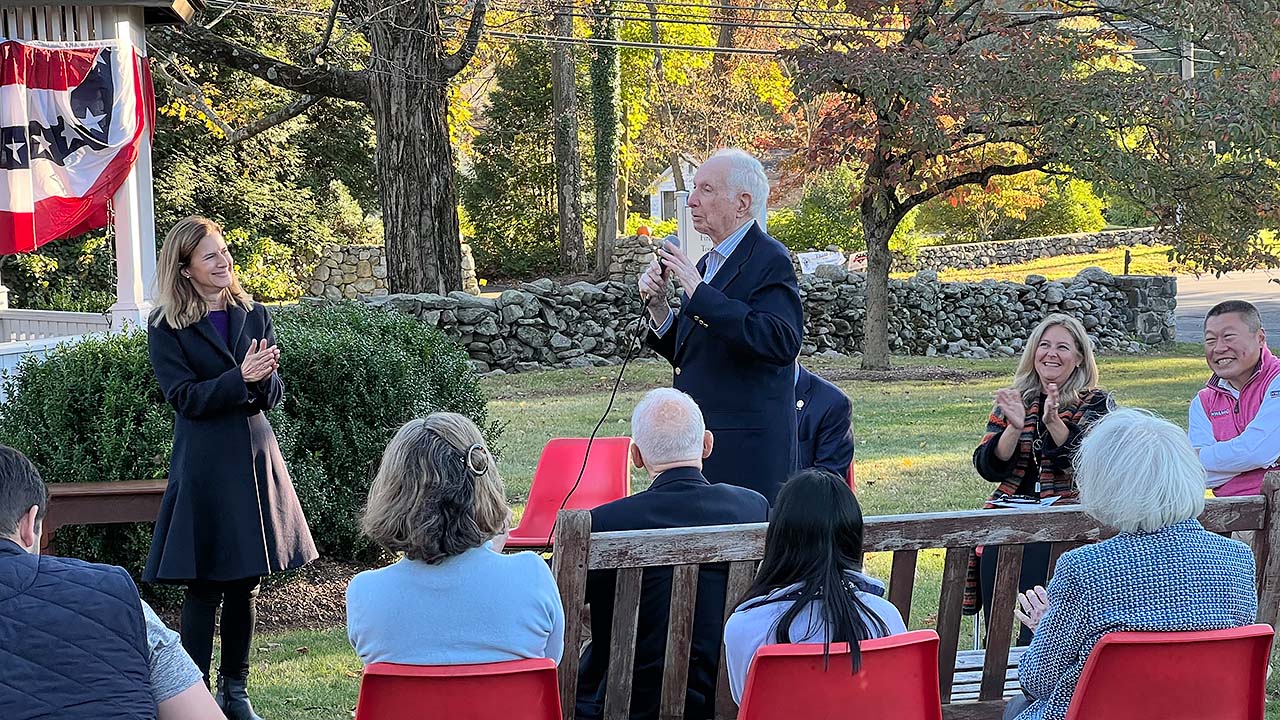 Mr. Hutzler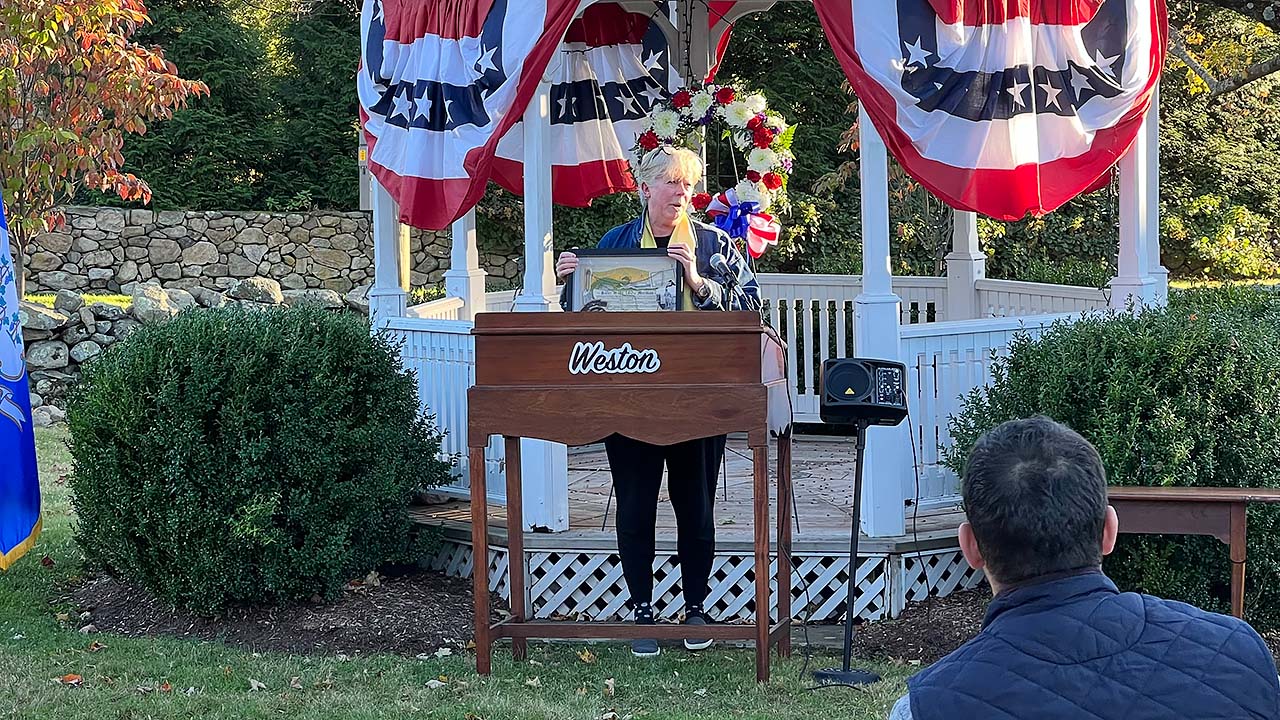 Ms. McKenzie
Mr. Green receives his commendation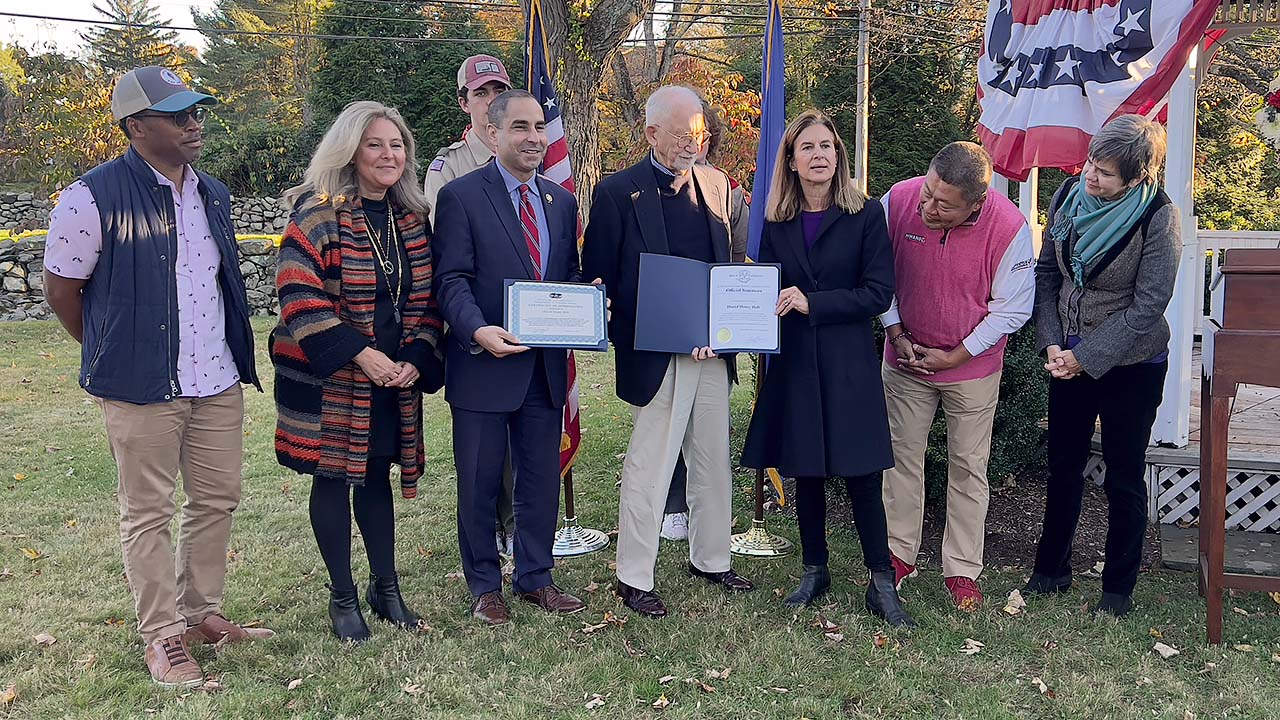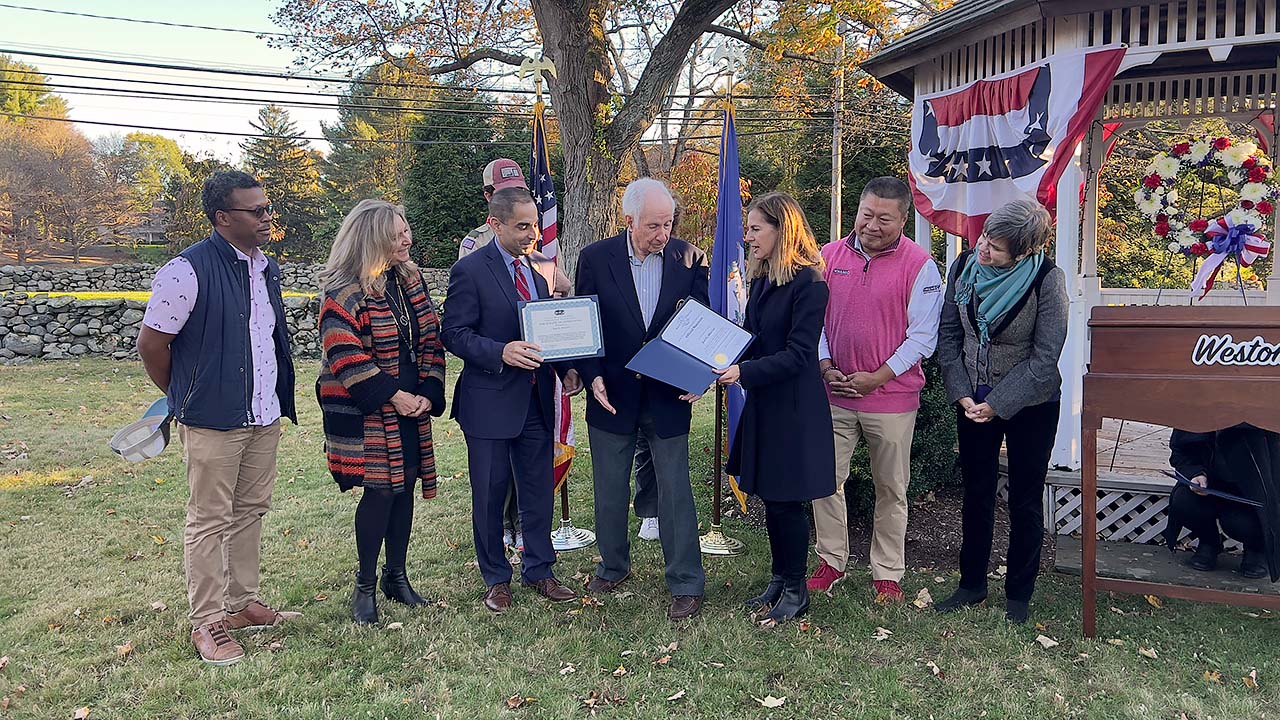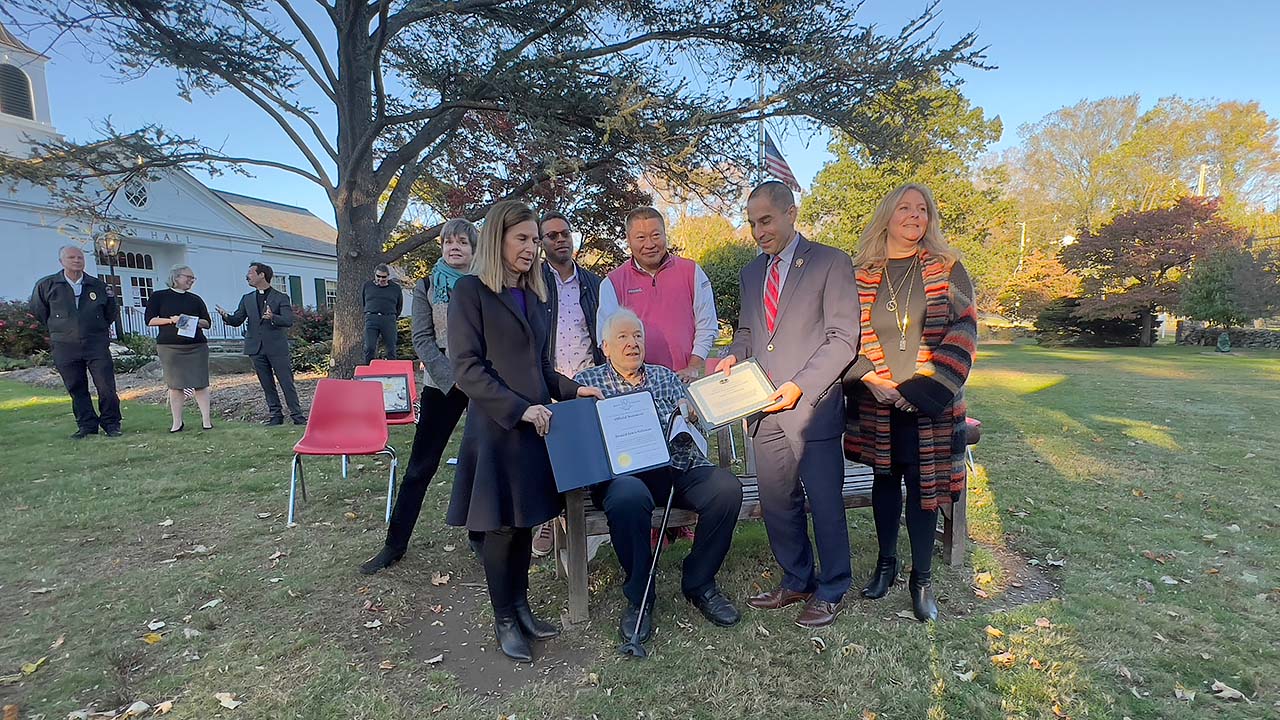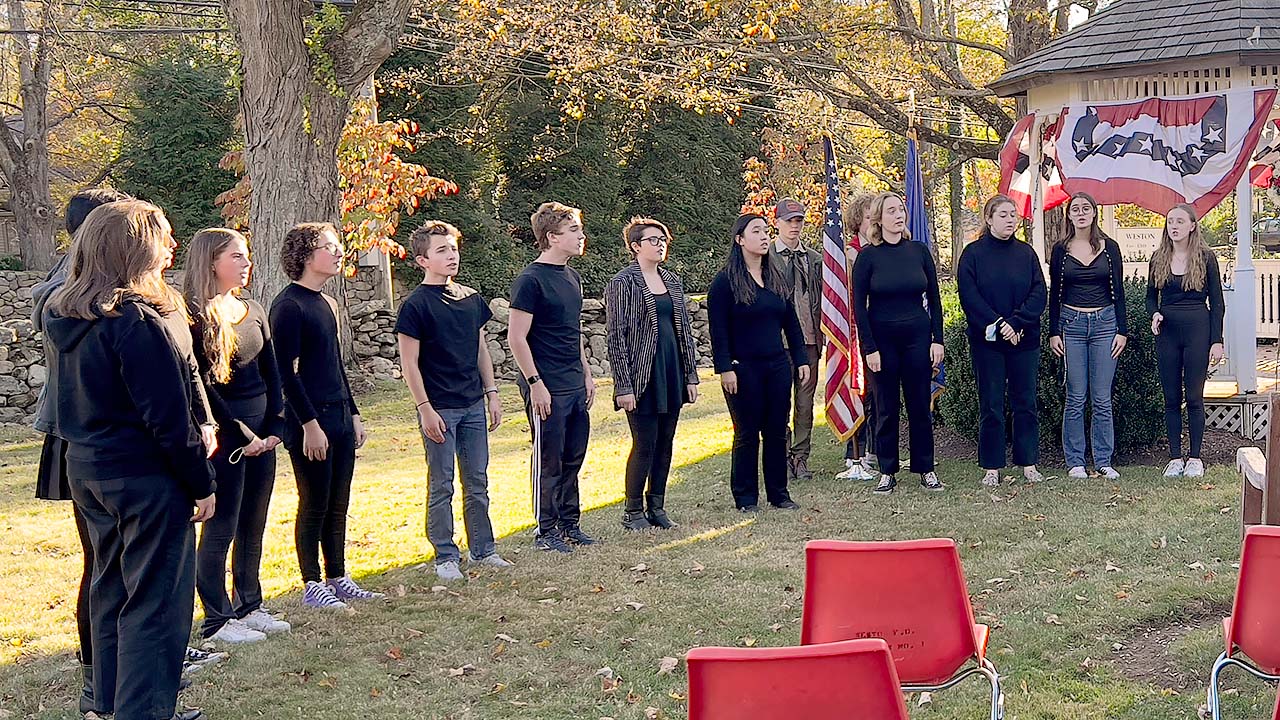 WesTones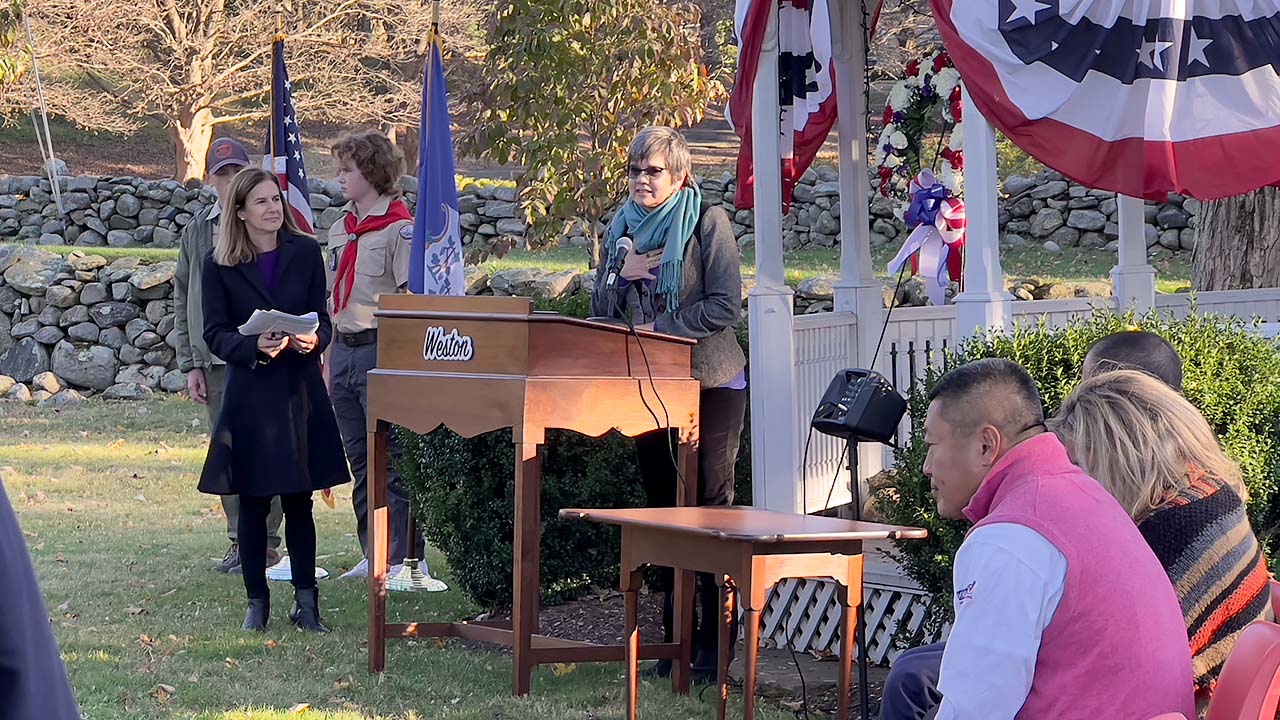 Rep. Hughes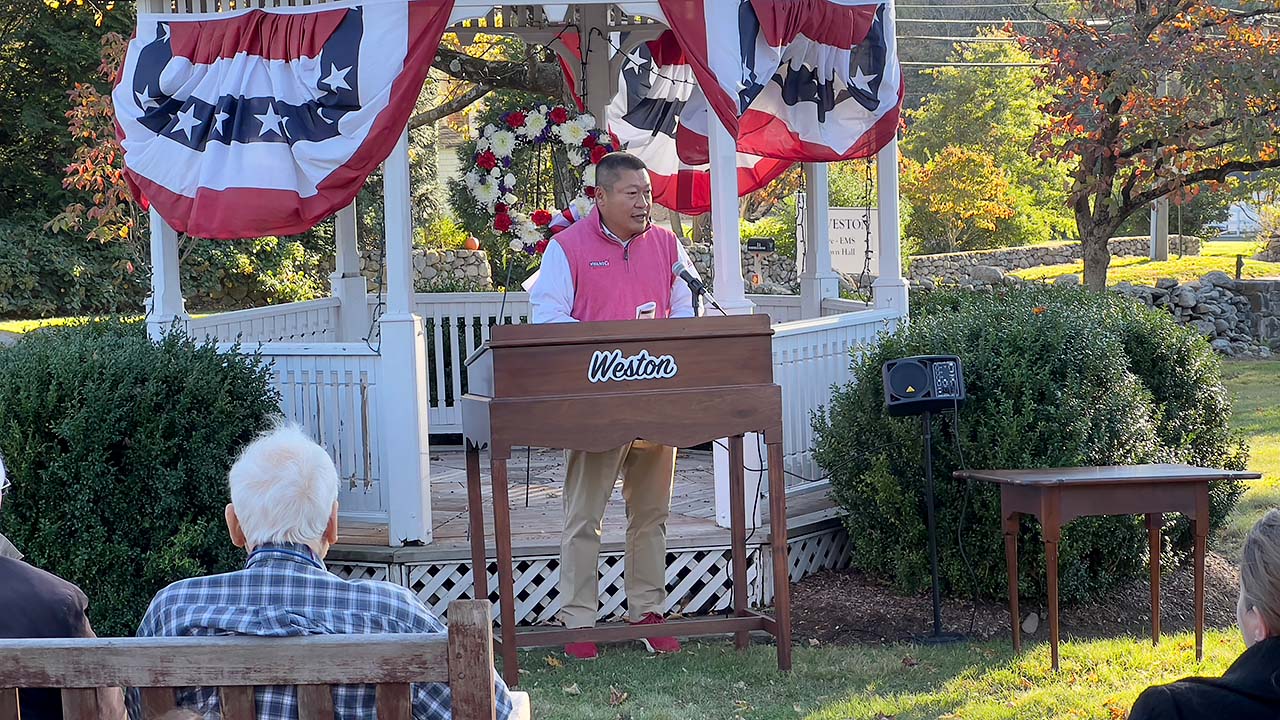 Sen. Hwang