Election Recap: What Changed, What Didn't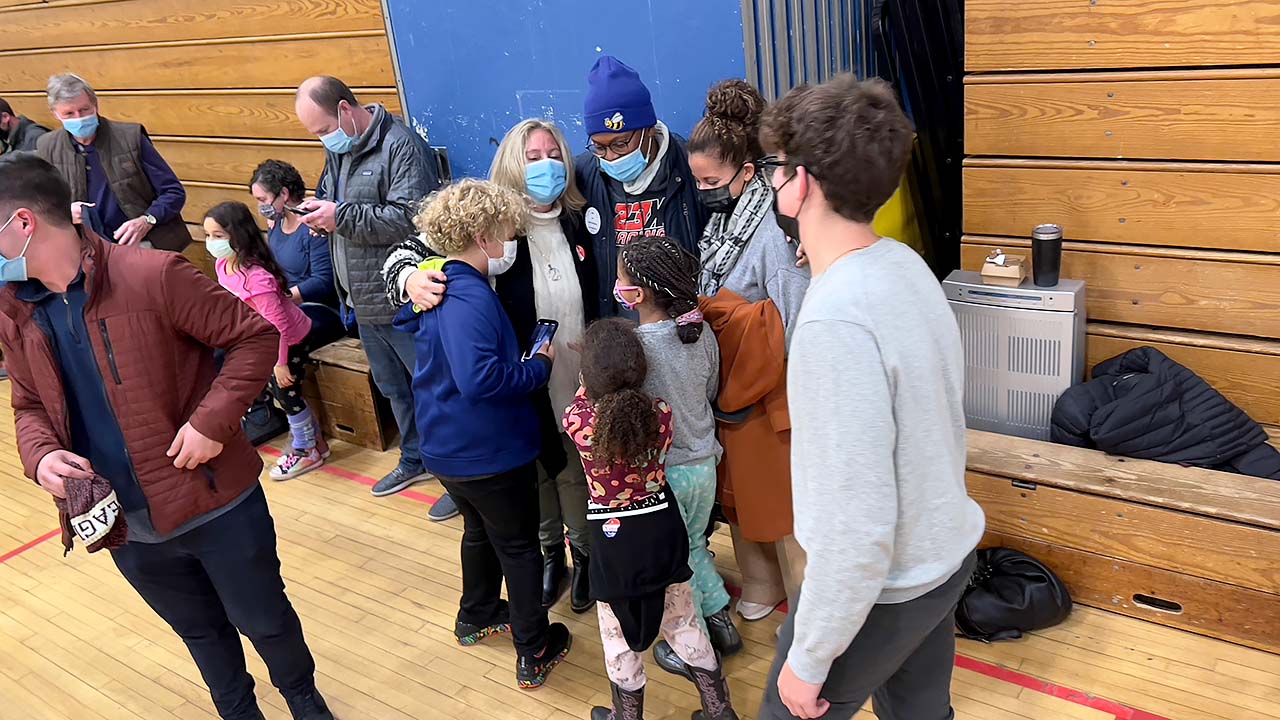 Samantha Nestor, Martin Mohabeer, and their children celebrate
First Selectwoman Samantha Nestor and Selectman Martin Mohabeer cruised to victory in Tuesday's municipal election, garnering 66 and 65 percent of the vote respectively. Full results for all races can be found here.
Kirby Brendsel, the Republican nominee for the town's top job, finished with 21 fewer votes than his running mate, Amy Jenner, meaning Ms. Jenner will take a seat on the newly-formed Board of Selectmen. Ms. Jenner garnered 34.6 percent of the Selectman vote.
Ms. Nestor was the single highest vote-getter in contested races, followed closely by re-elected Board of Finance member Steve Ezzes.
At Weston Middle School on Tuesday evening, after the Registrars of Voters reported the tally — and after receiving a congratulatory call from Governor Ned Lamont — Ms. Nestor said, "I congratulate Kirby on a race well run. I thank the entire Democratic team and congratulate them on their victories."
"I look forward to working with all the boards and commissions to move our town forward," she said, "and I look forward to all the possibilities that are out there. This vote was a mandate for hope, a testament that people want someone like them in office."
Mr. Mohabeer said, "I have been the first and the only in the room for a good part of my career, whether that was in my dorm or at the leadership of my company. But this first means more to me than all of those. I am humble and grateful." He later shared his thoughts in a Letter to the Editor.
In a statement, Mr. Brendsel said, "I want to thank everyone who voted for me, and appreciate all of the support I received. I am very grateful to have had this opportunity and wish nothing but the best for our wonderful town of Weston. God bless the United States of America!"
Ms. Jenner said in a statement, "Thank you to the voters who placed their trust in me. As Weston's next Selectwoman, I'm excited to be a strong advocate for responsible spending and taxing, local control of zoning and our schools, and support for our firefighters, police officers, and first responders."
Typical, and not
This year's municipal election was typical in one respect: several offices were effectively uncontested. But it was atypical by the presence of petitioning candidates, two who appeared on the ballot by obtaining petition signatures as opposed to being nominated by a recognized political party.
No one can remember a petitioning candidate winning a Weston election, and this year was no exception. The two on the ballot — P&Z incumbent Harry Falber and Board of Finance challenger Travis Worrell — finished with the fewest total votes in any race, contested or not.
On the boards
Party majorities in elected boards and commissions did not change. Democrats retained their majority in all. Among incumbents on the ballot, including the several appointed in the last few months, all won, with the exception of Mr. Falber.
Four newcomers to elective office, not counting recent appointees, were voted in. Ms. Jenner joins the Board of Selectmen. Democrat John Dembishack won a seat on the Police Commission, Republican Alexander Burns was elected to the Planning and Zoning Commission, and Democrat Anne Kendall will join the Board of Assessment Appeals.
Throughout the day, party organizations and candidates greeted voters outside the polls. Later, many gathered in the middle school gym to hear the results.
We salute Registrars of Voters Tammy Roberts and Darcy Barrera-Hawes, their deputies Caroline Covert and Jen Morse, and the many volunteers who work tirelessly to make election day run like clockwork.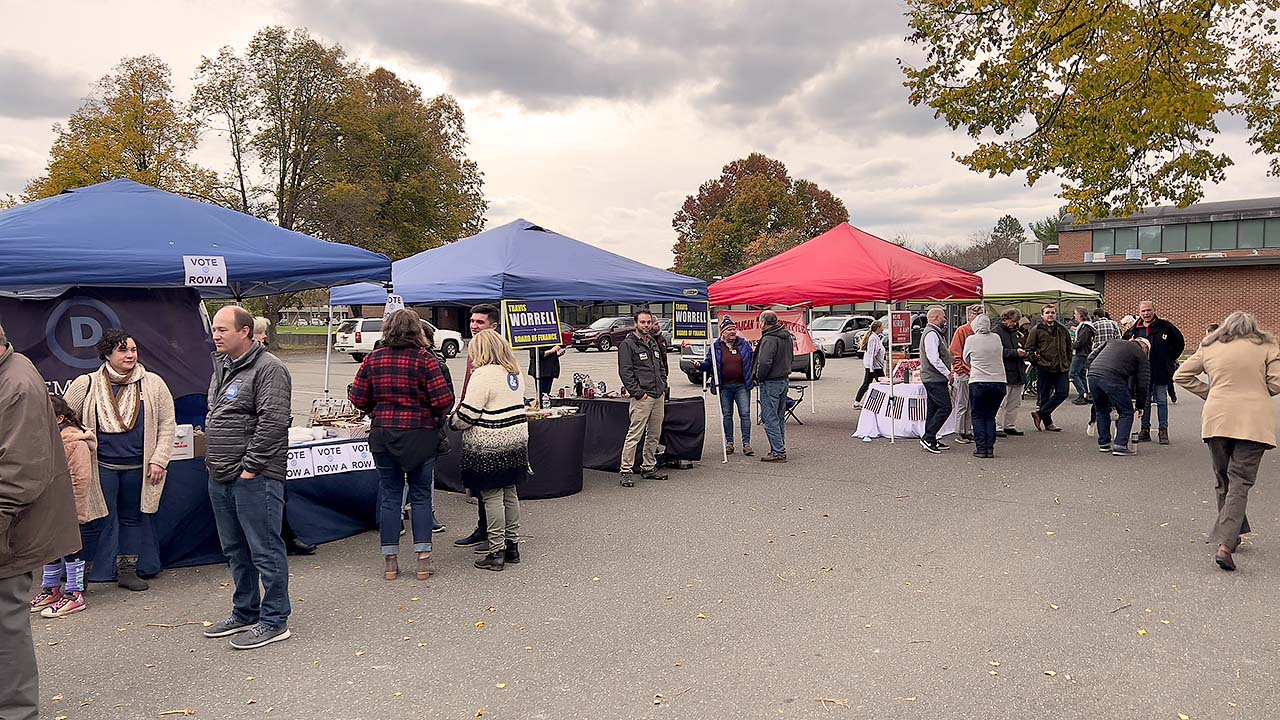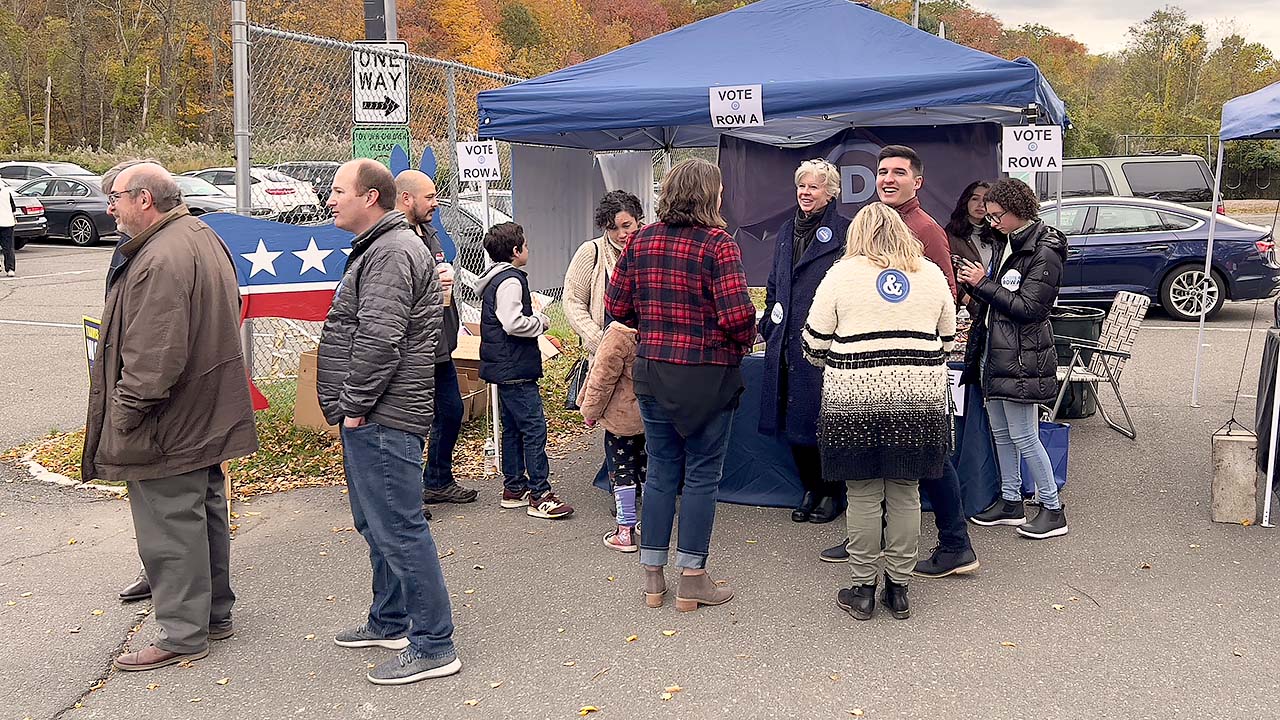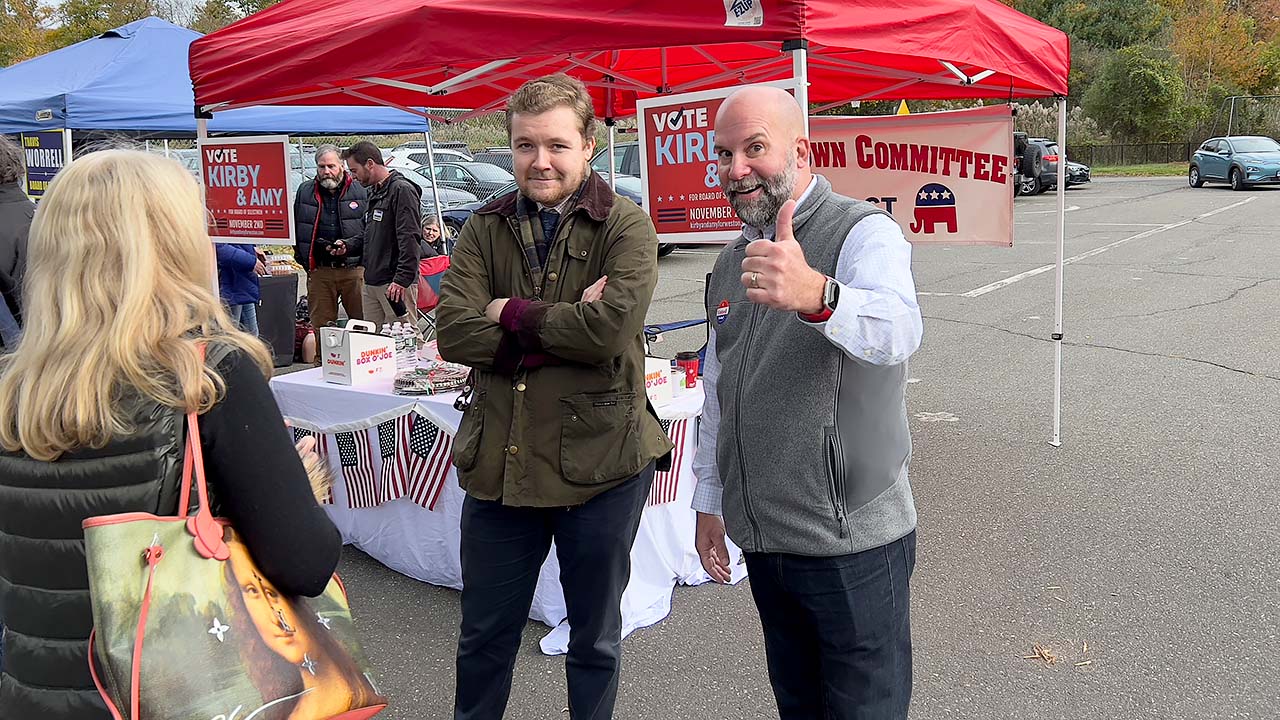 Alexander Burns and Kirby Brendsel
Jeffrey Farr and Rone Baldwin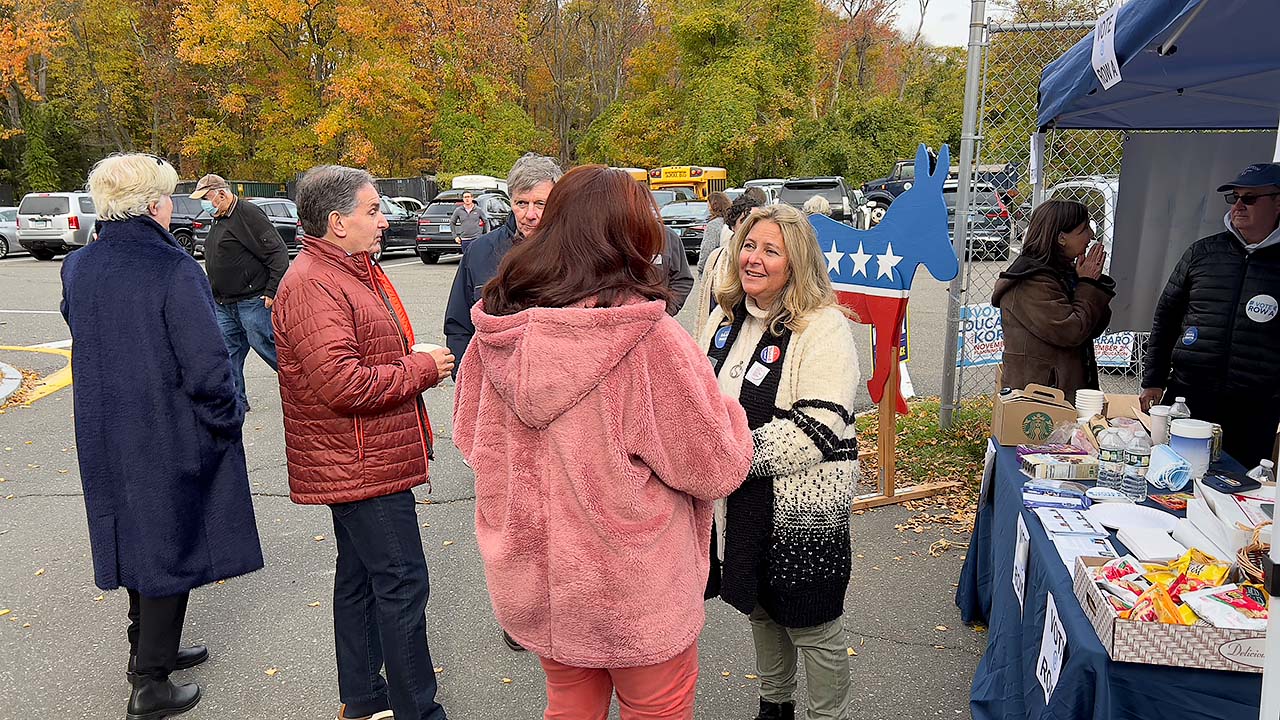 Left, Tony Pesco and Steve Ezzes, with Ms. Nestor at the Democrats' booth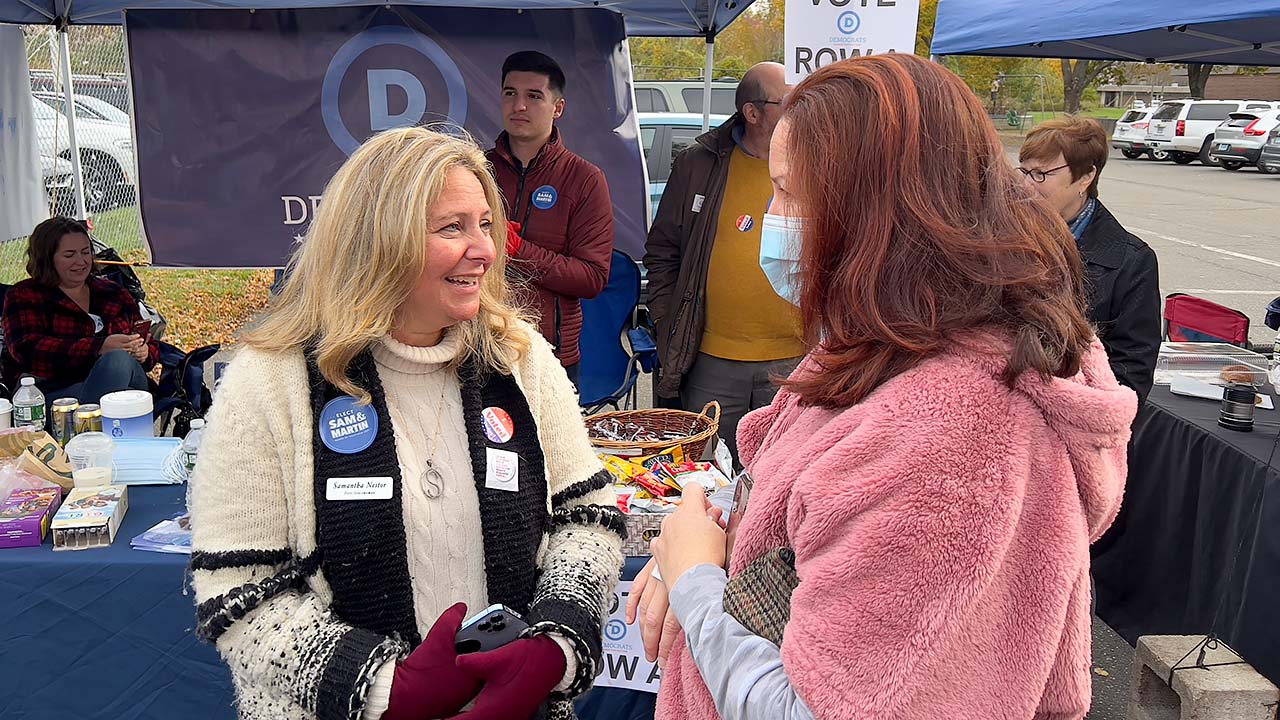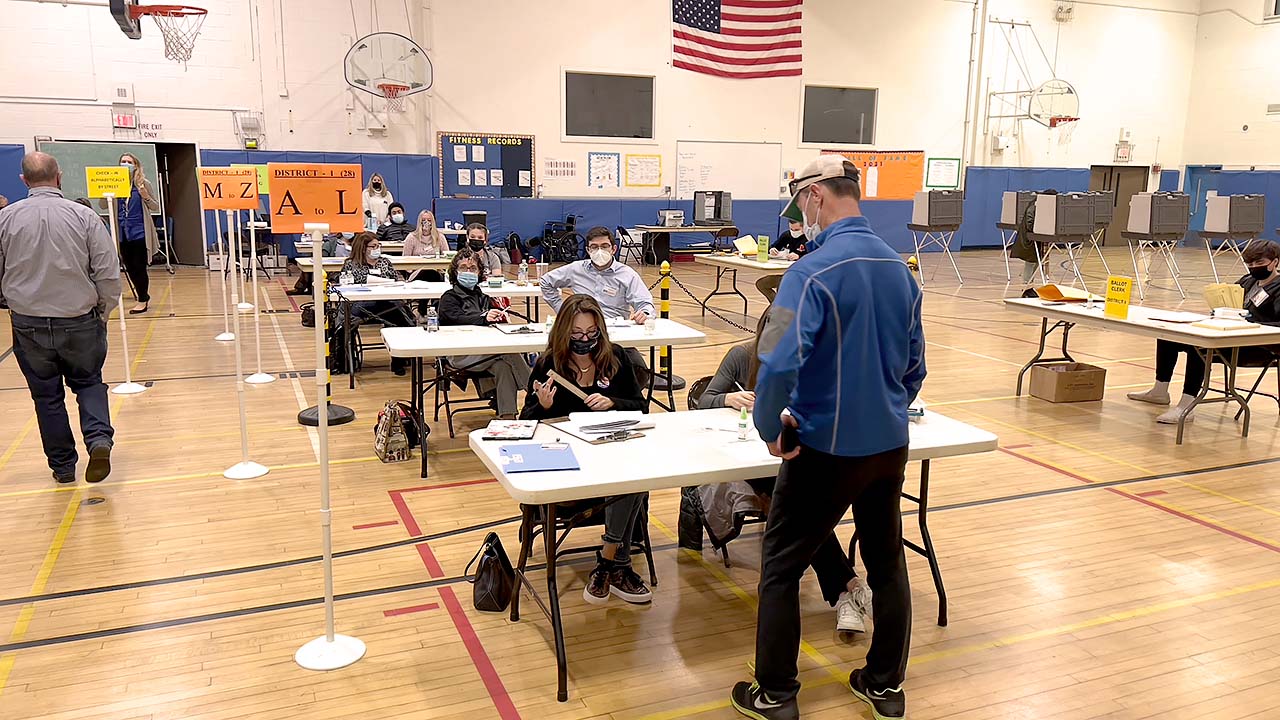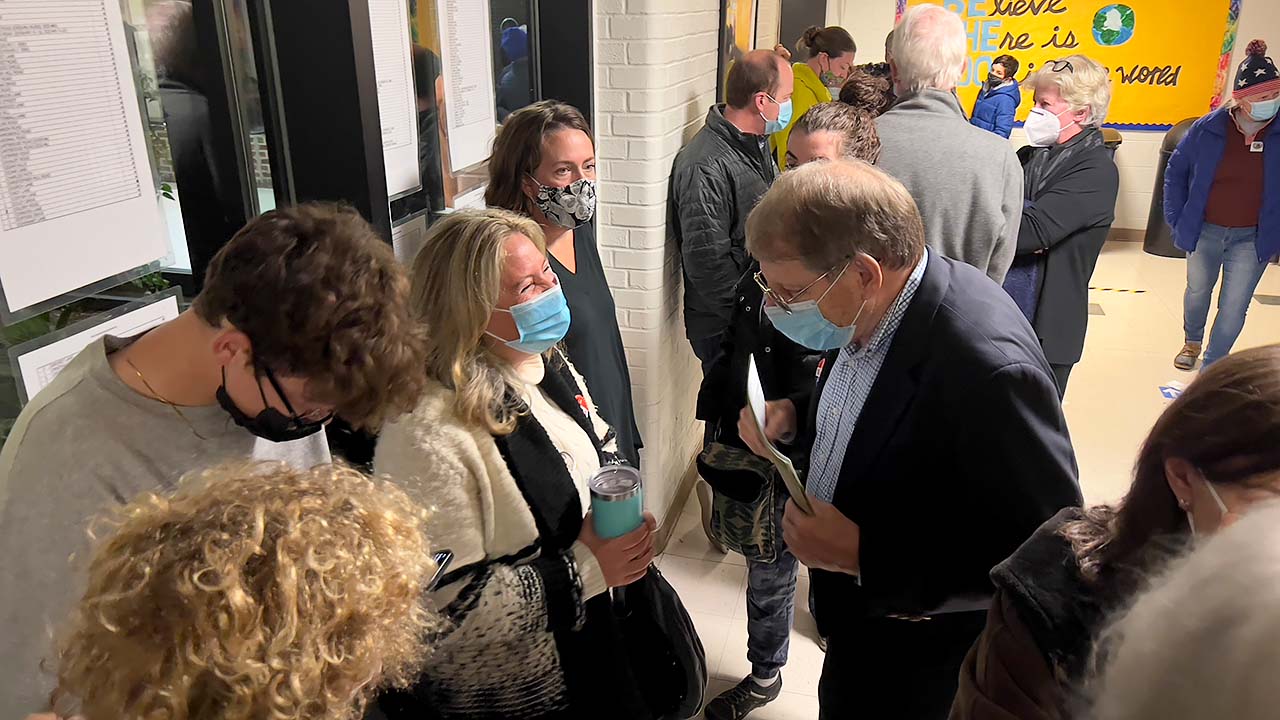 Samantha Nestor and Woody Bliss chat while votes are counted