Nuthatch Naturals Launches on June 10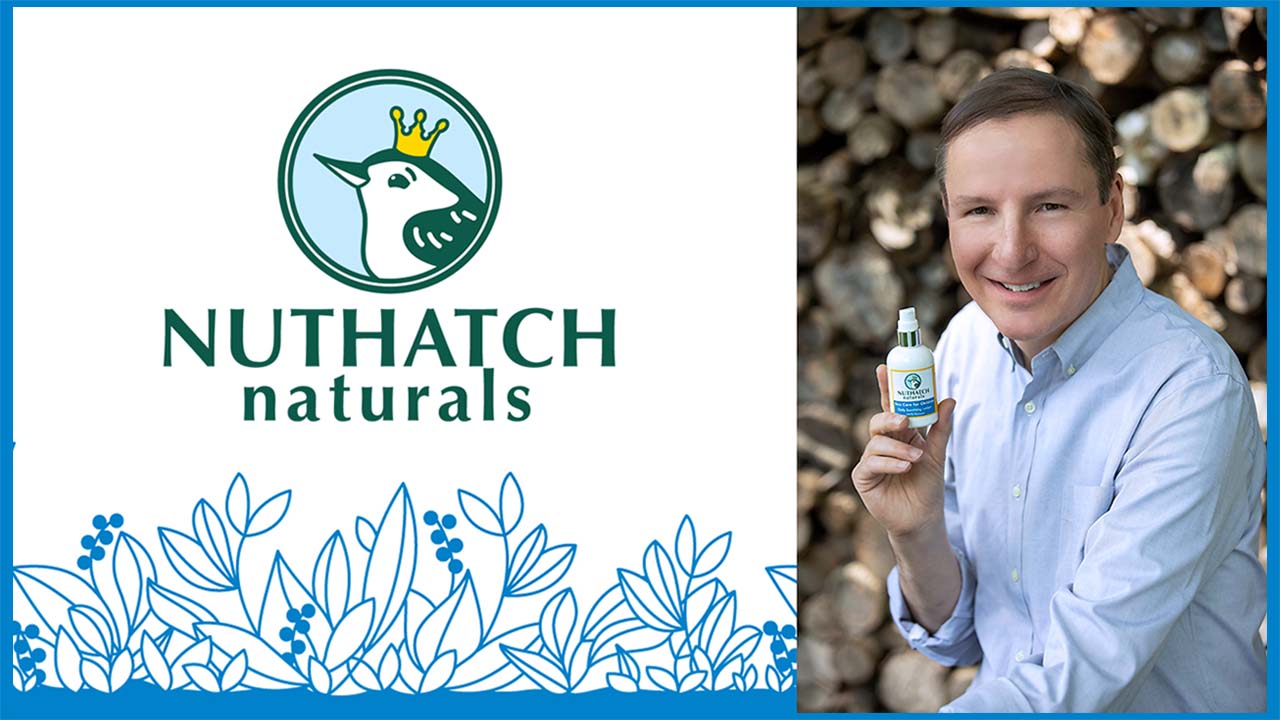 Nuthatch Naturals
, a new Weston business, launches on June 10 in a Zoom introduction of the company and its flagship Daily Soothing Lotion product. You are invited.
Both the product and company were born of necessity, when founder Marc de Mul's seven-year-old daughter developed dry spots on her face and arm. Kid-friendly, non-sticky creams with healthy ingredients were nowhere to be found, so Mr. de Mul took it upon himself to create one.
This isn't his first skin care rodeo. Mr. de Mul, a chemical engineer, is an industry veteran, with over 20 years experience with companies like Johnson & Johnson, Unilever, and BASF, launching products like Johnson's Baby, Dove, and Pond's brands.
But this one is special. You can email for the product launch Zoom link or go ahead and register. It starts at 7:00 on the evening of the 10th.
All about children
"Our goal was to make a product specifically for children's more sensitive skin that was effective, not allergenic. It also had to be natural and sustainable as we deeply care about the earth," said Mr. de Mul.
According to Mr. de Mul, children's skin is more permeable than that of adults, so he set out to design a gentle formula. Development, testing, and trials took a year. From the outset, the product was developed to be natural and biodegradable, with no hormone disruptors, anti-aging chemicals, synthetic dyes, or colorants.
Mr. de Mul said the lotion is fragrance-free, dermatologist-tested, and certified cruelty-free. Nuthatch Naturals Daily Soothing Lotion has earned Leaping Bunny certification and is awaiting a secondary certification from the Environmental Working Group, which identifies harmful ingredients in products such as sunscreen.
Kid-focused, sustainable
Even the packaging — which Mr. de Mul's children helped design and test — is sustainable. Boxes are recyclable and reusable. Each one has a children's puzzle on the back, a way of emphasizing a kid-focused message. "We want kids to like it and use it," he said "We want them to take charge of taking care of their skin."
The company's focus on children also takes a philanthropic turn: ten percent of annual profits will be donated to charities, the first being Save the Children.
More puzzles, links, information, and a blog are available on the Nuthatch Naturals website, where the lotion is sold. Customers will receive a complimentary note pad with a lotion purchase.
You will also see Nuthatch Naturals at local farmers markets, including those in Westport and Wilton, the Cannon Grange Craft Fair, and of course Lachat Town Farm's Farmers Markets, whose season opens on June 25.
Thanks to Kristen Jensen for the photo, and to Aline Weiller, who will moderate the Zoom launch event.