New Redeemable Stations Open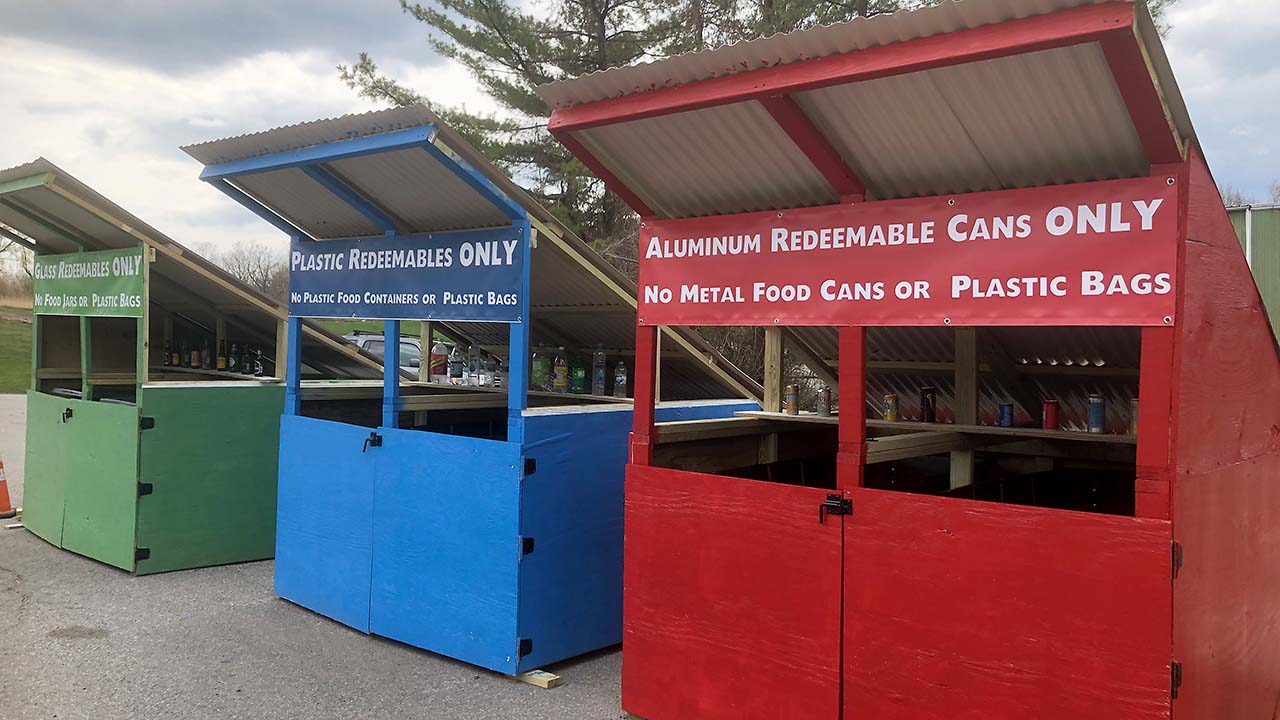 Just in time for Earth Day, three new brightly colored stations have been installed at the Transfer Station where redeemable beverage containers can be deposited.
Once volunteers sort and redeem bottles and cans, proceeds are donated to local charities.
The stations are in place thanks to the Sustainable Weston Committee and the Weston High School Green Team. They were designed by the Green Team and its mentor, Michael Aitkenhead, the school's environmental science teacher.
On April 13, after a crowdfunding effort raised the needed funds, parents and high-schoolers gathered at the Transfer Station to build and paint the stations.
"Our goal was to get them finished in time for Earth Day," said Sustainable Weston member Tom Socha. "Thanks to overwhelming support, we got it done."
Making Weston more redeemable
The stations extend an ad hoc effort initiated a year ago by Mr. Socha and Andy Bill, now an alternate member of Sustainable Weston, to restore the collection of redeemables after the pandemic interrupted what had been a Boosters Club weekly program at the Onion Barn. As more volunteers joined the effort, more than 160,000 containers were collected, resulting in over $8,000 donated to charities.
Mr. Socha and Mr. Bill are confident the new stations will make the process more efficient, generate more donations, and keep over ten tons of glass, plastic and aluminum out of landfills each year. They could also reduce the amount Weston pays for waste removal.
Most Weston households rely on haulers to take away garbage, but the new receptacles at the Transfer Station are still a good way to keep redeemable containers out of the single stream of waste that goes to landfills or incinerators.
"Our ultimate goal," said Mr. Socha, "is to extract all of the town's redeemable bottles and cans before they enter the waste stream. Working together, we can make Weston a greener town."