Make Weston Redeemable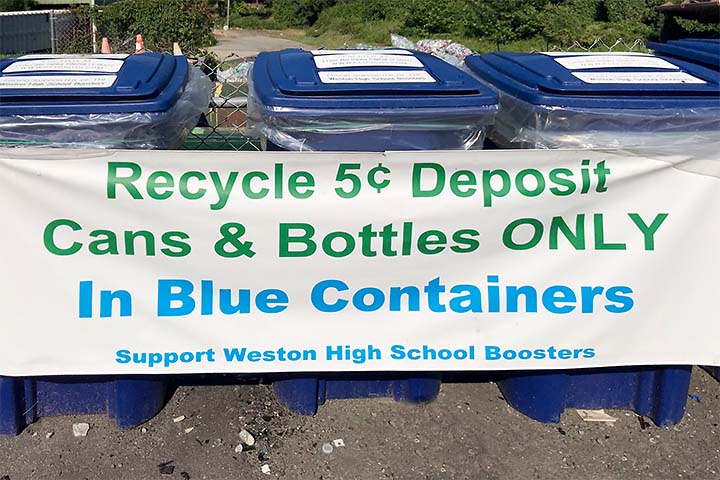 Thanks to volunteers, you can still deposit 5-cent redeemable cans and bottles for recycling, which keeps Weston a little cleaner, saves taxpayers a little money, and generates revenue for local charities.
When Covid restrictions first hit, it looked like the program would come to a halt. With schools closing, student volunteers organized by the Boosters Club could no longer meet at the Onion Barn on Saturday mornings to separate items for redemption. The cash supported Weston's athletic teams.
Two environmentally-friendly residents, Tom Socha and Andy Bill, stepped up to partner with the Boosters to keep the effort going. They have since been joined by other volunteers. More are welcome.
The Onion Barn receptacle, newly built by Weston Kiwanis, is closed for the time being. But five new bright blue containers are available for use at the Transfer Station.
The object is "to make Weston fully redeemable," said Mr. Bill.
How you can help
"You wouldn't believe some of the stuff we have to pull out," said Mr. Socha. So, one way everyone using the receptacles can help is to make sure only 5-cent redeemables go in.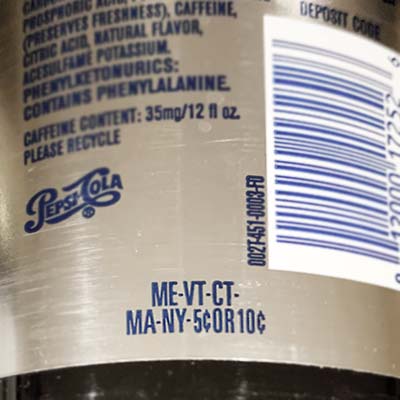 Not all bottles and cans are redeemable. The telltale is a notice, usually near the barcode, that lists the states where the container is redeemable for cash. If CT is one of them, it is good to go.
It also helps if, instead of tossing in a bag full of bottles and cans, you keep the bag out of the mix. Someone will have to separate it out with the other things that don't belong there.
Wine and liquor bottles are not redeemable. Neither are juice-related bottles. For some reason, Snapple bottles aren't either. All aluminum cans are. Food containers, coffee cans, and PPE are never a match. (That's right, volunteers sometimes have to sort out PPE.)
Results
Mr. Socha and Mr. Bill say that, just since March, around 75,000 redeemables have been sorted by volunteers. That amounts to nearly $4,000 the Boosters Club has been able to channel to local charities. When this is all over, the main beneficiary will once again be Weston athletics.
After getting things going at the Transfer Station, the two reached out to several community groups asking for volunteers to help sort. "We got a great response," said Mr. Socha.
Everything is done with proper masks, gloves, and social distance. To join the effort, you can reach Tom Socha by email to tomsocha2@gmail.com or to Andy Bill at andrewbill@sieramarketing.com.