Vaccination Clinic at Weston Senior Center Serves Over 200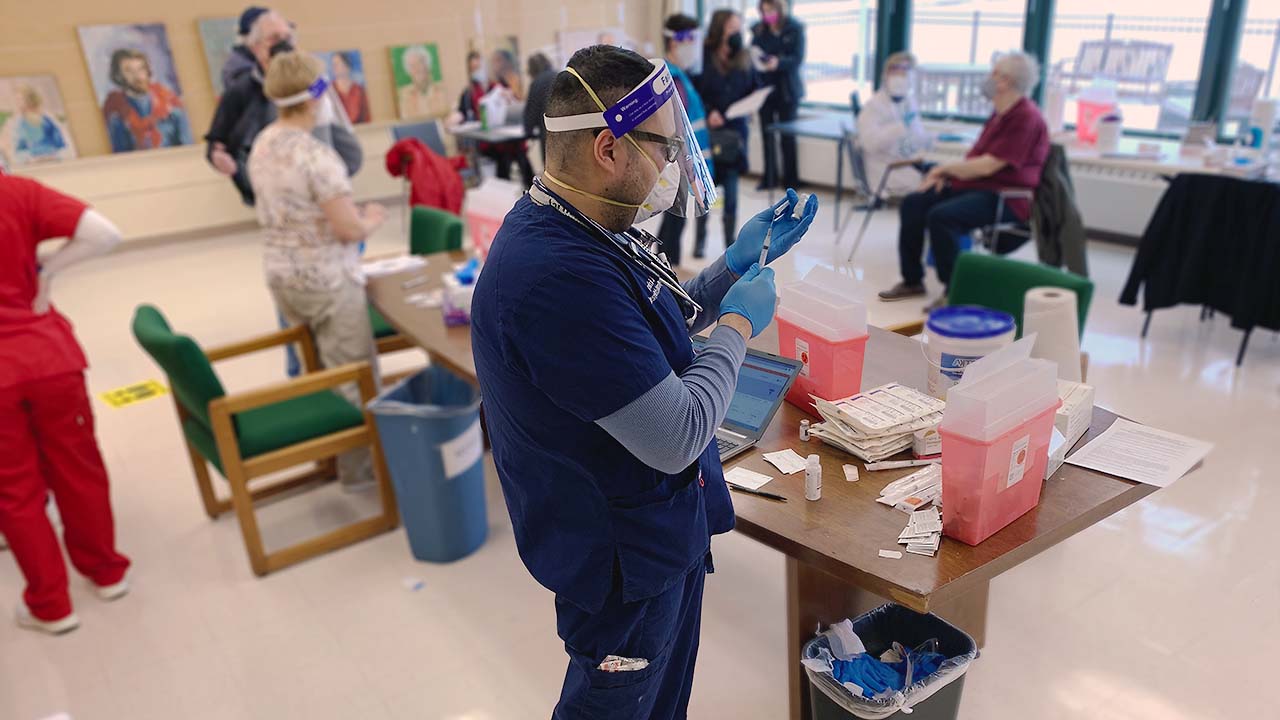 Louis D'Onofrio of the Westport Weston Health District prepares a vaccination
A vaccination clinic at the Weston Senior Center on Thursday drew over 200 participants from Weston and nearby towns.
The clinic was run by the Westport Weston Health District from 9:00 am to 1:00 pm. Everything went smoothly. Patients arrived at scheduled times to receive the vaccine.
After getting the shot, patients went to a waiting area for 15 minutes, a precaution against an adverse reaction, which is highly unusual. None occurred yesterday.
In the photo below, a familiar Weston face (were it not for the mask): Robert Turner waits out his 15 minutes.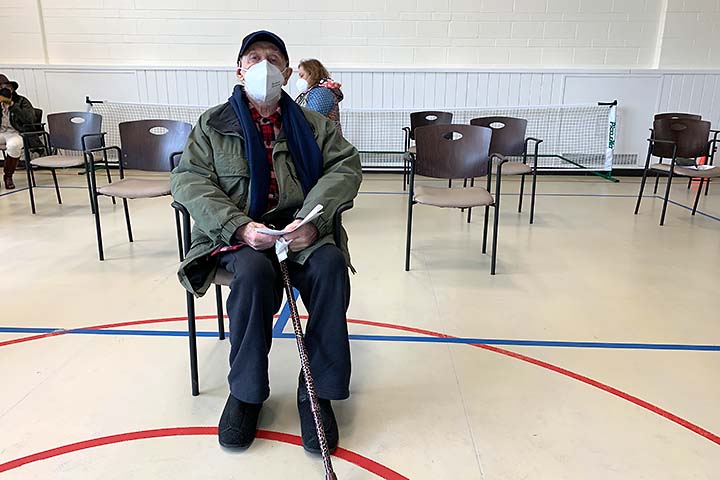 The Phase 1B vanguard
Those over 75 years of age are the first ones eligible in Phase 1B of Connecticut's vaccination rollout, which will eventually encompass 1.4 million residents.
Wendy Petty, the Weston Senior Center director, helps those eligible navigate what currently can be a complex registration process. The process is improving almost daily, particularly the telephone system run by the United Way, which has hired 80 more staffers. In his press briefing on Thursday, Governor Ned Lamont said average wait times are down to three minutes.
Vaccine supplies remain limited but shipments arrive on time. The state currently receives about 47,000 doses each week, but that amount is about to increase. Governor Lamont said the weekly allocation will soon rise to 54,000 doses.
Much hope for a larger supply soon rests with Johnson & Johnson, which will report Phase 3 clinical trial results next week. J&J has enormous production capacity. Its vaccine requires only one dose and has relatively modest storage requirements.
Checking in
Congressman Jim Himes, Representative Anne Hughes, and State Senators Will Haskell and Tony Hwang joined First Selectman Chris Spaulding at the Senior Center for a close look at a well-run clinic.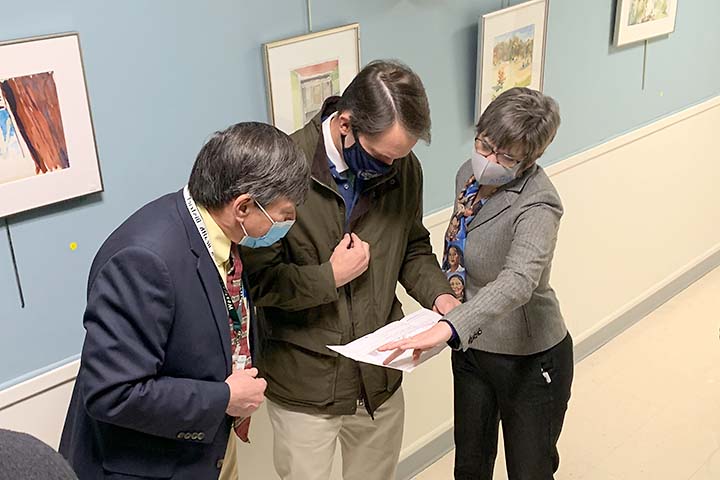 Left to right: Health District director Mark Cooper, Congressman Himes, Representative Hughes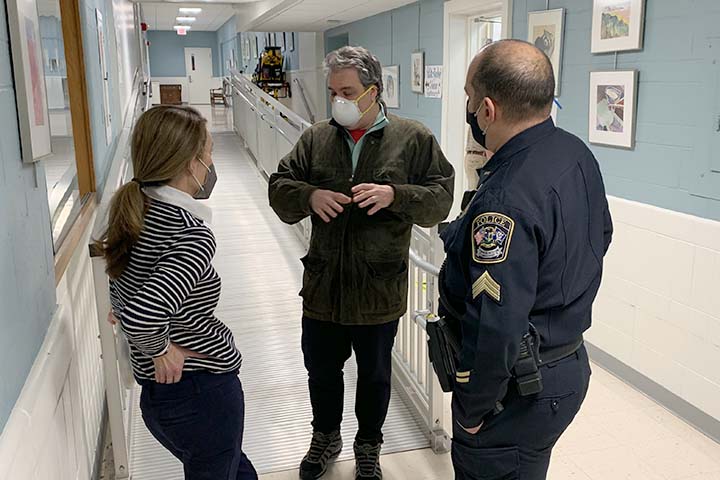 Left to right: Ms. Petty, Dr. Spaulding, Sergeant Joe Miceli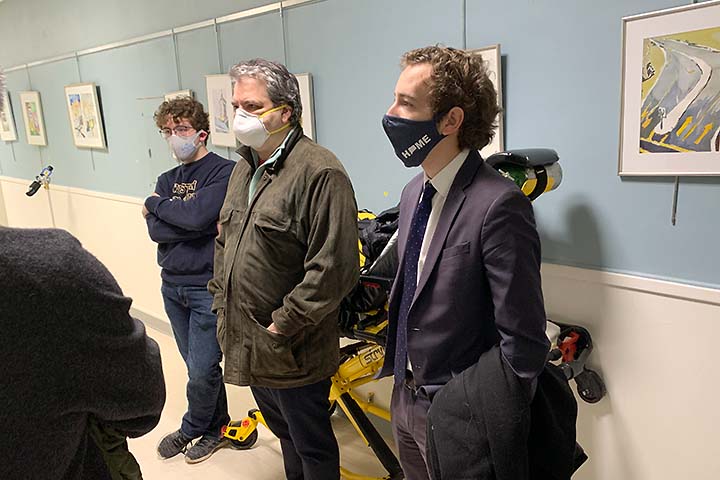 Left to right: Eli Brennan, First Selectman Spaulding, Senator Haskell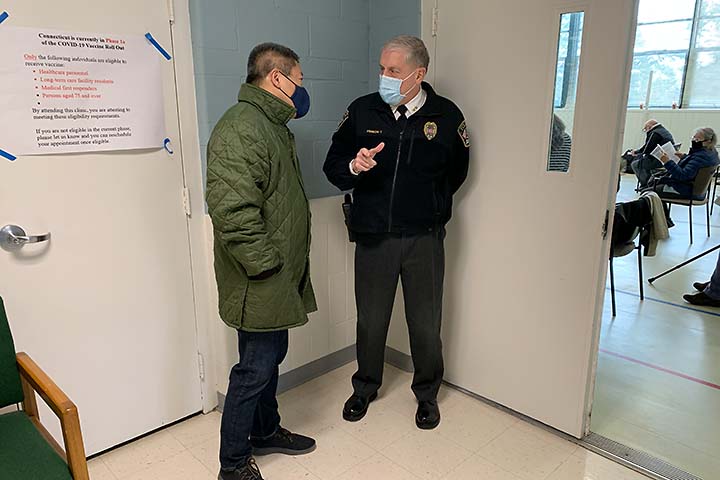 Left to right: Senator Hwang, Police Chief Ed Henion