Governors Focus on College Students, Thanksgiving, and More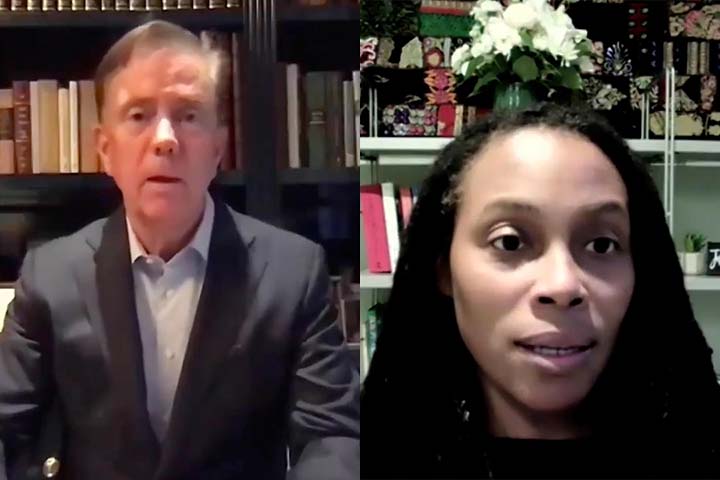 Governor Ned Lamont, Dr. Marcella Nunez-Smith
Editor's Note: A November 18 update to this article appears at the bottom of the page.
Soon, the governors of Connecticut, New York, and New Jersey—and possibly other states in the region—will issue a joint declaration regarding students returning home from college.
Whether the statement will be an order or a firmly-encouraged set of guidelines is not yet clear. The former would be extremely difficult to enforce.
Returning students will be asked to self-quarantine for 14 days before coming home or immediately upon arrival. They will also be expected to be tested for Covid-19.
The Department of Public Health has already sent guidance letters to out-of-state colleges and universities and all those in Connecticut.
The concern is Thanksgiving. More specifically, the concern is Thanksgiving gatherings where protocols for social distance and masks are not followed.
"Celebrate Thanksgiving cautiously"
This morning, First Selectman Chris Spaulding said, "I encourage everyone, for their own safety and for the safety of their families, to celebrate Thanksgiving cautiously. Be mindful that a dangerous health crisis still exists. Keep your group small. Wear masks indoors as much as possible. Be as distanced as much as you possibly can."
The current surge of coronavirus cases is largely attributed to gatherings, especially indoors.
In a press conference on Monday, Governor Ned Lamont urged everyone to forego indoor parties and reunions at home.
He also appeared to hint that other measures may be in the offing.
One shoe drops?
In press calls, Governor Lamont has often telegraphed upcoming official action, especially when it involves his counterparts in neighboring states.
While noting "there are no plans yet," the governor said he and governors Andrew Cuomo of New York and Phil Murphy of New Jersey are "looking at" indoor dining, gyms, and religious gatherings, all of which were found to be, in a study by the Health Department, places where Covid transmission occurs.
The governor said he sees no evidence that retail establishments and offices are a significant source of spread, and that they can remain open if owners and patrons adhere to mask and distance protocols. He said the schools are "doing well."
In most school districts, including Weston's, there is an increase in cases among students and staff. But the rate of infection in schools is far lower than in the general population.
Hospitalizations
Governor Lamont said decisions about efforts to, once again, flatten the curve will be guided by the number of patients hospitalized for the virus. Hospitalizations have been increasing recently in all counties.
As of today, 777 Connecticut residents are hospitalized for Covid-19. According to Josh Geballe, the state's Chief Operating Officer, that is roughly the level experienced in late May.
"Simple tasks"
In Monday's press call, Dr. Marcella Nunez-Smith, a Yale professor of medicine and epidemiology, member of the governor's reopening task force, and co-chair of President-Elect Joe Biden's coronavirus task force, was asked if she agreed with an estimate that the current Covid surge would peak in late December or early January.
That assessment was expressed last week by Dr. Tom Balcezak, Chief Medical Officer of the Yale New Haven Health System. "We are heading into what is going to seem like a long, dark and cold winter," said Dr. Balcezak.
Dr. Nunez-Smith did not disagree, but said, "Don't take it as inevitable."
The "simple tasks," she said, of wearing masks, maintaining social distance, and avoiding large indoor gatherings are the way to "honor our healthcare workers and disrupt those projections."
Update, November 18, 2020
Governors of Northeast states jointly announced today that they are encouraging colleges and universities to provide testing for all students traveling home for Thanksgiving break.
The governors also said students who test positive should isolate on campus before traveling, unless safe travel arrangements can be made.
The governors strongly recommended that colleges and universities finish the fall semester with expanded remote instruction. This would eliminate the need for students to travel back and forth from home and campus in the few weeks between Thanksgiving and winter break.
The joint statement was signed by governor Ned Lamont of Connecticut, Charlie Baker of Massachusetts, Andrew Cuomo of New York, Gina Raimondo of Rhode Island, Phil Murphy of New Jersey, Tom Wolf of Pennsylvania, and John Carney of Delaware.