Troubling Metrics, Success at Schools, Improved Treatment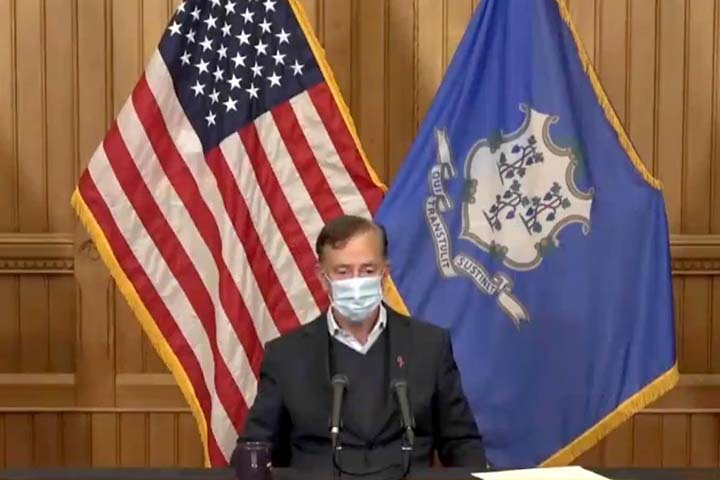 Recent Connecticut Covid metrics have been concerning, but some aspects of the ongoing story are actually encouraging.
First, the sobering.
On Thursday, Governor Ned Lamont announced the state's positivity rate for the day, a headline-grabbing 6.1 percent. As we report daily, recent numbers have been climbing throughout the state and in Fairfield County. Cases, infection rates, hospitalizations, and fatalities have been "creeping up," as the governor put it. Now they're creeping faster.
"There is no good news in these numbers," said Mr. Lamont.
"Let's face it, 6.1 may be a harbinger of things to come." He added later that the numbers "are like a gut punch" after a time when "we thought we maybe had seen light at the end of the tunnel."
We have added to our daily updates information about hospitalizations in Fairfield County, Red Alert municipalities in the state, and data about cases in schools. More about schools in a second.
In Weston
On Wednesday, six new Weston cases, the town's largest one-day increase since April, brought the year-to-date total to 106.
This probably does not indicate wide community spread. The pattern in town seems to be that, from time to time, isolated groups or families are exposed and contract the disease.
A number of students and school staffers have been asked to quarantine following contact with someone who tested positive after an off-campus exposure. The same is true for a number of players in youth leagues. As discussed below, in-classroom school is, so far, not a source of community spread.
A rollback to Phase 2?
Governor Lamont hinted that the time may come when he must order a statewide rollback to Phase 2 reopening. The rollback would take maximum capacities for indoor dining, personal services, hair salons, barber shops, libraries, performing art venues, gatherings, and outdoor venues back to levels in effect before the transition to Phase 3 a few weeks ago.
However, Mr. Lamont still hopes a recent executive order will stem the Covid tide and avoid a broad State mandate. The order gives municipal leaders the power to decide which reopening phase to operate within. The town of Windham, which has a large amount of off-campus university housing, was the first to exercise that authority.
Today, Bridgeport, Stamford, Norwalk, and New Haven also rolled back to Phase 2.
Mr. Lamont also said governors in the region are taking a close look at winter sports tournaments, and noted that Massachusetts and New Hampshire have already closed indoor hockey rinks.
When asked about other facilities and restaurants, which the governor has long hoped would be able to expand indoor capacity, Mr. Lamont said, "Let's wait and see what happens this weekend."
At the schools
At least so far, according to acting Department of Health Commissioner Deidre Gifford, classrooms are not a source of coronavirus spread. Dr. Gifford and Governor Lamont have both commented in recent weeks that classrooms may be the safest place for most children. Confirmed cases in school students and staff appear to be caused by exposures off campus.
Based on required daily input from superintendents, each week a new State portal now reports case information for all public and private schools. That portal is the source of the school information in our daily reports.
As of the State report issued on Thursday, there are no cases among Weston school students and staff. One note: non-residents would not appear in Weston's numbers. There are also none in Westport, Wilton, or Redding.
There are a few cases at Easton's Staples Elementary School, less than six. The exact number is not displayed unless it exceeds six or is zero. Most Connecticut schools are at zero. None are above six.
Cases are reported at Ridgefield's East Ridge Middle School, Bethel's High School and Johnson Elementary, and seven schools in Norwalk.
Improved patient outcomes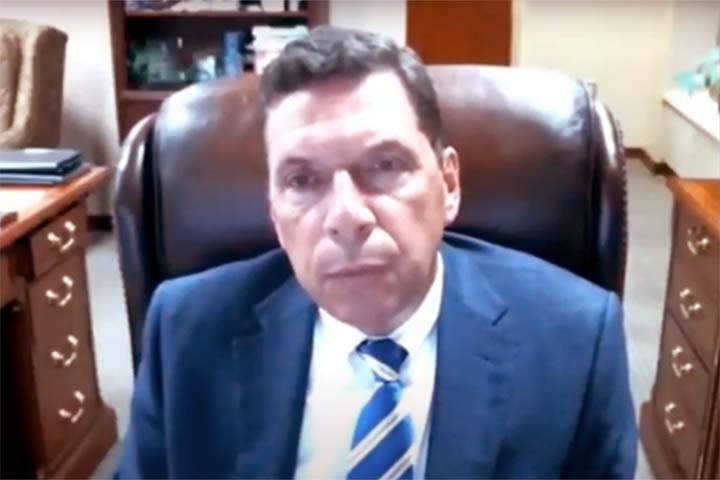 On October 26, Nuvance Health President and CEO John Murphy (left) joined Governor Lamont in a press call. Dr. Murphy said experience, more effective therapies, and a changed patient profile have reduced mortality rates and the length of hospital stays.
The mortality rate, said Dr. Murphy, has fallen from roughly 22 percent in spring to about eight percent now. Fewer patients require admission to intensive care and are put on ventilators less quickly.
Dr. Murphy said that, in June, the average hospital stay was just over 14 days. Currently, it is under seven. That, he said, effectively doubles Connecticut's hospital capacity for coronavirus patients.
New therapies such as convalescent plasma and Remdesivir may be helping. Remdesivir, an antiviral designed to inhibit replication of the virus, is currently in clinical trial. Given early, said Dr. Murphy, it may help reduce the length of a hospital stay, but has no effect on mortality.
Vulnerable populations are better protected than they were in spring, and Covid patients are younger than they were at that time. In March through May, said Dr. Murphy, those 18 and younger were four percent of patients. Now they are 25 percent of the total. Those hospitalized, he said, are on average five to ten years younger.
The upside is that younger people tend to be healthier, with fewer underlying conditions.
What else helps
It also helps that people are wearing masks. For the most part, face coverings prevent the wearer from spreading the virus, not so much from contracting it. But that is not absolute. Dr. Murphy said patients who are exposed while wearing a mask become less severely ill.
So, for however long this lasts, much will depend on masks, social distance, patience, and personal vigilance.
After a brief, speculative discussion on when the current surge may peak, Josh Geballe, the State's chief operating officer, summed it up this way: "What actually happens depends on how we behave."