Masks for EMS, More Needed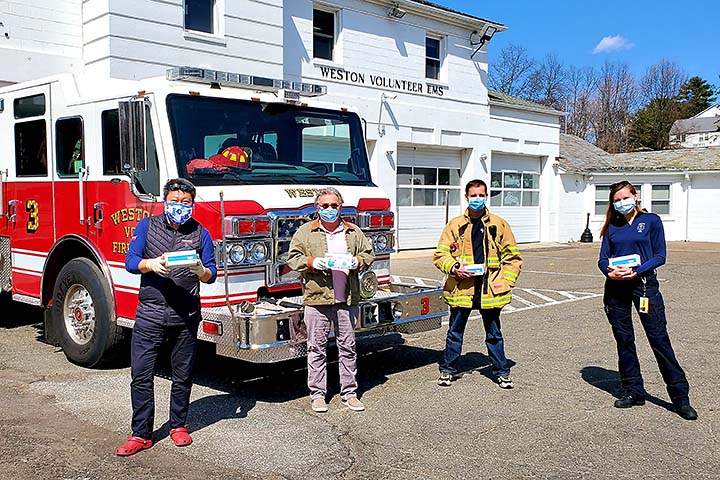 Left to right: Senator Tony Hwang, EMS President Jon Weingarten, WVFD Captain Mike Shlansky, EMS's Ariana Shlansky
Weston EMS got an assist yesterday when State Senator Tony Hwang dropped off a supply of surgical masks.
"The need is great, but the supply is short," said Senator Hwang. He and EMS both hope Weston residents can contribute even more.
If you have access to personal protective equipment (PPE) that can be donated, please contact EMS by calling Tom Janson at (203) 895-9041, Ariana Shlansky at (914) 441-7027, or email supplies@westonems.com.
"Our previous letter to the Weston community," said EMS president Jon Weingarten, "which explained our dire need for medical PPEs—specifically N95 masks—resulted in a fantastic response."
"But now, unfortunately, EMS—along with the Fire Department and Police Department—are responding to every emergency call using surgical or N95 masks. Our needs for the next 90 days have become even greater. We ask the community to continue to help us find resources that can donate these difficult-to-source protective masks."
Mr. Weingarten added, "We are so appreciative of the effort and commitment that State Senator Hwang has made in securing surgical masks for our Weston Emergency Services team."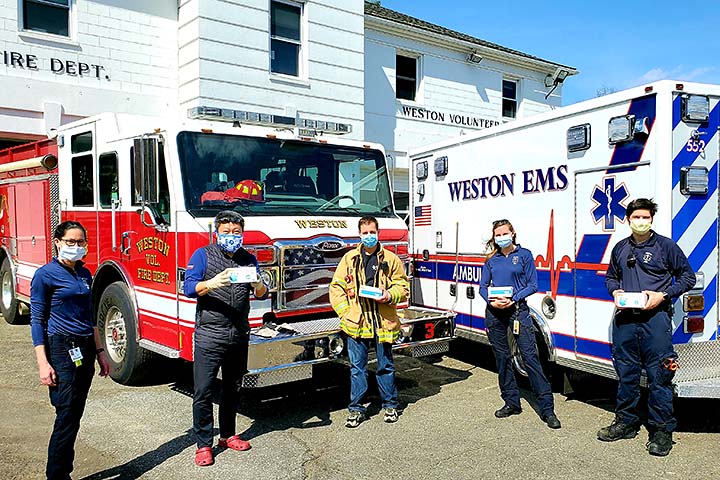 Left to right: EMS's Alycia Angus, Senator Hwang, WVFD Captain Mike Shlansky, EMS's Ariana Shlansky and Jacob Goldenberg