Urgent Appeal from Weston EMS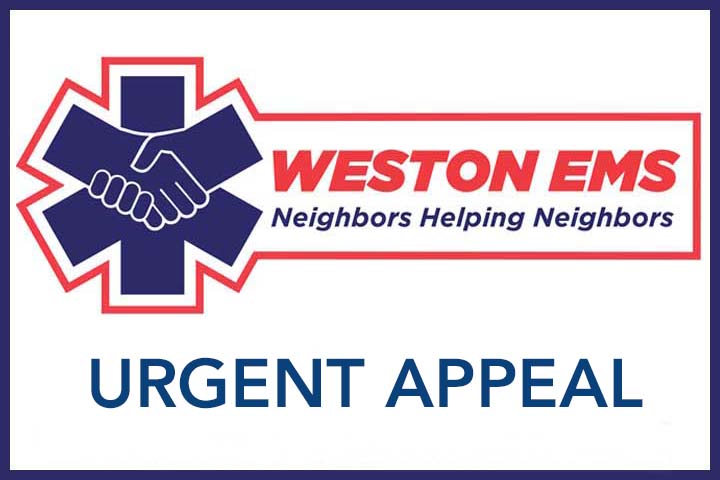 Open Letter to the Weston Community
Dear Neighbors,
This is a letter I could never have imagined writing. But on behalf of Weston Volunteer EMS we are making an URGENT appeal for help.
The coronavirus is sweeping the U.S. and, as I am sure you have heard, the personal protective equipment (PPE) needed to protect our volunteer EMTs and other first responders is in critically short supply.
We rely on our N95 masks, disposable gowns, gloves, surgical masks and eye protection such as wraparound goggles to keep us safe while we are in very close contact with our patients.
We have some stock on hand, but it is never large since we could always readily purchased what we needed on short notice. Now, however, the world has changed.
There are virtually no supply sources available to us to purchase replacement PPE. It's not even a question of at what price. We have dedicated three EMTs to scavenge supplies from government agencies and other organizations.
The CDC response is that responders use improvised protection such as scarfs, bandanas and homemade PPEs.
As an all-volunteer service, this scenario could severely compromise our ability to safely respond to medical emergencies once we have depleted our PPE resources. If it comes to that, it will be a truly heartbreaking day for the community and every one of our EMTs.
This type of equipment is also frequently used by non-medical workers and can be found in many households, namely carpenters, painters, plumbers, landscaping companies and others who use N95 masks and gloves.
Homeowners may have them left over from home improvement projects. Dentist and veterinary offices that are no longer providing other than emergency care also may have stock that is in excess of what they need at the current time.
I am asking all of you to help us work through this current crisis. If you have ANY of this equipment that has not been used, even if it is expired or just "similar," that you could make available it will help us extend our supply runway and manpower resources to assure being there for our neighbors when they call 911.
So please search your home, contact your dentist or vet, and Help Us Continue to Help You.
You may have seen on social networks postings of similar requests, but we have found that many of their collection and distribution efforts don't remain in the Weston Community.
If you have any source for these PPEs please contact Tom Janson at 203 895-9041, Ariana Shlansky at 914-441-7027, or email us at supplies@westonems.com. We will pick up at your home or office location.
Jon Weingarten
President - Weston EMS
jweingarten@westonems.com