Boys Basketball on a Roll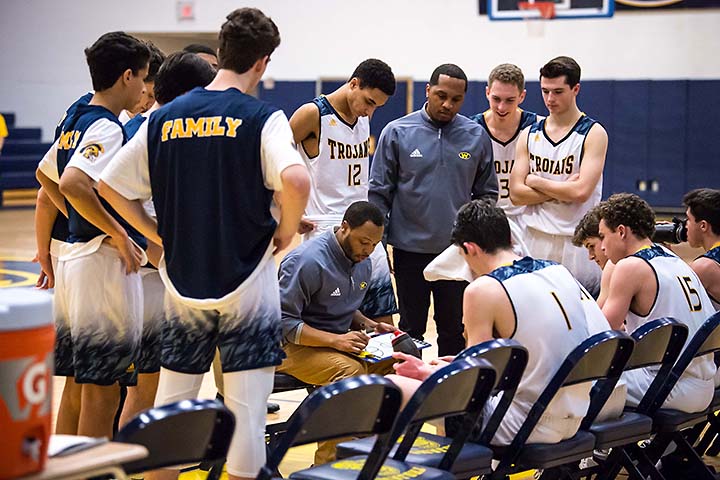 Photo: Eileen Sawyer
After opening league play on January 13 with an overtime win over Kolbe Cathedral, Weston's boys basketball squad kept the drama going with late-game heroics against Masuk, Stratford, and Brookfield, adding three to the win column.
January 16: Weston 62, Masuk 59
Weston trailed by 8 at the half but drew close in the third period and had a 2-point lead with two seconds to go when disaster nearly struck.
Masuk attempted, but missed, a 3-pointer that would have won the game. But referees ruled that they had missed a called timeout from the Masuk bench and reset the clock to 4 seconds. Another Masuk 3-point try was blocked by Jake Jones, who was fouled in the process. Jones hit one of his two free throws to seal the deal.
Four Trojans scored double digits: Josh Handel with 13, Jake Jones 11, Alex Olsen 10, and Mickey Stack 10.
January 21: Weston 59, Stratford 55
It came down to the wire again for Trojans, this time against Stratford. Neck and neck at the half, Weston scored 18 in the third period. But toward the end of the fourth, a string of Trojan turnovers opened the door for Stratford. Down by 3 with one second on the clock, Stratford hit for 3, sending the game to OT.
Clutch rebounds and free throws from Evan Levine helped power Weston in extra time. With seconds left, Nathanial Slump drew a foul, hit his first free throw, missed his second, but grabbed his own rebound. The game ended with Weston on top.
Top Trojan scorers were Jake Jones with 22, Alex Olsen with 16, and Josh Handel with 11.
January 24: Weston 53, Brookfield 44
This one was a bit more comfortable for Trojans, leading most of the way. But then they took their feet off the gas a bit in the fourth quarter.
Jake Jones led all scorers with 19 points. Alex Olsen added 11 and Evan Levine scored 10.
Brookfield tied the game in the fourth, but with under 3 minutes on the clock, Weston came back to life. Evan Levine's clutch free throws and his soaring 3-point shot contributed mightily to the final scoreline in Weston's favor.
Our thanks to Susy Jones.
Editor's Note: Weston won again on January 28, defeating New Fairfield 58–51.