YMCA Grants Awarded to Non-Profits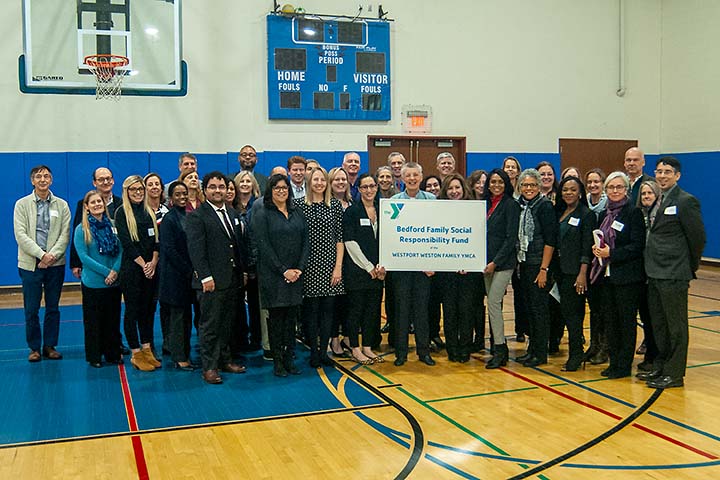 Twenty-seven Fairfield County organizations that provide educational opportunities for children and young adults received grants on December 13 from a fund established by the Westport-Weston YMCA.
We were pleased to see that at least two of the organizations receiving funds are actively supported here in Weston.
The Y's Bedford Family Social Responsibility Fund was formed in 2015 from a gift by the estate of Ruth T. Bedford, whose grandfather, Edward T. Bedford, established the first Westport YMCA in 1923. Support from his descendants continues to this day. (See our September article.) The fund awards one-year grants through a competitive application process to 501(c)(3) organizations that serve Westport, Weston, Bridgeport, Fairfield, Norwalk, and Wilton.
Pat Riemersma, CEO of the Westport-Weston Family YMCA said, "It is amazing to speak with our community nonprofits every year to hear about the amazing work they do each and every day as part of this grant process. We're so thankful to be able to fulfill the Bedford Family's wishes of supporting education in our community. We continue to be extremely impressed by the work being done in the communities."
One of the organizations receiving a grant is Urban Impact, a program out of Black Rock Church. Its executive director, Weston resident Chris Myers, told us the funds would support Urban Impact's XLR8 program, which provides meals and homework assistance to children living in Bridgeport's PT Barnum housing complex.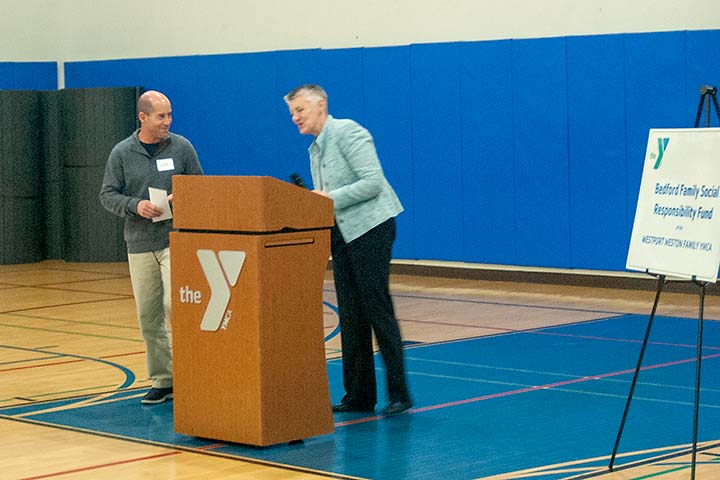 Chris Myers receives a grant letter from Pat Riemersma, Westport-Weston YMCA CEO.
About one-quarter of Urban Impact's financial resources comes from grants like the one from the YMCA. Most of the rest comes from individual donors. We will tell you about their next major community fundraising effort in the summer.
Another organization receiving a YMCA grant is Norwalk Grassroots Tennis and Education, which helps underprivileged youth by providing a foundation for a good education and opportunities to achieve an active lifestyle. NGTE has also received support in the last two summers from the Weston High School Tennis Open, organized by 2018 Weston graduate Stephen Blinder.
A complete list of the organizations receiving grants this year from the YMCA's Bedford Family Social Responsibility Fund follows:
A Better Chance of Westport
Achievement First Bridgeport Academy
Adam J. Lewis Academy
Carver Foundation of Norwalk
Central Connecticut Coast YMCA
Connect Us, Inc.
Family & Children's Agency, Inc.
Hall Neighborhood House
Horizons at Greens Farms Academy
Human Services Council, Inc.
Kids Empowered by Your Support (KEYS)
Life Bridge
McGivney Community Center
Mercy Learning Center
Neighborhood Studios of Fairfield County
New Beginning Family Academy
Norwalk Grassroots Tennis & Education
Norwalk Housing Foundation
Project Morry
Riverbrook Regional YMCA
Horizons at Sacred Heart University
Shepherds, Inc.
Silvermine Guild of Artists
Staples High School Tuition Grants
Stepping Stones Museum for Children
Urban Impact of Blackrock
Wakeman Memorial Association