Westport-Weston YMCA Breaks New Ground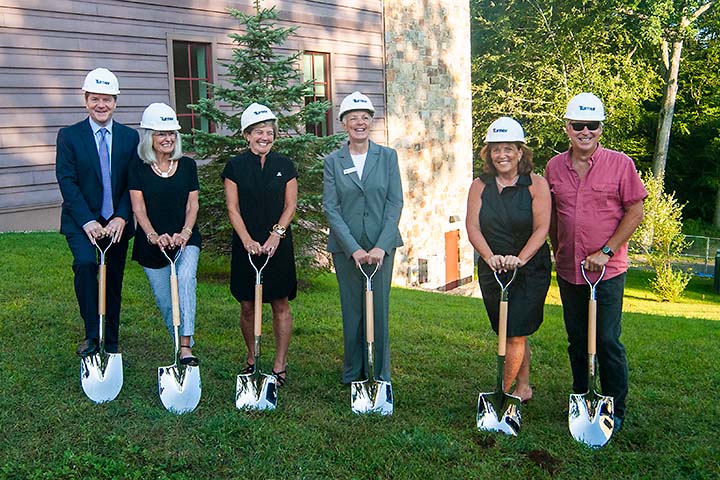 The Westport-Weston YMCA broke ground on a major expansion that also includes complete renovation of Camp Mahackeno. Within hours, construction crews were on site, as the work is scheduled for completion by this time next year.
A new wing on the main building will greatly expand the Y's wellness center, support a rapidly-growing after-school program, provide more studio room for new workout offerings, and allow the gymnastics program to return from its temporary home in Norwalk.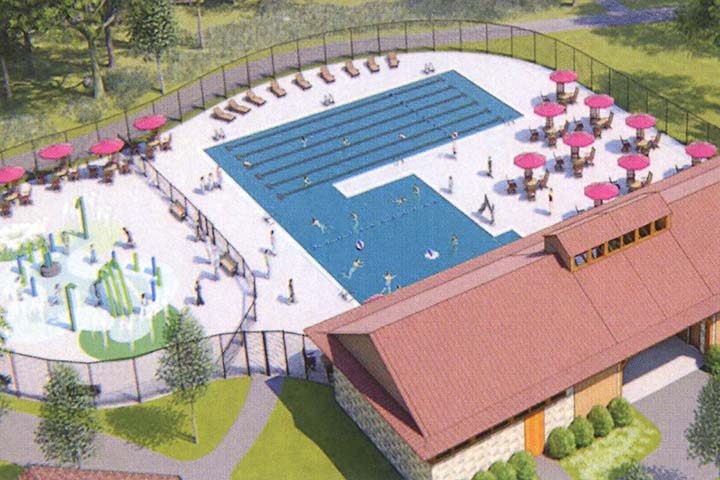 Pat Riemersma, the YMCA's CEO, told a large groundbreaking audience that Camp Mahackeno, which has not been renovated in 64 years, is in for a complete makeover. The new Mahackeno will accommodate 360 campers, have a new lap pool, pool house and locker rooms, more pavilions for rainy days, and a splash pad. Playing fields in the surrounding acres will be made level, new grass will be planted, and walking trails will be built.
Ms. Riemersma said the expanded Bedford Family Center will be finished by September of next year and the renewed Camp Mahackeno will be ready when camp season opens in June.
The work area adjacent to the main building was immediately fenced off and adorned by a mural by Miggs Burroughs, Westport's prominent graphic artist, who donated his time, efforts, and talent.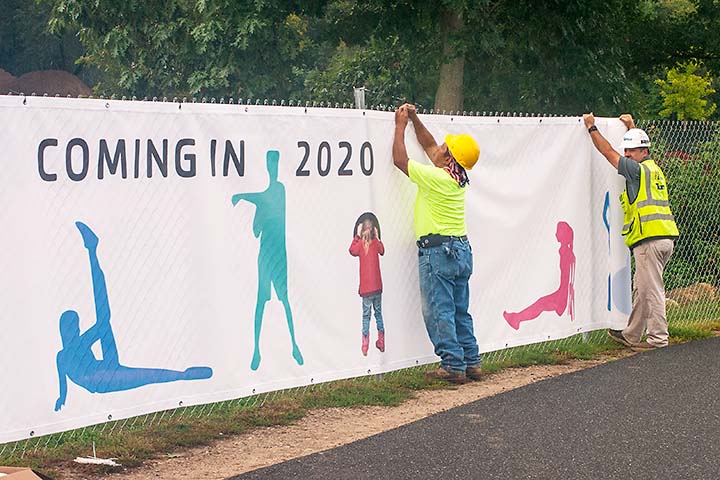 A Westport and Weston Institution
Rosemary Halstead, president of the Y's board of directors, told the groundbreaking audience that the Westport-Weston YMCA is about to celebrate its 96th anniversary. She described how it was founded by Edward T. Bedford "as a venue to get young boys off the streets." It has grown, she said, into "an extraordinary facility, and now we're poised to make it even better."
Longtime Y supporter Robin Tauck said the gymnastics program now serves 700 children, a competitive team with 45 members, and an exhibition team of 80 that travels internationally and is nationally ranked. The new facility will allow the Y to add gymnastic classes, expand the boys program, provide more gym time for families, and allow advanced training for upper-level gymnasts.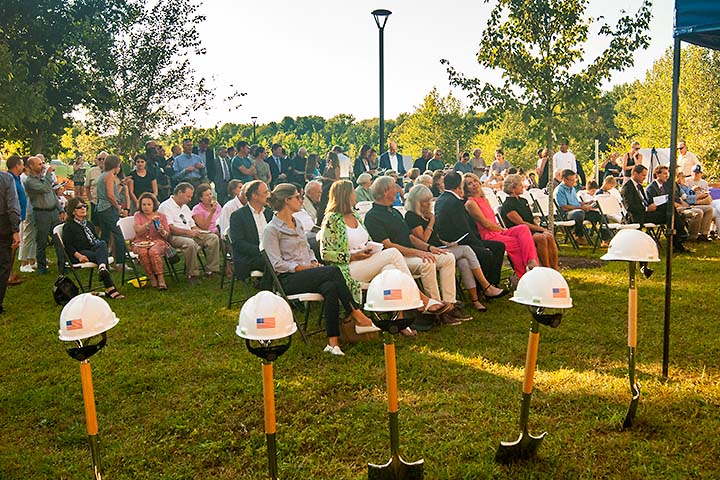 "Generations Start Here" Campaign
John and Kristin McKinney are heading a capital campaign to fund the ambitious expansion and Mahackeno's renovation. Mr. McKinney said $1 million has already been raised against a $5 million target. The Y's endowment will provide an additional $5 million.
This approach has roots in the Westport-Weston YMCA's history, and the campaign's theme, "Generations Start Here," seems to particularly resonate with Mr. McKinney. He is a great-great grandson of Edward T. Bedford, who seeded construction of the Y 96 years ago.
Edward T. Bedford donated half the funds needed to build the YMCA on condition that the community raise the rest, which it did. His son, Frederick, later did the same to fund Camp Mahackeno. In 2015, construction of the current facility was largely made possible by a bequest from Frederick's daughter, Ruth Bedford.
That same year, the YMCA Board of Trustees established the Bedford Family Social Responsibility Fund and endowed it with $5 million. Earnings fund a number of community programs. Last year, said Mr. McKinney, the fund provided over $500 thousand in financial assistance to 1,800 families and individuals, $250 thousand to non-profits working on education in various towns, enabled over 21,000 lifesaving swim lessons at the Y, and partnered with 47 other organizations to help children and families.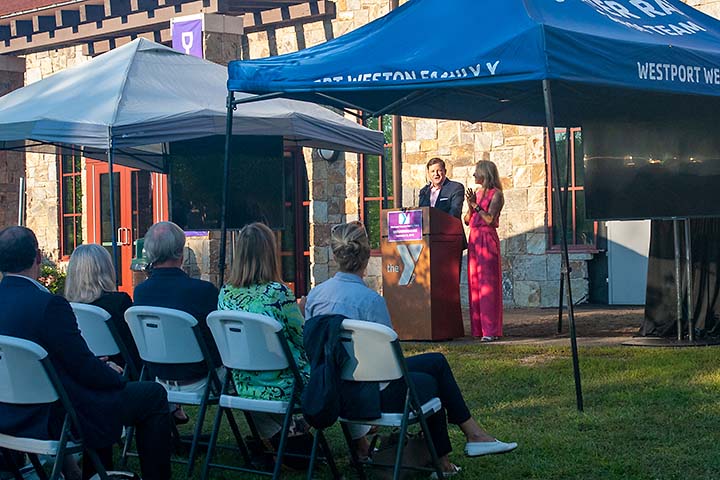 John and Kristin McKinney.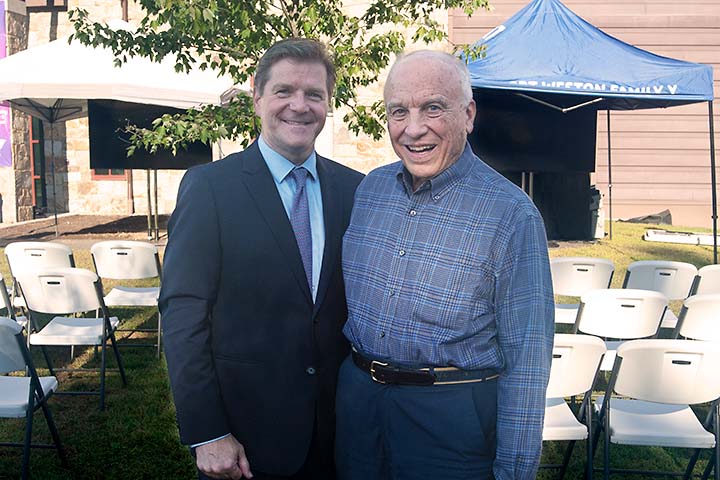 Paul Keblish, of the YMCA Master Planning Committee, and Pete Wolgast, Board of Trustees chairman.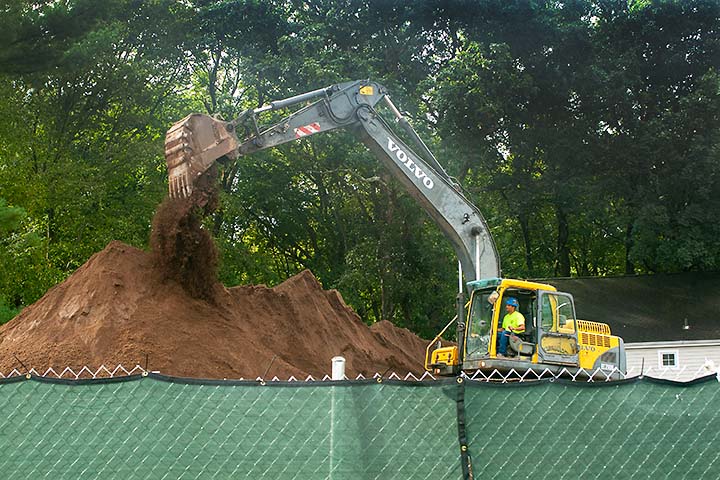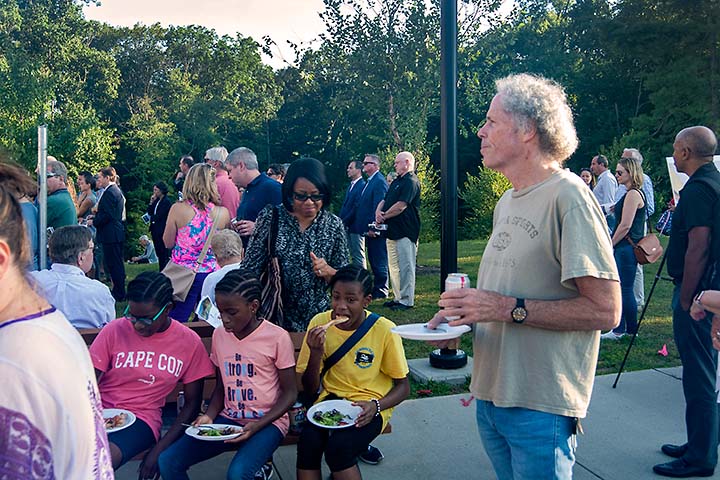 Miggs Burroughs.