Valley Forge Detours Begin on Friday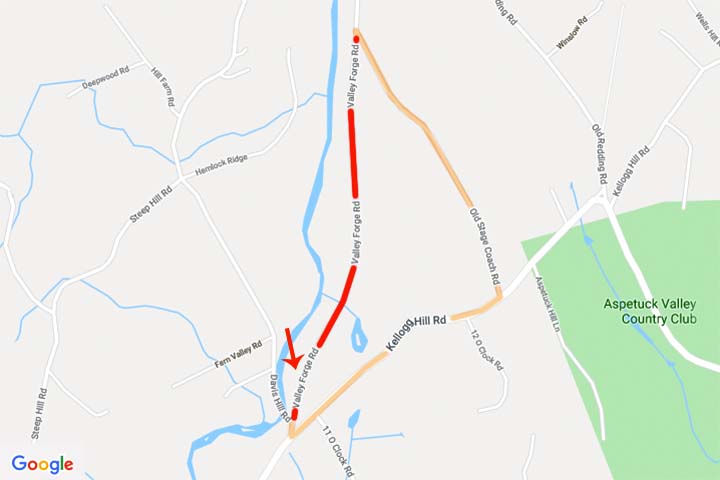 In the graphic above, the red line depicts where Valley Forge Road will be closed. The yellow line shows the detour. The red arrow points to the general area where the slope has eroded.
Detours will begin on the southern section of Valley Forge Road on Friday, December 6 at 10:00 am. For an estimated four to five weeks, an eroded slope on the shoulder of Valley Forge near Davis Hill Road will be rebuilt. (See our previous story.)
During that time, a stretch of Valley Forge Road will be closed between Old Stage Coach Road and the triangular intersection of Valley Forge with Davis Hill and Lyons Plain roads. Traffic will be diverted along Old Stage Coach Road and Kellogg Hill Road.
Town Engineer/DPW Director John Conte reports that the Valley Forge homes affected by the closure are address numbers 16, 22, 30, 40, 43, 46, 51, 52, 53, 59, and 66.
The construction essentially involves building a new slope to make the shoulder of the road solid. That will be done by driving a network of 15-foot steel rods into the existing slope, encasing the rods in a wire mesh supported by timbers, and covering the entire structure with concrete.