Brady, DiPasquale Brief RTC Members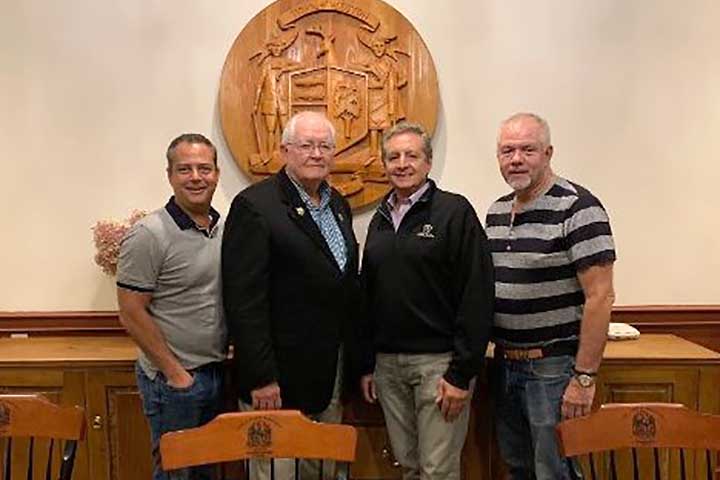 Photo: Katia Colaprico
In September, the Republican Town Committee met with its two candidates for the Board of Police Commissioners to discuss current police matters and the wide range of matters the board addresses on a regular basis.
Both candidates, William Brady and Jess DiPasquale, are incumbents. Mr. Brady is currently the commission's chairman. Pictured above, from left to right, are RTC Vice Chair Joseph Colaprico, Mr. Brady, Mr. DiPasquale, and RTC Chair Glenn Major.
Special focus in the discussion was given to school security, including a summary of the School Resource Officer (SRO) function. The commission as a whole began advocating years ago to place an SRO at Weston High School. The idea encountered initial resistance, including from the school district.
There was little resistance last year when the commission proposed assigning a second SRO to Weston Middle School. By then, the benefits of an SRO were apparent, and the schools and police were fully in synch. It was a difficult budget season, so cost was examined carefully, but the position was ultimately approved.
Today, the presence of SROs appears to be generally acknowledged as a wise enhancement to the physical security of Weston Schools and an effective way to prevent potential problems for students in need of support. We had the pleasure of interviewing the SROs in July and gaining insight about their role.
Mr. Brady and Mr. DiPasquale also briefed RTC members on how Weston Police provide safety for crews working on Weston roads, how that service gets paid for, and how the revenue is used to defray part of the cost of new vehicles and their maintenance.
Members of the RTC we spoke to described the session as both interesting and informative.