Students Shine in Civic Affairs, Music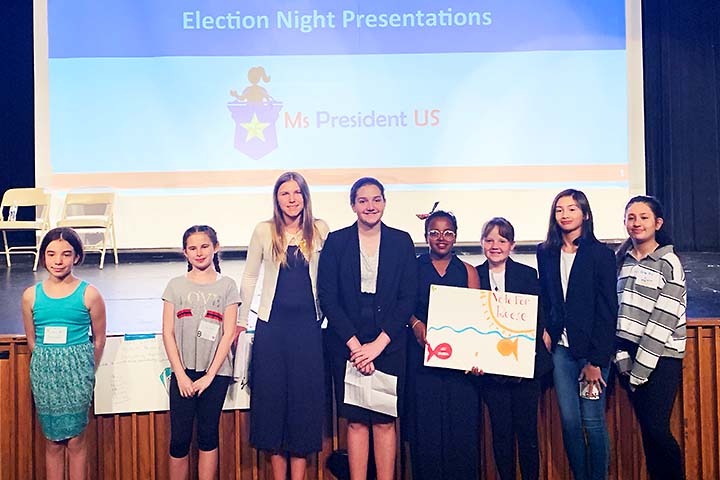 Westonia Elects Ms President
Participants in the Middle School "Ms President" program capped a year of learning about civic involvement with a presidential election on May 21.
The young women created a history of "Westonia" and campaigns for the country's presidency, including policies, platforms, buttons, logos, and messaging. The candidates grappled with familiar issues of technological challenges, environmental concerns, income inequality, and education.
Participating were Leah Bievenour, Chelsea Britz, Frances McArdle, Ashley Meyerson, Maisy Richards, Nivedita Morris, Katarina Todorovich, Brandy Zinkel, and Emily Kolodney.
Ms. Zinkel won the election. Her campaign was managed by Ms. Kolodney.
The program is part of the WOW! series sponsored by Weston Youth Services. It is led by Gayle Weinstein and Elise Major. Participants were mentored by Weston High School student Emma Spaulding.
Earlier this year, the young women joined Senator Will Haskell and Representative Anne Hughes in Hartford to discuss environmental legislation.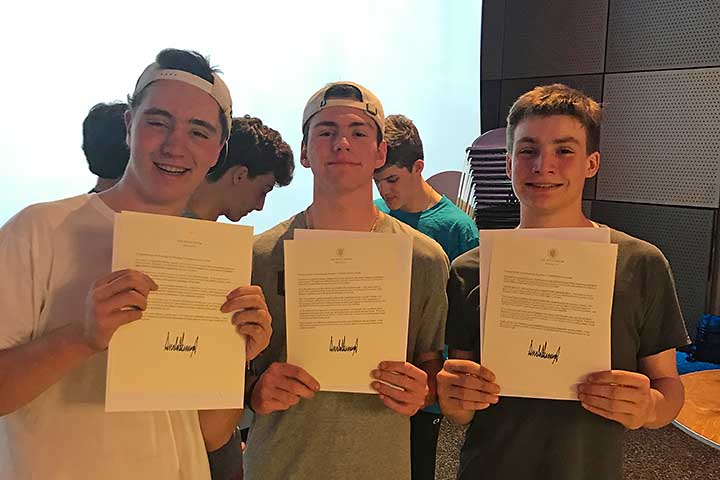 Student Builders Honored
Photo: left to right, Sam Landesman, Andrew Amato and Andrew Castro.
Four Weston students and their advisor were honored in May for their volunteer work with Builders Beyond Borders, a Norwalk non-profit.
Andrew Amato, Andrew Castro, Aidan Delgass, Sam Landesman and advisor Bruce Ando were recognized for performing over 100 hours of community service work, including a building project in Guatemala.
Students in the Builders Beyond Borders program work in struggling areas of the world building and repairing facilities such as schools, aqueducts, and medical clinics. They raise funds to cover about 80 percent of their expenses, including costs for building materials, transportation, and accommodations.
For their efforts, the students and Mr. Ando received the organization's President's Volunteer Service Award.

Weston Shines at Music in the Parks
In May, Weston Middle School musicians and the choral group traveled to Holyoke, Massachusetts for the annual Music in the Parks competition. Weston's Jazz Lab, a beginner group, received an Excellent rating. So did the Jazz Ensemble, which took second place in its division.
The Chamber Orchestra won a Superior rating and first place in its division. Weston's Chamber Singers were named the best overall choir, with an Excellent rating and first place in its division. Pianist Karl Schulz won two individual awards: Best Overall Jazz Soloist and Best Overall Student Accompanist.