Weston High Named National Green Ribbon School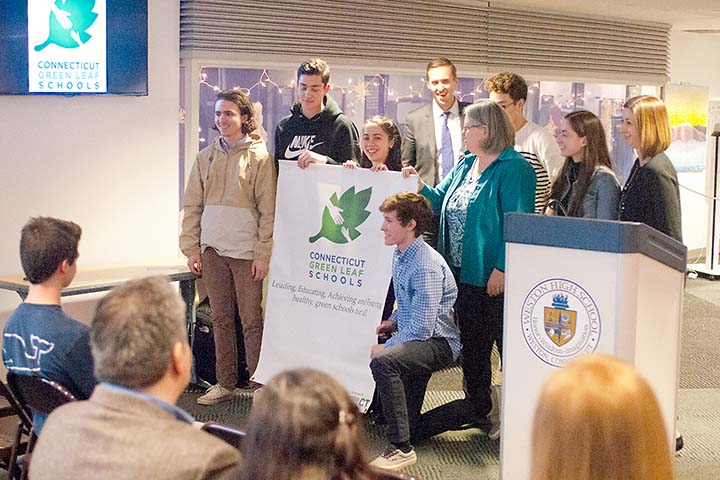 File photo: Weston's Green Team
May 23, 2019 — The U.S. Department of Education has named Weston High School a Green Ribbon school for its work to reduce environmental impact and utility costs, improve health and wellness, and provide effective sustainability education.
The school is one of only 25 in the nation to receive the award this year and the sole recipient from Connecticut.
In a joint statement, Senator Chris Murphy, Senator Richard Blumenthal, and Representative Jim Himes offered their praise. "We congratulate Weston High School on this admirable honor. Each day brings another dire warning of the impact climate change is having on our planet. Schools play an important role in teaching the next generation how to live in a responsible and sustainable manner, and we commend the faculty and staff for their commitment to lead by example."
Weston High School will be formally recognized at an event in Washington D.C. on September 25.
It was only last December that Weston High's Green Team officially became part of Connecticut's Green LEAF program (see our article at the time). The program honors schools that take on the challenge of actively addressing environmental issues. The process begins with an assessment of a school's current practices and involves gaining the commitment of students, teachers, and administrators to formulate and implement plans.
At the time of our article, we asked Collin Socha, one of the leaders of the Green Team, if the school would be shooting for the Green Ribbon award. "Definitely," he said. Connecticut's Green LEAF leader, Laurel Kohl, had already given us an idea about the height of the challenge. The fact that the team accomplished this major step so quickly is impressive.