Tour Landmark Homes, June 2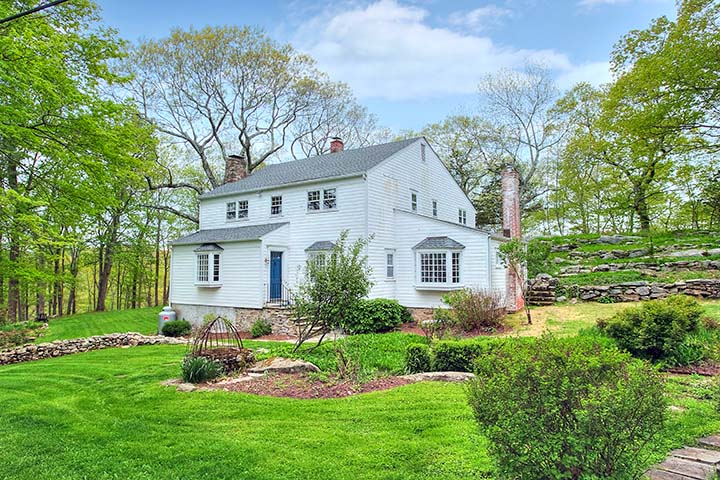 May 14, 2019 — On June 2, you have the opportunity to take a peek inside some of the most amazing houses in Weston, several of which were once the residences of big stars of the arts and philanthropy.
You can get tickets at the Weston Historical Society website. It's a fundraiser, so tickets are $75 each for what may be a one-time chance to see inside these landmark homes. A similar tour of other famous houses four years ago was hugely popular.
One of the houses on tour is 40 Hillside Road, an antique farmhouse surrounded by beautiful landscaping and a dozen acres of nature preserve. It includes a guest cottage, offices, and barns.
This was once the home of Eva Le Gallienne, one of the true giants of American theater.
Ms. Gallienne's childhood was spent shuttling between the homes of her separated parents in England and France. Once, in Paris, she was taken backstage and was awestruck upon meeting the legendary actress Sarah Bernhardt. Years later, a star was born.
Eva Le Gallienne, ca. 1920
She made her stage debut at the age of 15 with a walk-on role, then spent several months in drama school, but left to portray a cockney servant in a small comedy. Notices about the show were mixed, reviews of her performance were raves.
At the age of 16, Ms. Gallienne and her mother sailed for New York, where she began her stage career in earnest. She initially appeared in unspectacular productions and took to the road and summer stock. Returning to New York after a spell in Europe, she eventually landed major roles in a number of plays. By the age of 21, she was a true Broadway star.
She also became a major figure in theater as a whole. She dedicated herself to establishing theater as an art. In 1926, she transformed an old movie house into the Civic Repertory Theatre, where she produced, directed, and starred. She later became a major driving force of the American Repertory Movement, the roots of what we know today as Off-Broadway.
After the tour, enjoy a reception and the season debut of Music at the Barn, featuring the always-popular P.J. Pacifico.
There are six landmark houses on the tour. We will tell you about the others in the days ahead.
Click here to see the story of the home of philanthropist Katharine Ordway.