Woodstock: 50 Years Later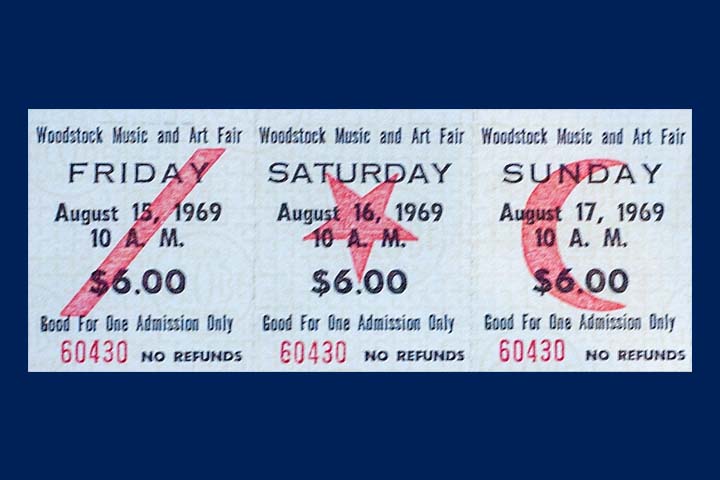 April 4, 2019 — Enjoy a concert and discussion by Woodstock veterans at Weston Historical Society on Saturday, April 13 at 7:30 pm. The Society is at 104 Weston Road.
This year is the 50-year anniversary of the seminal festival. In the summer, the Historical Society reprises last year's smash-hit "Westonstock" concert. But before then, on Saturday, six speakers share their memories of Woodstock, and Old School Revue's Woodstock All-Stars, led by Roger Kaufman, perform.
Tickets are $35 for Weston Historical Society members, $45 for non-members. They can be purchased in advance at the Society's website. Snacks and beverages will be served.
Panelists
Mr. Kaufman will emcee a discussion and Q&A by composer, performer, and writer Bruce Pollock, record producer and audio engineer Rob Fraboni, the songwriters, guitarists, and vocalists Ira and Maxine Stone, writer Dan Burstein, and producer and photographer Michael Friedman.
Last year, we had the pleasure of telling you about Mr. Friedman's "Lost Negatives of Rock & Roll." We were also pleased to share part of Mr. Burstein's story of traveling across the country at age 15 to attend Woodstock. He tells it better in person.
Bruce Pollock
Since 1969 when he had his first song published, Bruce Pollock has been a full-fledged player in rock 'n roll. The author of "By the Time We Got to Woodstock" has written 12 books on music, interviewed hundreds of pop, rock, folk, soul, blues and jazz musicians, produced nearly 100 record compilations, founded and edited exactly 100 issues of a top music magazine, and self-published an annual musical reference book for 17 years. He resides in Fairfield.
Rob Fraboni
A prolific record producer and audio engineer, Mr. Fraboni worked closely with Bob Dylan, The Band, Eric Clapton, the Rolling Stones, Joe Cocker, and Bonnie Raitt. As vice-president at Island Records, he oversaw the re-mastering of the entire Bob Marley catalog. He also produced the soundtrack of Martin Scorsese's groundbreaking concert movie, "The Last Waltz."
Ira & Maxine Stone
Ira and Maxine Stone are songwriters, guitarists and vocalists. With Bert Sommer (Broadway cast of "Hair"), they received the first standing ovation at their Woodstock performance in 1969. Like many of the performers, they were stuck in traffic between the hotel and the venue and had to be helicoptered into the site. They have recorded or performed with Mick Jagger, John Oates, the Allman Brothers, Delaney and Bonnie, Leslie West, Yes, Poco, The Music Explosion, and Chad Mitchell.
Dan Burstein
As a 15-year-old living in southern California in 1969, Mr. Burstein saw the Woodstock music festival advertised in the Village Voice and wrote away for tickets, asking his mother to make out a check. By the time he flew to New York and hitch-hiked to the festival grounds, his tickets were not needed. He was inspired by, and is an authority on Bob Dylan.
Mr. Burstein is the co-founder and managing partner of a New York-based venture capital firm. During a career as a freelance journalist in the 1980s, he published more than 1,000 articles and won numerous awards. He is a New York Times-bestselling author of 14 nonfiction books on topics ranging from the birth of the internet, the future of China, to the fiction of Dan Brown. Mr. Burstein and his wife Julie O'Connor, an award-winning photographer, have lived in Weston since the early 1990s.
Michael Friedman
A Weston resident, Mr. Friedman worked closely with Albert Grossman and was a road and personal manager and a music producer in the 1960s and 1970s. He had the opportunity to work with Janis Joplin, The Band, Kris Kristofferson, Rita Coolidge, Todd Rundgren, and others. An avid photographer, Michael captured up close and intimate moments, both on stage and off, of numerous legendary performers. His exhibit, "The Lost Negatives of Michael Friedman," is headed to the Rock and Roll Hall of Fame later this year.
Roger Kaufman
Mr. Kaufman wears many hats as bandleader, bass player, producer, promoter, and musicologist. He will moderate "Woodstock: 50 Years Down the Road." His musical roots run to his grandfather, Mel B. Kaufman, who wrote more than 60 ragtime compositions including "Me-Ow" in 1918.
Mr. Kaufman's passion for 1960s Memphis Soul and R&B can be heard locally by his band, Old School Revue. Recently, he has been assisting the Museum of American History at the Smithsonian in acquiring and archiving an exhibition of donations from historically important American musicians, including Steve Cropper and Weston's own Jose Feliciano.