The Lost Negatives of Rock and Roll, October 21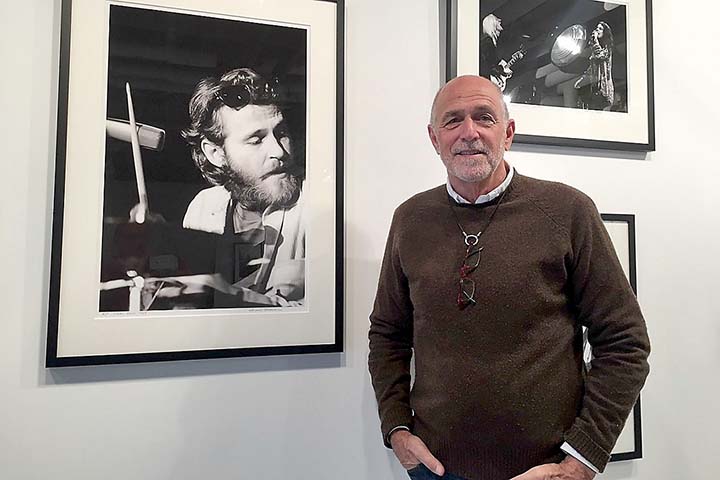 — Michael Friedman photo by Dan Woog
October 2, 2018 — The Weston Historical Society has an interesting one-night reception planned for Sunday, October 21. It will take place from 4:00 pm to 6:00 pm at the Society's museum, which is at 104 Weston Road.
In the late 1960s, Michael Friedman met and worked with the legendary Albert Grossman, who managed some of the biggest musical names of the time, including Bob Dylan, Janis Joplin, Peter, Paul and Mary, the Band, Odetta, and Gordon Lightfoot, and Todd Rundgren. This gave Mr. Friedman an opportunity to work on a daily basis on the road and in the studio with some of the most iconic musical figures of the era. And to take their pictures.
He was a serious amateur photographer, but in the early 1970s he packed away his film negatives, and soon lost track of them.
Skip ahead to 2017, when those negatives turned up in Mr. Friedman's attic, right here in Weston. A number of black and white prints will be displayed at the reception on the 21st, and Mr. Friedman will tell guests what it was like to work with, tour with, and photograph rock legends like Mick Jagger, Keith Richards, Janis Joplin, and The Band. Signed selections from the collection will be available for purchase, with a portion of proceeds going to support the Weston Historical Society.
Several of Mr. Friedman's prints have been on display this summer as part of the Historical Society's popular Life in the Sixties exhibition. When it closes later this month, Mr. Friedman's photographs will be taken to the Rock and Roll Hall of Fame in Cleveland.
An Evening with Michael Friedman: The Lost Negatives of Rock and Roll is open to the public, with a suggested donation of $10 per person. Refreshments will be served. For more information, please contact the Weston Historical Society by email or call (203) 266-1804.