Tributes to Brian Gordon, Page 2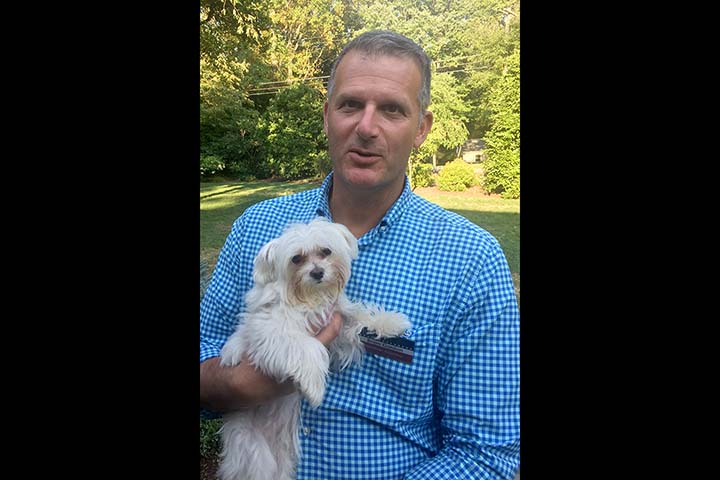 Brian Gordon, 1969–2018
November, 2018
Weston shares memories and sorrow at the loss of Brian Gordon, a Selectman, who passed away on November 18, 2018, at 49.
Lolita Jackson, Penn Class of '89
I do not live in Weston, rather, I went to college with Brian. The person I see described in these tributes has been the same person his entire life. President of the Penn Class of 1991, he was gregarious, caring, always lent an ear and went the extra mile. We, his Penn family, are bereft and walk with those of you in Weston in grief. But also, joy that we were able to have him as part of our lives.
Gina Albert, Board of Education
The Weston community has suffered a tremendous loss. Brian was a vibrant part of our community, a thoughtful leader and a true ally to the Board of Education. His quick wit and relaxed demeanor made him a pleasure to work with. He will be deeply missed by all. My sympathies to Brian's family and friends.
Allen Swerdlowe, Weston Building Committee
It was a pleasure working with Brian as the Chair of the Building Committee in Weston. He was bright and articulate and had an easy manner in respect to wrapping his mind around complex issues. A smart and youthful man taken away from us prematurely.
Captain Matthew Brodacki, Weston Police
Brian was a consummate professional who will live on in the hearts of many people in town. On behalf of the men and women of the Weston Police Department, know that we are here for Brian's family and available to help in any way possible.
Effie Thieme
I knew Brian just briefly—but he had an indelible impact. Possessing a rare and impressive talent for being simultaneously passionate and rational, his energy was in itself energizing: a single phone call from him was the equivalent of a months-long call to action for the most commendable of causes. There was no doubting his sincerity as he listened to and spoke with you in turn, and his earnestness rendered him an immediate friend. I have the utmost respect for this man, and to say I am so sorry to hear of his passing is an understatement of extraordinary degree. My heart goes out to his wife and daughters bearing the brunt of this loss.
Dave Muller, Former Selectman
It's extremely difficult to find the word—or words—to describe Brian Gordon. I met Brian when he decided to run for my old seat on the Board of Selectman, and I agreed to serve as Treasurer for Chris' and Brian's campaign. What struck me initially was Brian's enthusiasm and strong desire to do something meaningful in a town that he loved. He asked lots of questions about how things worked in town government, and he wanted to learn quickly and efficiently. He appreciated every suggestion, tucking it away for future use.
Brian was the true public servant, hoping to contribute his ideas, his energy and his intelligence to better his community without any desire for personal gain. It was impossible not to like Brian from the moment you met him. In the relatively short time that we knew each other, I came to admire Brian greatly. His passing is a huge loss to his family, his friends and his fellow residents.
Michelle Fracasso, Lachat Advisory Board
Our hearts were hurting deeply today when we read the news that Brian Gordon passed away. It was slightly over one year ago that we stood in the pasture of Wells Hill Farm talking about raising daughters, a vision for Weston, community service and engagement, Lachat Town Farm — and sheep. It was a glorious day with the sun shining and so much hope. Thank you, Brian, for sharing your humanity, kindness and optimism for a better world and community. We humbly offer our heartfelt condolences to you, Kristy, and your incredible girls.
Ruth Glazer
I don't think I am completely processing that we have lost Brian. He and I became friends during his election and then we became close friends when he was taken ill. We would joke that I was his nudgy surrogate older sister when I hounded him about his medical care. When we wanted to escape the maddening array of doctors advice and prognoses, we would turn our energies to our town and the creative ways we could make it the best Weston possible. He was the kind of leader that rejuvenated one's thoughts of politics and civic duty.
I will miss him so very much.
Amy Shapiro, Weston Democratic Town Committee
On behalf of the Democratic Town Committee, I am writing to mourn the bright light that was Brian Gordon. I first met Brian when he became our candidate for Selectman and I treasure the brief period of time that I knew him. Funny, warm, caring and oh so smart, Brian literally lit the world up with his smile and his heart. My heart goes out to his family on this heartbreaking loss. I cannot imagine the pain they must be feeling. This is a loss that all of us share and the future will be a little more gloomy without Brian.
Harry Falber, Planning & Zoning Commission
I've lived in Weston for 21 years. Yet I've only known Brian Gordon for a little over one of them. We met shortly after we agreed to run for political office here in town. As is typical, it was over coffee in the LunchBox. In minutes, we realized we shared many friends and acquaintances, most from business, few from Weston. We laughed over war stories involving some mutual acquaintances than quickly tiring of all that LinkedIn stuff, we spoke of family.
I learned why he moved to our town, and as he put two and two together he continued to dwell on our schools, and the care he saw them give his girls, and his gratitude towards my wife. I shared with him how I met her, how our two only children became true brother and sister, laughed at our differentiating ourselves as still "the stepparents" yet blending all our families into one.
Quickly, Brian took over the conversation focusing on Weston, and as his eyes welled up with tears, thanked me again for all Weston gave his daughters, one still in my wife's school now. Our first meeting growing into embryonic friendship.
As we campaigned, I watched how he handled all that went along with it, with Brian's incredible dignity and grace I could only hope to aspire to. And that was the essence of Brian, talking about the value of others, inquiring how they are, what he could do for them, for me.
So, as I recall his eyes filling with tears of thanks that day, I found my eyes, this weekend, repeatedly filling with tears of loss, yet knowing how fortunate I was to have met this warm, caring, sensitive Husband, Dad, friend to many, and a colleague who I've been privileged to serve the people of Weston with. Truly, his memory will serve as a blessing.
The first set of tributes appear on the preceding page.