Tributes to Brian Gordon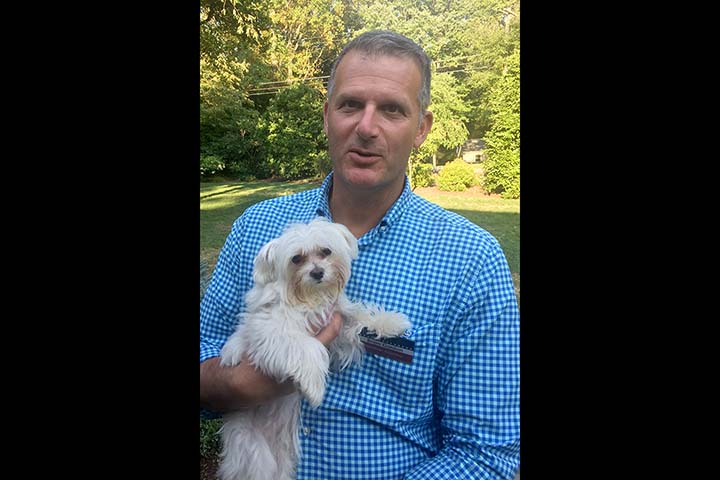 Brian Gordon, 1969–2018
November, 2018
Weston shares memories and sorrow at the loss of Brian Gordon, a Selectman, who passed away on November 18, 2018, at 49. Please also see Page 2 for more tributes that have come in.
Dr. Christopher Spaulding, First Selectman
I could not have asked for a better partner to help serve our fabulous town. Brian was always next to me applying wit, wisdom and supreme dignity to the business of town an the business of life. Brian was a wonderful friend, faithful confidant and all around good guy. He will be sorely missed and the mark he left on our lives will be indelible. Our thoughts and prayers are wholeheartedly with his family and loved ones. Dream well kind soul.
Stephan Grozinger, Selectman
Brian was a warm and magnanimous presence in every circumstance. Even if you had just met, he spoke with you with an affection and ease as though you had been the closest friends for years. He left you no choice but to go along with it. He dealt with his illness with extraordinary grace. He never seemed to be down, was always asking about others, and his easy sense of humor never left him for a moment.
On the Board of Selectmen, he was always conciliatory, and if there was disagreement, Brian could be counted on to navigate the middle so that no one felt like an outsider. On the personal side, we spoke often of the joys of raising daughters. I feel so much richer for having known him and am so saddened by his loss.
Ellen McCormick, Lachat Town Farm
Frankly, I am devastated! He was so young and had so much charisma, talent, humor and warmth that emanated so easily from him. Brian, Tony Pesco and Chris Spaulding got together and set up a "Go Fund Me" page to raise money for the Lachat Town Farm computers which we have now in our office. It only took a week to get the funding we needed thanks to Brian and his friends.
Brian was a big supporter of the farm. He came to our events and he loved the atmosphere and the community spirit that flourishes there. He was always coming up with new ideas for us and for the future with help from the Town. We loved his spirit and his forward thinking. He will be missed so much by so many!
Dr. William McKersie, Superintendent of Schools
Connections—caring for each other—sets Weston and its schools apart. Brian Gordon embodied that caring—that sense of connections. A loving father of two of our students, Brian took time from his work and family to give to all of Weston through public service. His keen and rigorous mind was matched by a big heart and tall spirit—always looking to ask questions, give guidance and make decisions for the sake of Weston families and children. Brian always stopped me to ask, "How are you doing? Really, how are you doing?" Today, our hearts are heavy, knowing Brian is gone too early, but we all are stronger for what Brian gave, selflessly and tirelessly. Thank you, dear sir, thank you.
William Brady, Board of Police Commissioners
My thoughts and prayers are for his family; it's certainly a tragedy when we lose someone so young to this horrible disease. While Brian's pain and suffering has ended our community as a whole will certainly miss his presence.
Jonathan Luiz, Town Administrator
Brian Gordon served the Town of Weston honorably and admirably. He helped the Board of Selectmen remain focused and cohesive. I thoroughly enjoyed working with Brian. He was intelligent, funny, helpful and an all around cool guy. May his family and friends find peace during this difficult time.
Ken Edgar, Planning & Zoning Commission
It's tragic that one so young, who fought so valiantly and kept giving to this Town up to the end, and who had so much more to give, should leave us. Our hearts go out to the Gordon family for their loss.
Randi Derene, Assistant to the Board of Selectmen
He was a deeply caring man, a loving husband and father, who also wanted the best for our Town. I was lucky enough to sit next to Brian during Selectmen meetings and will miss his sense of humor, his impressive doodling skills, and his constant need to borrow my pen. My deepest sympathies go out to Brian's family and friends.
Sara Spaulding, Board of Education
Brian created community wherever he went and generously gave his time and talent to better our little town. His easy laugh and quick smile put everyone around him at ease. Husband, Father, Son, Selectman, Friend: you were a gift to us all and will be missed beyond measure my friend.
Dawn Egan, Board of Police Commissioners
If you were to look up the word Renaissance Man, that would 100% describe Brian. He could do anything, he knew something about everything, he could fit in a room with anyone, no matter what, he found something he had in common with you. He was a man who knew how and when to ask questions because he honestly cared, how you were and what you thought.
We spent hours talking about him running for the Board of Selectmen and how he wanted to contribute toward our landscape. He got mad when an injustice happened and he stood up for what he believed. He knew how to love you back, he showed it, expressed it and you always felt it. His commitment to his beautiful wife and daughters was exceptional and unending.
Samantha Nestor, Board of Education
Our town is heartbroken. Selectman Brian Gordon left us. He was a special person who, while his star shined brightly, always made you feel like the most important person in the room when he was talking to you. I am so grateful for his service and dedication to our town. May his memory be a blessing and sending love and support to K and the girls. I will remember him pictured here, shining brightly, full of humor and towering above us all.
Emma Spaulding
Brian was one of the most amazing people I have had the pleasure of knowing. The world needs more Brians and sadly, it has even less now.
Margaret Wirtenberg
Brian's dedication to his duties was remarkable. He participated in all meetings this Board of Selectmen has held in this its first year, both regular meetings and the many special meetings that have been held. Many in these last months on speakerphone (presumably due to his illness), supporting the things he believed in and standing by the First Selectman's initiatives.
Jake Spaulding
Brian was a very kind and humorous man. Even seeing him for a few minutes always made my day that little bit better. It's people like him who make the world a better place. I am very fortunate to have been able to know him.
Michael Schlechter, Weston EMS
Brian was highly engaged in, and supportive of, the Weston EMS mission and regularly sought to ensure that Weston EMS's voice was heard and needs were considered in many matters. Not only was he a friend to our department, he was a personal friend to many of us, myself included. It was a privilege to be his friend, and I feel a great sense of loss at his death.
More tributes on the next page.