Gary Meunier Named Sportsperson of the Year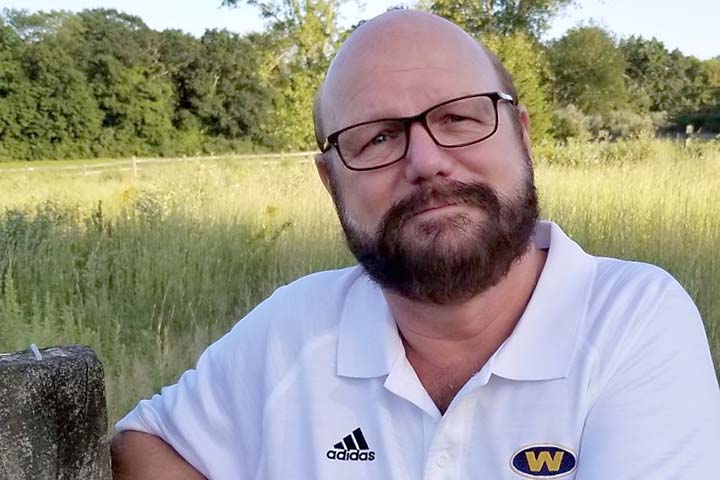 — Contributed photo
September 7, 2018 — On August 29, the Weston Sports Commission announced that Gary Meunier, Weston High School's long-time boys tennis coach, has been named the 2018 Weston Sportsperson of the Year.
The award is presented by the Fairfield County Sports Commission. Mr. Meunier will be honored at the 14th annual Sports Night banquet on Monday, October 15 at the Stamford Marriott. He is one of 16 Fairfield County winners who are deemed to have made the greatest positive impact and contribution to each of their sports communities over the past year.
At the start of the 2004-05 academic year, Mr. Meunier arrived at Weston High School, where he also serves as a school counselor. Before coming to Weston, he was the director of school counseling at Daniel Hand High School in Madison, where he also coached boys tennis for eight years. He is a member of the CIAC Boys Tennis Committee.
Coach Meunier's record in Weston has been impressive. This past spring, his team won both the Southwest Conference and Class M state championships. In his 14 seasons at the helm, his teams have won 13 state championships and 13 Southwest Conference titles.
In 2015, Weston moved up from the small school class to the medium school class. The team kept winning, capturing the state championship. Coach Meunier's players have won three state singles championships and nine state doubles championships. Their overall dual match record is 213-29.
"Everyone needs to challenge himself"
We asked Mr. Meunier to explain how his teams have been so successful. "First," he said, "you have to have talent on the team. After that, as a coach, you instill a philosophy that everyone needs to challenge himself."
One of the coach's first moves after taking over in Weston was to toughen the schedule, to play more matches, and to go up against larger schools. "You only improve by playing better teams," he said.
At first, a few parents complained. "None of the kids did," said Mr. Meunier.
Another part of his coaching and teaching style was developed several years ago after reading an article about "soul authoring," a philosophy first espoused by Dr. Monikah Ogando. In essence, it says that people are who they say they are, both author and protagonist of their own lives, and can design their lives around success.
For Coach Meunier, this meant having his program "make an imprint on kids beyond tennis." "I ask players — and their parents — how they want to look back on this program years from now. What will it mean to you, and to your life, in the future?"
The Bear Code
He calls it the Bear Code. "Challenge yourself in every domain," he explained. "How good of a student are you? How good of a family member? How good are you as a member of the community? Take risks. I just want them to push themselves."
The players appear to have taken the lesson to heart. They actively support organizations like the Connecticut Mental Health Foundation, Relay for Life, Coaches Against Cancer, Norwalk Grassroots Tennis, Education Foundation, and 26 Days of Kindness.
Two former players have created charity events. Jesse Kallins from the class of 2017 started "Hit Ovarian Hard," which raises money for the American Cancer Society. Stephen Blinder, class of 2018, last month launched the Weston Open Tennis tournament, which raises funds for Norwalk Grassroots, a program that introduces underprivileged youth to tennis.
"When it comes to just the tennis, I'm kind of an old-school coach," said Mr. Meunier. "I don't spend a lot of time 'entering their aura.' And we always have a strategic plan about how we need to improve. People always ask if we're going to win this year. We never ask ourselves that. We only ask ourselves how we're going to win."
About the award, Weston Sports Commission president Eric Albert said, "Every year, the Commission receives several very worthy nominations. Gary Meunier stood out from the crowd. Not only did his team have another double championship season, but his players continuously highlight how important Gary is to their overall development as students and athletes. Weston is fortunate to have such a high-caliber person leading this very successful program."
The Weston Sports Commission consists of a broad section of the Weston sports community, including leaders of the town's sports programs. Current members of the Commission include Roneil Icatar of Weston Little League Baseball and Softball, John Jepsen of Babe Ruth baseball, Vivian Wesson of Weston basketball), Michael Nevitt of Weston Youth Football & Cheer, Mal Brooks from lacrosse, Corey Rubin from soccer, Michelle Bradley of swimming, Jon Pressman of adult sports, Mr. Albert, from the Parks & Recreation Commission, Mark Crowley, chairman of the Parks & Recreation Commission, Elizabeth Pocsik, Parks & Recreation's vice chair, David Ungar, Director of Weston Parks & Recreation, Tammy Roberts of the Boosters Club, Mark Berkowitz, Weston High School's athletic director, Matt Medve, Weston Middle School's athletic director, and First Selectman Chris Spaulding. Past award winners living in Weston also are voting members of the Commission.
Previous winners of the Weston Sportspersons of the Year are Darli Ebling, Mark Berkowitz, Carla and Sean Welsh, Michael Carter, Kimmy Guerin, Sibyl Ledwick, Jon Pressman, Brian McMahon, Kevin Funk, Matt Medve, Paul Scheufele, Carl Charles, and Marc Butlein.
If you are interested in attending the awards dinner or being a local sponsor for Sports Night, please visit the Fairfield County Sports Commission's website. Also, if you have questions about the Weston Sports Commission, please send an email.