EMS Secures Commitments To Fund Firehouse Quarters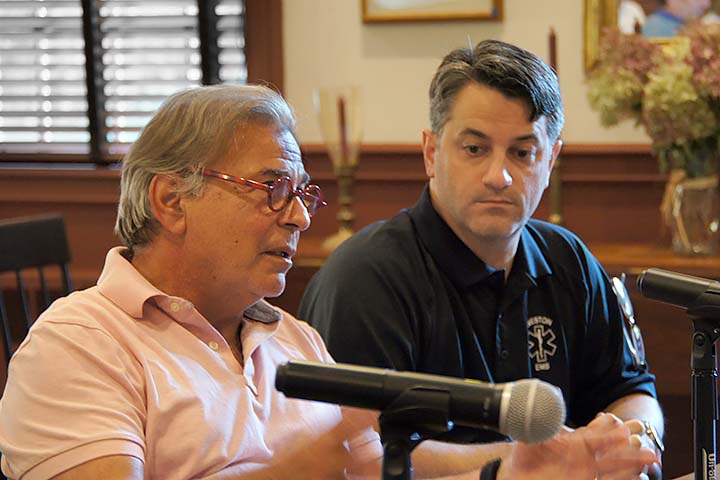 — Contributed photo
July 9, 2018 — As we reported in May, Weston's Emergency Medical Services (EMS) has offered to provide $750,000 to build quarters in an expansion of Firehouse No. 1. The Town would provide the rest of the funds.
On July 5, EMS president Jon Weingarten and chief Michael Schlechter returned to the Board of Selectmen to report that written commitments have been obtained for donations totalling $500,000, and that EMS, a non-profit corporation which receives no taxpayer funding, would provide an additional $250,000 from its endowment and additional contributions. A major capital fundraising initiative will be launched later this summer.
As before, the Selectmen were enthusiastic about the proposal. EMS would be providing the majority of funds to significantly improve a vital town safety facility. The Board voted unanimously to refer the proposal to the Planning and Zoning Commission for review, as is required by Connecticut statute 8-24.
Firehouse No. 1 is on the main Town campus on Norfield Road, next to the Weston Police Department headquarters and where emergency vehicles and ambulances are located. The roof is already in serious need of repair. Under the plan, a flat roof portion in the back of the building would be rebuilt and raised to add 1,200 square feet to the structure.
The expanded facility would give EMS a base of operations and sleeping quarters. At present, the all-volunteer EMS force has no such facility. This places a great burden on crews who typically respond to emergency calls from their homes. It is particularly acute during major storms, as occurred often this winter, where crews who manage to get to the firehouse fend for themselves and sleep on floors.
Chief Schlechter told us that an additional benefit would be that Weston's Volunteer Fire Department would also finally have access to bunks at Firehouse No. 1. Mr. Weingarten pointed out that a key feature of the plan is that it would economize by using an existing kitchen, meeting room, and restrooms.
In May, First Selectman Chris Spaulding called the plan "an almost ideal opportunity for the Town to meet emergency medical needs without impacting existing facilities or infrastructure." The area to be built up is in the back of the building, fairly hidden from view.
With the Board's action, a final architectural design can get underway. After that, bids will be solicited, and then decisions will be made about funding.
A revised preliminary estimate puts the total project cost at $1.2 million. This includes a healthy 10 percent load for contingencies, would undoubtedly change when the architectural plan is complete, and would likely change again when the project receives bids.
If the final costs come in around the preliminary estimate, the Town's share would be $450,000. It is unclear at this writing if the Selectmen would submit a request to the Board of Finance for a supplemental appropriation from fund balances or if they would put it to the public for a vote. It is possible they would do both.