Firehouse Expansion Proposed for EMS Quarters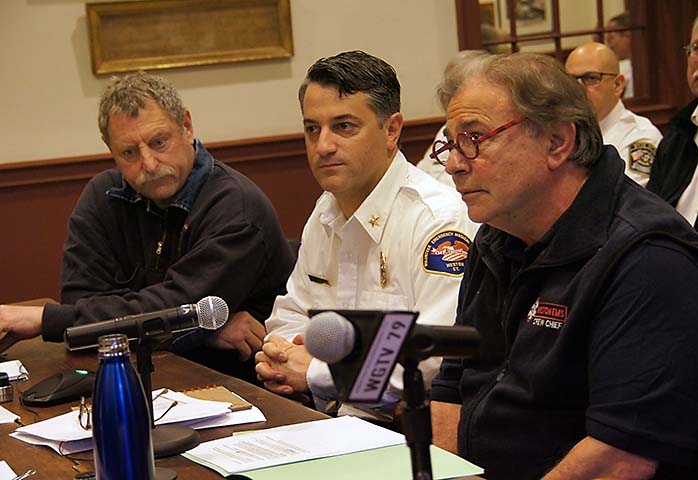 — Contributed photo
May 21, 2018 — Weston's Emergency Medical Services (EMS) would get long-needed quarters in a proposed $1 million expansion of Firehouse No. 1, with EMS supplying $750,000 of the funds.
EMS President Jon Weingarten presented the proposal to the Board of Selectmen on May 17. The 1,200 square foot construction would provide sleeping quarters for EMS crews and dedicated space for administration, meetings, and training.
To date, the all-volunteer EMS has no such facility. During major storms and emergencies, exhausted crews are relegated to sleeping on floors. First Selectman Chris Spaulding called them "hero nomads."
Mr. Weingarten described a "frustrating process" over many years to remedy the situation. In that time, a variety of sites have been considered but ultimately rejected due to operational obstacles or financial objections. Mr. Weingarten said the new plan, particularly with EMS providing three-quarters of the funds, presents an almost ideal opportunity for the Town to meet emergency medical needs without impacting existing facilities or infrastructure.
Improvement of Existing Structure
The plan is to build an addition to Firehouse No. 1 over the flat roof in the back of the building. The firehouse is on the main Town campus, where ambulances and equipment are located in close proximity to the Fire Department and Weston Police headquarters.
The Board received the proposal enthusiastically. Selectman Stephan Grozinger said it is "an opportunity for a town building to be improved with a private organization raising 75 percent of the funds" and that it "crosses the line into being a no-brainer."
Next Steps
No vote was taken on an appropriation for the Town's portion of the costs, but the Selectmen's expression of support means the plan will progress. Final architectural drawings will be completed and bids will be requested and reviewed by the Building Committee. Eventually, the proposal will return to the Board for funding, perhaps by supplemental appropriation from fund balances, and ultimately taken up by the Board of Finance.
The $750,000 to be provided by EMS will be part of a major capital campaign soon to be launched. The service hopes for major donations and broad public support. EMS operates without taxpayer funding. Weston is one of the few remaining Connecticut towns where residents in need of emergency medical care receive it for free.