Kiwanis: 45 Years of Service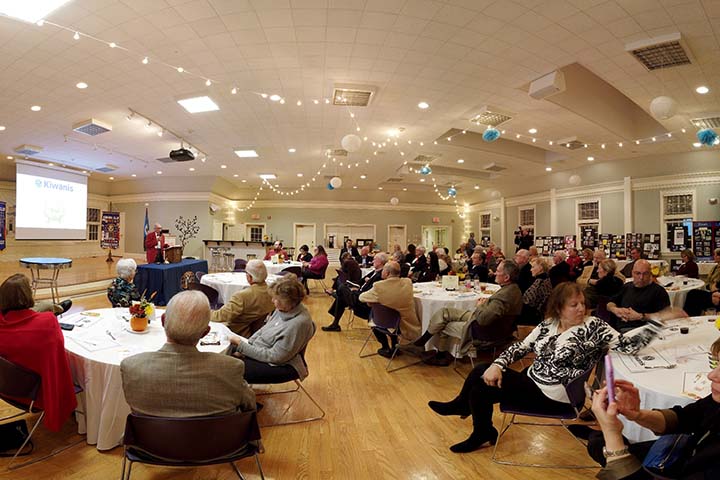 Photos: Vicki Thomas
The field lights that burn brightly at Weston High School have enabled football games to be played at night. There is food in the food Pantry. The Warm-up Fund provides fuel oil assistance to residents that cannot afford to keep their homes warm.
These are just three examples of how for forty-five years the Kiwanis Club of Weston have raised funds to support worthy civic and community services.
Celebrating its forty-fifth Anniversary Saturday night members gathered to pay tribute to 39 past presidents. In the last 20 years the Weston Kiwanis Club raised $895,000 to serve the children of Weston and area communities.
The biggest project was raising $170,000 to build a children's playground at Cesar Batalla public school in Bridgeport. The state of Connecticut provided some funding to build the school, but that did not include a playground for the children.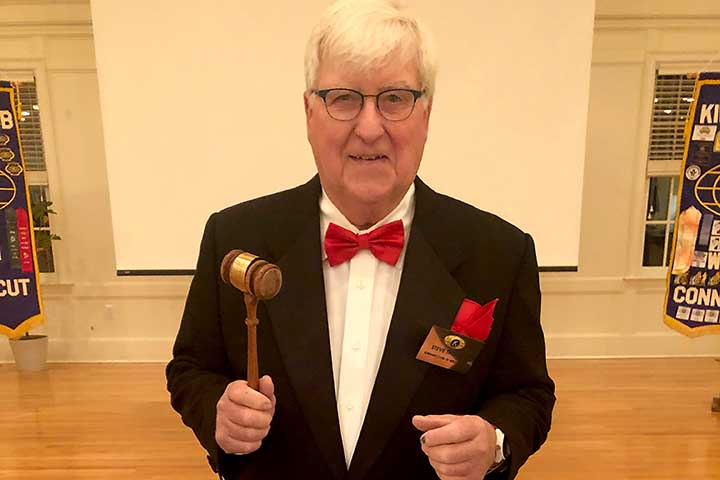 Kiwanis president Steve Thomas
Charter member Dick Troxell told members attending the anniversary celebration what it has taken for the Weston Kiwanis club to survive beyond itself, beyond amusement to best serve the community. Troxell also talked about the importance of good leadership that is done at the grass roots level. Those taking time to volunteer to read to students at Bridgeport schools do so by taking leadership responsibility.
The Kiwanis Club of Weston performs community service focusing on children, helping less fortunate residents, and by contributing to the work of other organizations such as the PTO, scouting, EMS, fire and police departments.
Major beneficiaries in 2018 -2019 include the Connecticut Food Bank, Dylan's Wings of Change, Hurlbutt Elementary playground, Weston Social Services and Homes with Hope.
Over the last twelve months the Weston Kiwanis Club volunteered over 2,000 hours to raise funds from the Annual Kiwanis Club Half Marathon Reservoir Run, Wine Tasting and the Memorial Day Fair.
Steve Thomas, the current Kiwanis President reminded members to be sure to help out with the annual Food Pantry Drive that will take place this Saturday, November 23. When shopping at Peter's Market be sure to check the list for suggested grocery items to drop in the box that will be placed in the Food Pantry.
The Weston Kiwanis meets for breakfast Saturday mornings from 8:00 AM – 10:00 AM at the Norfield Congregational Church parish hall. Most meeting have great speakers. Other meetings are followed by community service projects. New members are always welcomed.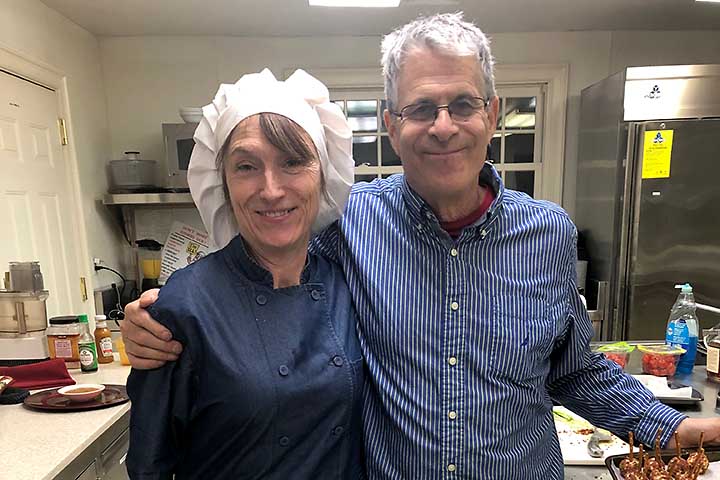 The chefs: Jane and Bill