In Case of Fire, Have a Plan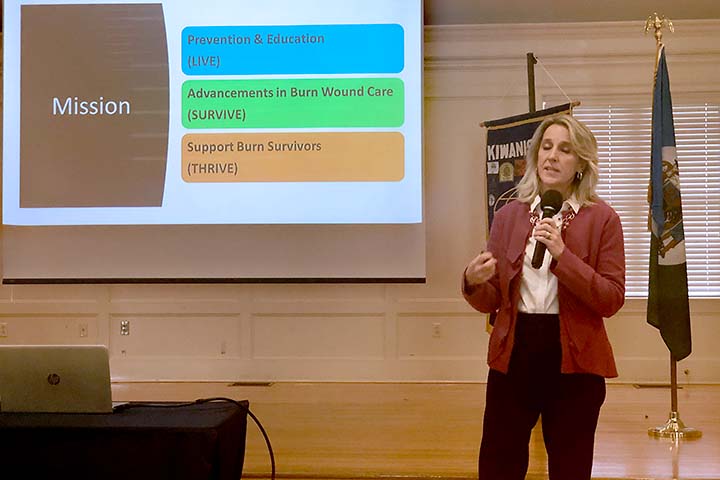 Does your family have a plan about what to do in case of a fire in your home? Have you ever purchased a cheap five-dollar phone cord charger? Is your surge protector strip over loaded?
These are questions guest speaker Kathlene Garrity, Executive Director of Connecticut Burns Care Foundation raised at the weekly Saturday morning Weston Kiwanis meeting.
Ms. Garrity showed a photo of burns on the neck of a young girl talking on the phone while it was being charged using a cheap five-dollar phone cord. Ms. Garrity advised her audience to always purchase better quality phone cord chargers.
Yes, it is easy to overload a power strip that can spark or overheat causing an electrical fire. Be sure to heed the warning light indicating you need to get a new surge protector.
Ms. Garrity provided some alarming statistics about fires. One civilian fire injury occurs ever 34 minutes. One civilian death occurs every two hours. There are 1,000 hospital admittances every day in the US and about 165 kids are hospitalized each year for burns.
In Connecticut so far in 2019 there have been 23 deaths from structural fires, which is why is it so important to have a family plan in case of a fire occurs in your home.
The mission of the Connecticut Burns Care Foundation is to provide education and prevention; information about burns resulting from fires; share information about the advancements in burn wound care and to support burn survivors.
The foundation operates the Arthur C. Luf Children's Burn Camp that is dedicated to help children recover and cope with the emotional challenges that they encounter as a result of burn injuries. The burn camp serves children worldwide.
Ms. Garrity shared touching stories about children attending the burn camp that get to see others like them than have suffered from severe scaring.
Connecticut is fortunate to have Bridgeport Hospital as the state's only burn center and is one of only 62 verified burn centers in the United States.
Weston Kiwanians were grateful to Ms. Garrity for her message and most of all for the invaluable work she and others are doing to help burn victims live, survive and thrive.
The Weston Kiwanis meets every Saturday at the Norfield Parish Hall. Chef Bill prepares a full delicious breakfast for only ten dollars. Most Saturday's there is a speaker. It is a great way to connect with members that are leaders and doers in the community. Join the Weston Kiwanians for an upcoming meeting. Try it out.