Susan Granger At The Movies
House of Gucci
Ridley Scott's extravagant melodrama "House of Gucci" delves into what led to the 1995 murder of Maurizio Gucci, scion of the Milan-based fashion family.
This sordid saga of love, backstabbing and betrayal begins as Patrizia Reggiani (Lady Gaga), an accountant at her father's trucking company, sets her sights on bespectacled Maurizio Gucci (Adam Driver), whom she meets at a disco party. Although he's smitten, his suave, snobbish father Rodolfo (Jeremy Irons) spots her as a crass, social-climbing gold-digger.
Defying Rodolfo, besotted Maurizio marries ambitious Patrizia. Meanwhile in New York City, Rodolfo's gregarious brother Aldo (Al Pacino) is dealing with his incompetent son Paolo (Jared Leto) — which leads Aldo to offer Maurizio an executive position there.
That Maurizio has a wandering eye is established in a St. Moritz skiing scene, infuriating Patrizia by flirting with aristocratic Paola Franchi (Camille Cottin).
As years pass, scheming Patrizia becomes increasingly resentful of distracted Maurizio and her lack of status within the estranged Gucci family. Desperate, she turns for advice/solace to TV psychic Pina Auriemma (Salma Hayek), through whom she engages two hitmen.
Based on Sara Gay Forden's "The House of Gucci: A Sensational Story of Murder, Madness, Glamour and Greed," Becky Johnston and Roberto Bentivegna's sluggish script overflows with awkward dialogue and extraneous characters. Curiously, Lady Gaga's line — "Father, Son and the House of Gucci" — was improvised.
After dazzling in "A Star is Born," Lady Gaga scores again as seductive Patrizia, while Adam Driver is reticent as mercurial Murizio. But Jeremy Irons, Al Pacino, and Jared Leto ham it up so much that their scenes become laughable. Photographed by Dariusz Wolski, Arthur Max's production design is stunning as are Janty Yates' costumes.
Cameos: Jack Huston as formidable Gucci lawyer Domenico De Sole, Reeve Carney as Texas designer Tom Ford, Catherine Walker as fashionista Anna Wintour. And Salma Hayek is married to Francois-Henri Pinault whose firm now owns the global Gucci brand.
Running 2 hours, 40 minutes, on the Granger Gauge of 1 to 10, "House of Gucci" is a flamboyant 5. It's currently in theaters but will be streaming soon.
Lamb
High on my list of Best International (Foreign) Films of 2021 is Iceland's "Lamb," a contemporary folkloric tale from Norse mythology.
Living on a remote sheep farm, situated between a snow-patched mountain and a wind-swept river, melancholy Maria (Noomi Rapace) and taciturn Ingvar (Hilmir Snaer Gudnason) tend their birthing ewes during lambing season.
When a pregnant ewe inexplicably delivers a strange lamb/human hybrid, astonished Maria eagerly swaddles the mysterious creature and Ingvar builds a crib so it can sleep in their bedroom. Lovingly bottle-fed, it's named Ada. As Ada grows, they protectively treat her as the sweet child they never had.
Then Ingvar's malevolent brother Petur (Bjorn Hlynur Haraldsson) unexpectedly arrives from Reykjavik. He's horrified when he discovers what Ada is, but then he too comes to accept her as part of the family. Inevitably, of course, there's a price to be paid for defying the will of nature.
Winner of the prize for Originality at the Cannes Film Festival, it's written by celebrated Icelandic poet/novelist Sjon and visual effects artist Valdimar Johannson, who makes an auspicious directing debut, slowly creating a subtle, yet haunting atmosphere of quiet dread — leading to a jaw-dropping payoff.
This is the highest-grossing film in the history of Icelandic cinema, earning more than a million dollars in its first weekend alone, even when pitted against Daniel Craig's final James Bond adventure.
If Noomi Rapace looks familiar, she's a Swedish actress best known as Lisbeth Salander in "The Girl With the Dragon Tattoo." Since she spent her childhood in Iceland, she speaks Icelandic fluently.
And the plaintively bleating ewe that gave birth to Ada is tagged with the number 3115, which matches Jeremiah 31:15: "A voice is heard in Ramah, lamentation and bitter weeping. Rachel is weeping for her children; she refuses to be comforted for her children, because they are no more."
In Icelandic with English subtitles, on the Granger Gauge, "Lamb" is an intriguing, enigmatic 8 — streaming on Prime Video, Apple TV and Vudu.
Mass
Make no mistake. "Mass" is a difficult psychological drama to watch, as first-time writer/director Fran Kranz delves into the grief of two sets of parents whose children were involved in a high-school shooting. How do people cope with this kind of tragedy? And how do they ever move on?
Six years later, Jay (Jason Isaacs) and Gail (Martha Plimpton), whose son Evan was killed, have come to talk — face-to-face — with Richard (Reed Birney) and Linda (Ann Dowd), who not only lost their son Hayden but were blamed over the years by many of the families of those he massacred.
Wisely, Fran Kranz filmed their emotional encounter in chronological order, as the four sit awkwardly around a small table in an Episcopal church's claustrophobic basement. There are no flashbacks or cutaways to the event being discussed.
During the uninterrupted conversation, questions abound as resentment leads to understanding. Eventually, each character experiences a personal epiphany in trying to make sense of a senseless tragedy.
In this actors' showcase, Ann Dowd, who won an Emmy for her portrayal of fearsome Aunt Lydia on "The Handmaid's Tale," is particularly enthralling. Linda doesn't ask for forgiveness or defend her son, confessing that, although he was loved: "I raised a murderer."
After the shooting, Linda and Richard were alerted that something dreadful had happened but were kept apart during the police questioning. They are now divorced; Hayden's actions destroyed their marriage. While guilt-riddled Linda is forthright and honest, Richard is more aloof and almost defiant.
As Jay, Jason Isaacs admits he wants Linda and Richard to feel "regret" or "pain." Yet knowing, even if they do, it doesn't give him or Gail any relief. Perpetuating the hatred only poisons, so it seems that acceptance and the power of forgiveness are the lessons here.
Not surprisingly, the catalyst for actor-turned-filmmaker Kranz's grimly challenging script was the Parkland, Florida, school shooting.
On the Granger Gauge, "Mass" is a poignant, subtle 7, evoking a genuine catharsis.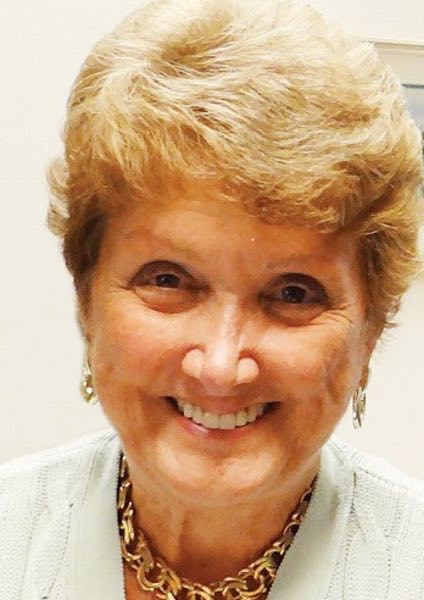 Susan Granger is a product of Hollywood. Her natural father, S. Sylvan Simon, was a director and producer at M.G.M. and Columbia Pictures. Her adoptive father, Armand Deutsch, produced movies at M.G.M.
As a child, Susan appeared in movies with Abbott & Costello, Red Skelton, Lucille Ball, Margaret O'Brien, and Lassie. She attended Mills College in California, studying journalism with Pierre Salinger, and graduated from the University of Pennsylvania with highest honors in journalism.
During her adult life, Susan has been on radio and television as an anchorwoman and movie and drama critic, syndicating her reviews and articles around the world, including Video Librarian. She has appeared on American Movie Classics and Turner Classic Movies. In 2017, her book 150 Timeless Movies was published by Hannacroix Creek Books.
Her website is www.susangranger.com. Follow her on Twitter @susangranger.