Susan Granger At The Movies
The Last Duel
As an American woman in the 21st century, perhaps I take my rights and privileges too much for granted. Certainly, the medieval drama "The Last Duel" puts a clear perspective on the indisputable fact that — for most of recorded history — women were routinely subjugated, regarded as chattel.
In 14th century France, a cleric stated: "Rape is not a crime against a woman. It's a property matter."
The rape in this sprawling story is described from three distinct perspectives with a slashing duel-to-the-death looming as the inevitable conclusion.
In the first chapter, a proud, if petty knight, Sir Jean de Carrouges (Matt Damon), saves the life of Jacques Le Gris (Adam Driver) at the Battle of Limoges which does little to redeem him in the view of his liege, supercilious Count Pierre d'Alencon (Ben Affleck), particularly after Jean marries Marguerite (Jodie Comer), the beautiful daughter of a one-time traitor.
The second version is told from the perspective of the dashing squire, Jacques Le Gris, an educated yet ruthless libertine who feels he's entitled to possess any woman he desires, particularly flirtatious Marguerite.
Finally, the third chapter — "The Truth" — told from Marguerite's #MeToo viewpoint — reveals how her sullen, burly husband bickered with her father over the land in her dowry and how cruelly she was treated by her acerbic mother-in-law because, for a long time, she was unable to bear an heir.
It's all about the roots of misogyny and the dynamics of power, as Marguerite insists, "I cannot be silent. I want him to answer for what he has done."
Based on Eric Jager's 2004 non-fiction book, the repetitive, the "Roshomon"-like structure is detailed by screenwriters Ben Affleck, Matt Damon and Nicole Holofcener and helmed by Ridley Scott, who stages several extremely brutal assault and action sequences.
Cinematographer Dariusz Wolski deftly details a perpetual winter of discontent and production designer Arthur Max includes glimpses of Notre Dame Cathedral under construction in Paris.
On the Granger Gauge of 1 to 10, "The Last Duel" is a bleak, blood-soaked 6, chronicling France's final officially sanctioned trial-by-combat in 1386.
Halloween Kills
"Halloween Kills," the eleventh installment in John Carpenter's fabled, if fragmented franchise, picks up where 2018's "Halloween" concluded — in the small town of Haddonfield, Illinois, where three generations of Strode women are battered and exhausted.
After an extensive prologue filled with grisly flashbacks and gnarly footage recalling Michael Myers' grim history — from how he initially killed his six year-old sister to his escape from a psychiatric hospital 40 years later — he's once again on the rampage in his iconic white mask.
Now a grandmother, Laurie Strode (Jamie Lee Curtis) suffered a debilitating abdominal stab wound, so she is hospitalized post-surgery. While her daughter Karen (Judy Greer) is reasonably determined, it's her granddaughter Allyson (Andi Matichak) who is now resolute to wreak revenge.
Several characters return from the 1978 original, including Marion Chambers (Nancy Stephens), Leigh Brackett (Charles Cyphers), Tommy Doyle (now played by Anthony Michael Hall, replacing Paul Rudd), Lonnie Elam (now played, as an adult, by Robert Longstreet), and Lindsay Wallace (Kyle Richards). And this is the sixth time Jamie Lee Curtis has embodied Laurie Strode.
When interviewed on Sirius XM, Curtis noted how the story resonates with protests and riots that swept the country after George Floyd's death: "This movie is about a mob. It takes on what happens when trauma infects an entire community, and we're seeing it everywhere with the Black Lives Matter movement. We're seeing it in action."
Working from an incoherent, dumbed-down, over-populated script he co-wrote with Scott Teems and Danny McBride, David Gordon Green has once again revived John Carpenter's 'curse' involving Michael Myers as the terrifying psycho-slasher in a trilogy which he intends to conclude with "Halloween Ends!"
The title sequence opens with 12 pumpkins with flames shooting out of their eyes — with the last one indicating "Halloween Ends!" as the 12th installment in the franchise, now set for release in October, 2022.
On the Granger Gauge, "Halloween Kills" is a ferociously savage 3 — simultaneously in theaters and streaming on the Peacock Network.
The Handmaid's Tale: Season 4
With so many new dramatic series, Hulu's "The Handmaid's Tale: Season 4" somehow got put on a back-burner, begging to be binge-watched.
That's perhaps understandable since Bruce Miller's loose cinematic adaptation of Margaret Atwood's 1985 dystopian novel made its debut in April, 2017 — perfect timing as the misogynistic religiosity of (fictional) Gilead matched the authoritarian conservatism of Donald Trump's all-too-real assumption of the U.S. presidency.
Unfortunately, lacking its previous topical urgency but retaining its feminist rage, the fourth season begins where the relentless third left off, as heroically tormented June Osbourne (Elisabeth Moss) dispatches a plane filled with 86 children and numerous women fleeing from the tyranny of Gilead into Toronto, Canada.
That's where June's best friend Moira (Samira Wiley) is helping to raise Nichole, the baby June gave birth to in Gilead, fathered by Commander Nick Blaine (Max Minghella).
Hiding from the ever-present Eyes in a friendly farmhouse with other renegade handmaidens and child-wife Marthas, June is plotting her next phase of rebellion, perhaps joining an underground resistance movement known as Mayday, but wary of causing any more destruction and death to her followers.
"You're so bossy and judgmental," complains Janine (Madeline Brewer). "You need to stop trying to save me to make yourself feel better."
Then there's Rita (Amanda Brugel), the escaped Martha who is adjusting to freedom, as June's captors Serena Joy (Yvonne Strahovski) and Fred Waterford (Joseph Fiennes) await trial in a Canadian court for their crimes against humanity.
All this arouses even more ire in sadistic, tyrannical Aunt Lydia (Ann Dowd), who has always sided with the brutal Gilead regime, determined to subjugate child-bearing women, finds a new ally in Commander Lawrence (Bradley Whitford).
"I'm ready for it all to be over," June sighs at one point — and I find myself agreeing with her.
On the Granger Gauge, "The Handmaid's Tale" continues with a precariously steely 6, awaiting Season 5.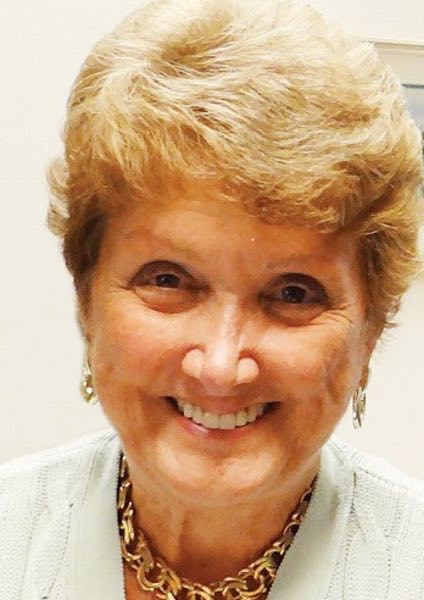 Susan Granger is a product of Hollywood. Her natural father, S. Sylvan Simon, was a director and producer at M.G.M. and Columbia Pictures. Her adoptive father, Armand Deutsch, produced movies at M.G.M.
As a child, Susan appeared in movies with Abbott & Costello, Red Skelton, Lucille Ball, Margaret O'Brien, and Lassie. She attended Mills College in California, studying journalism with Pierre Salinger, and graduated from the University of Pennsylvania with highest honors in journalism.
During her adult life, Susan has been on radio and television as an anchorwoman and movie and drama critic, syndicating her reviews and articles around the world, including Video Librarian. She has appeared on American Movie Classics and Turner Classic Movies. In 2017, her book 150 Timeless Movies was published by Hannacroix Creek Books.
Her website is www.susangranger.com. Follow her on Twitter @susangranger.