The Town Hall complex will soon be entirely powered by solar energy, thanks to the award of $438,240 from a state grant program designed to help small towns complete infrastructure improvements.
The funds will be used to replace the roof at the Department of Public Works garage and install solar panels, which should produce enough wattage to supply electricity to the entire municipal campus, not including the schools.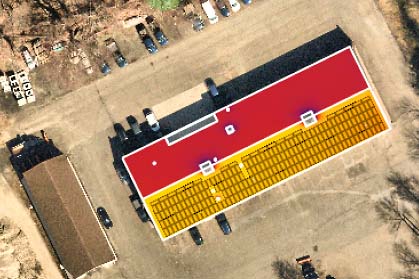 Illustration from the grant application
The new power supply will have an immediate impact, reducing Town operating costs and taking DPW roof repairs out of capital expenditures. Town officials had anticipated allocating funds for repairs as early as next year. The grant requires $109,560 in matching funds, but that may be half of what roof replacement alone would have cost.
"This will have an impact for generations," said First Selectwoman Samantha Nestor. "This is why we always look for opportunities to take existing plans and make them better."
The grants are provided through the Small Town Economic Assistance Program (STEAP), which is managed by the Office of Policy and Management.
"Our small towns are an integral part of what makes Connecticut such a special place to live and work," said Governor Lamont. "By working with them on these grants, the state can help get these vital projects completed so these towns can continue to grow, thrive, and attract businesses, while improving the quality of life for our residents."
Nearby, Westport was awarded $500,000 to build sidewalks along Cross Highway and provide a $411,000 match. Wilton was also granted $500,000, which will be used with a $150,838 match for a police department storage facility.