Weston's first sidewalks were officially opened in a ceremony on Thursday attended by Lt. Governor Susan Bysiewicz and officials and staff from the state's Department of Transportation.
The project, long in the making, is the first of three phases planned to construct a loop of sidewalks around the center of town. With this phase essentially complete, some 5,500 linear feet of sidewalks connect St. Francis Church to Weston Road (Route 57), then run up to School Road, meeting and extending existing walkways. A length also runs from the corner of Weston and Norfield roads to Norfield Church, where the loop will eventually close in the planned third phase.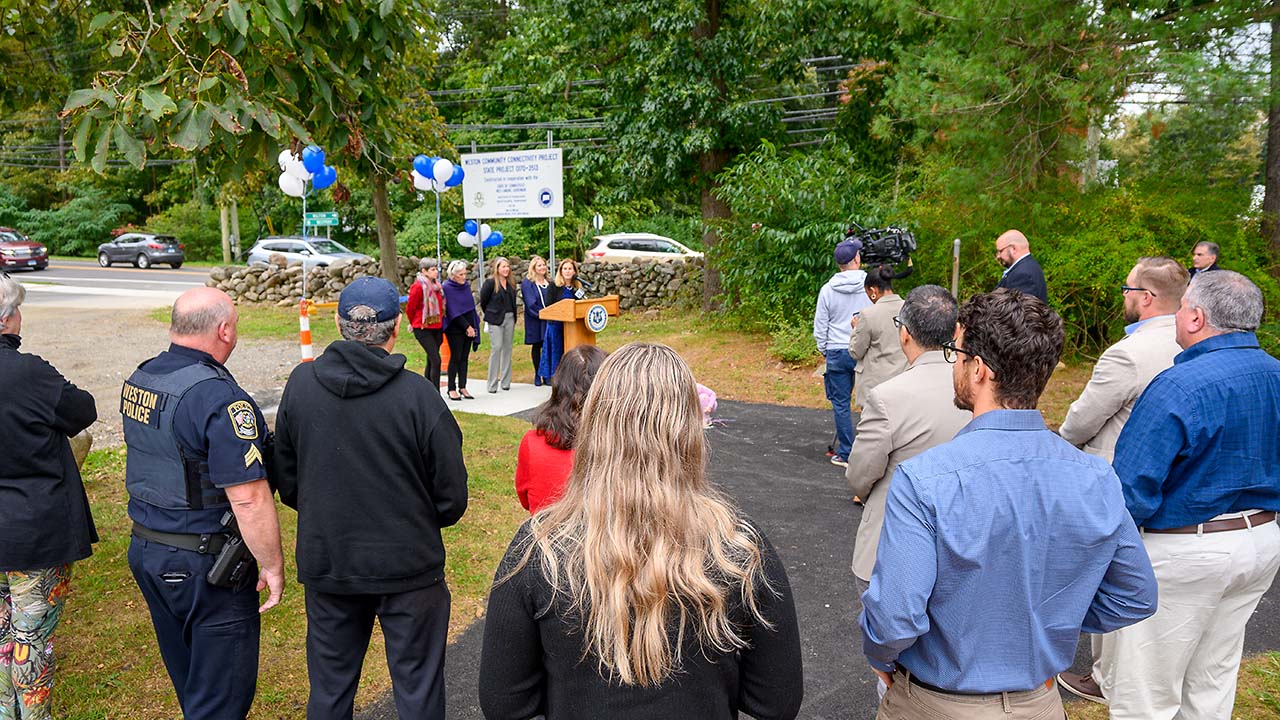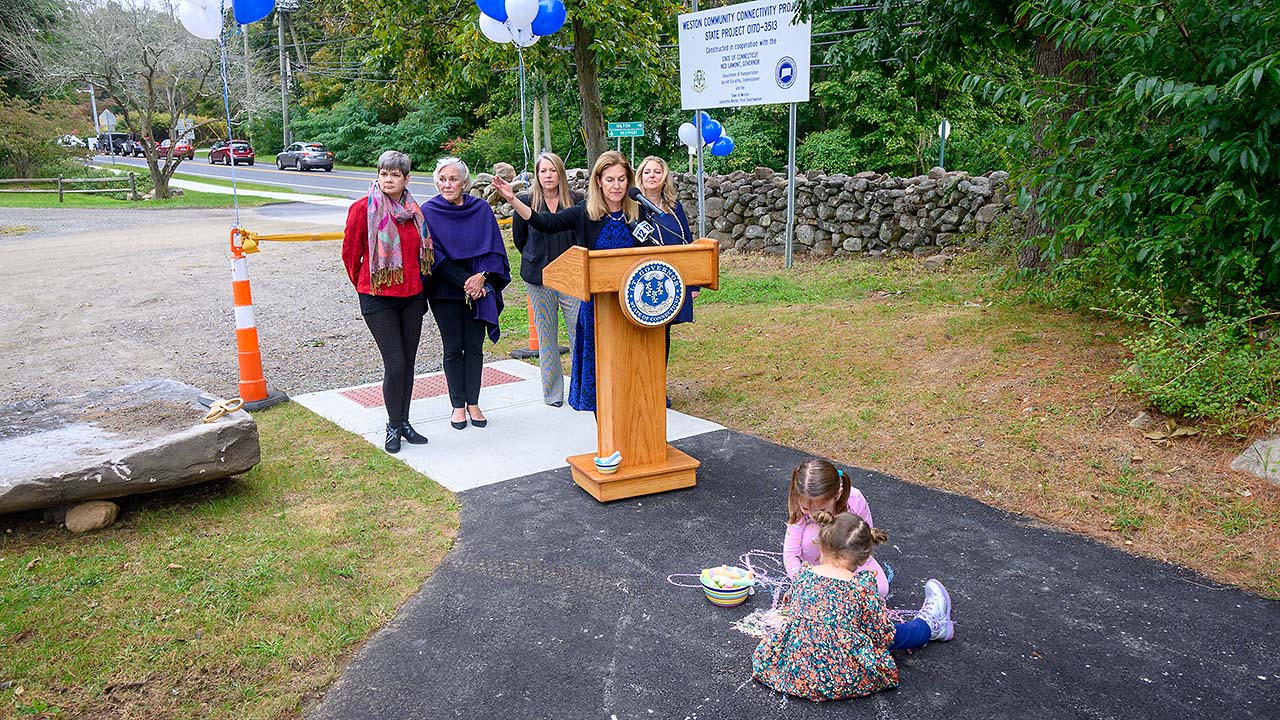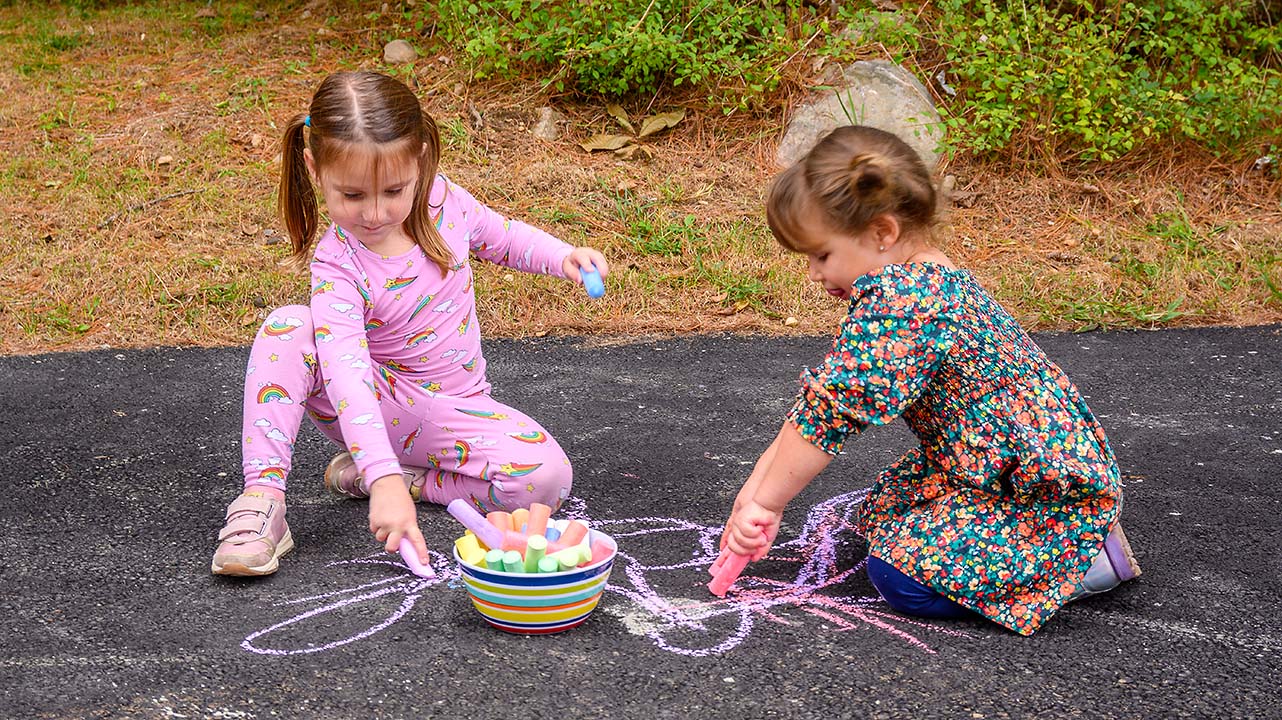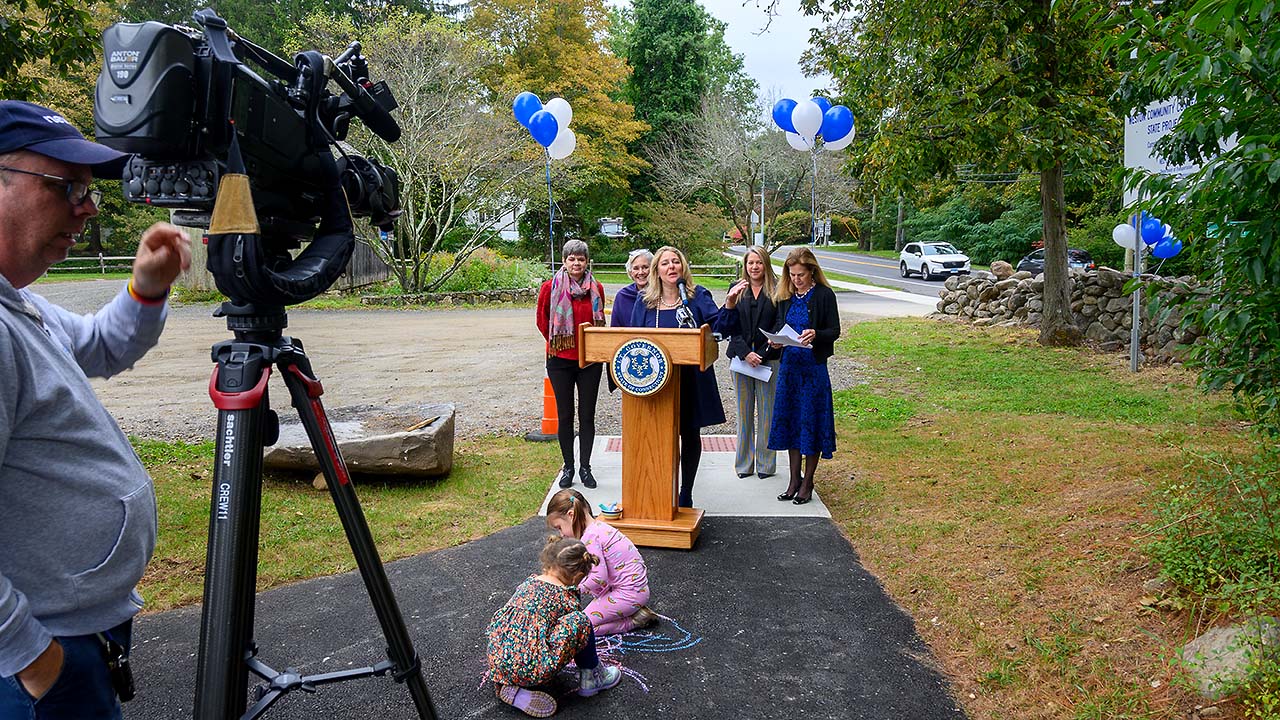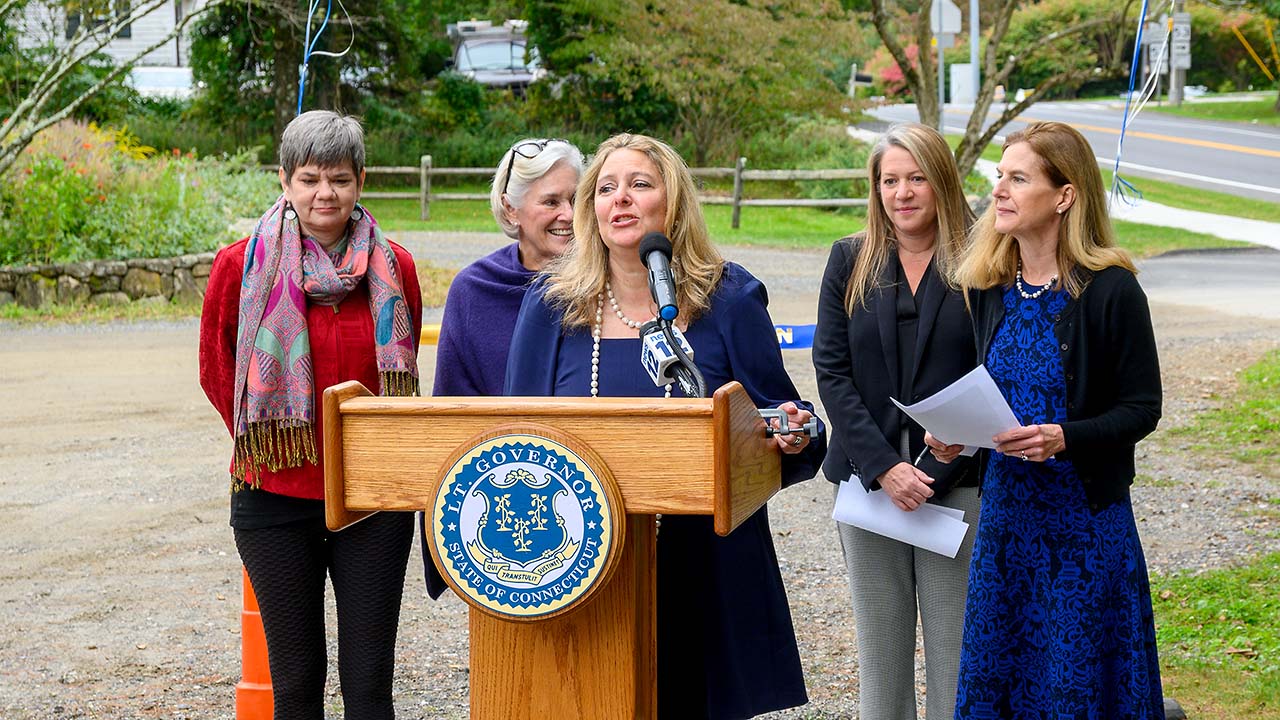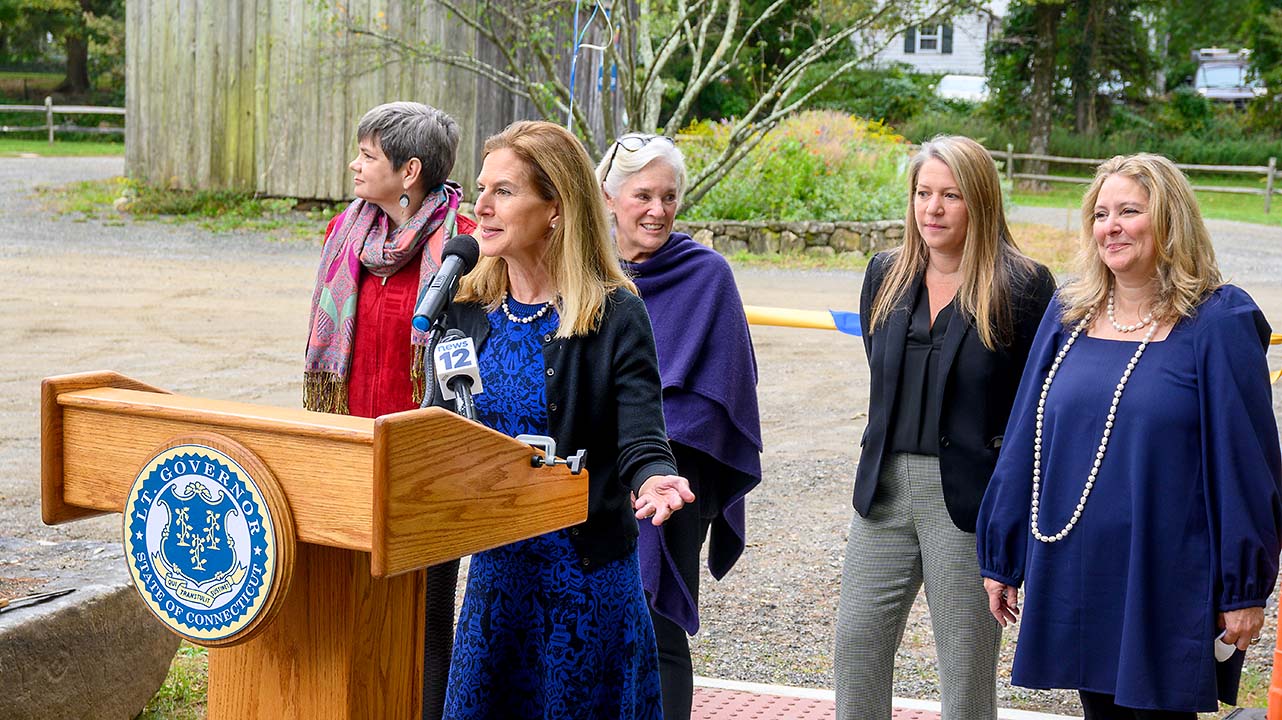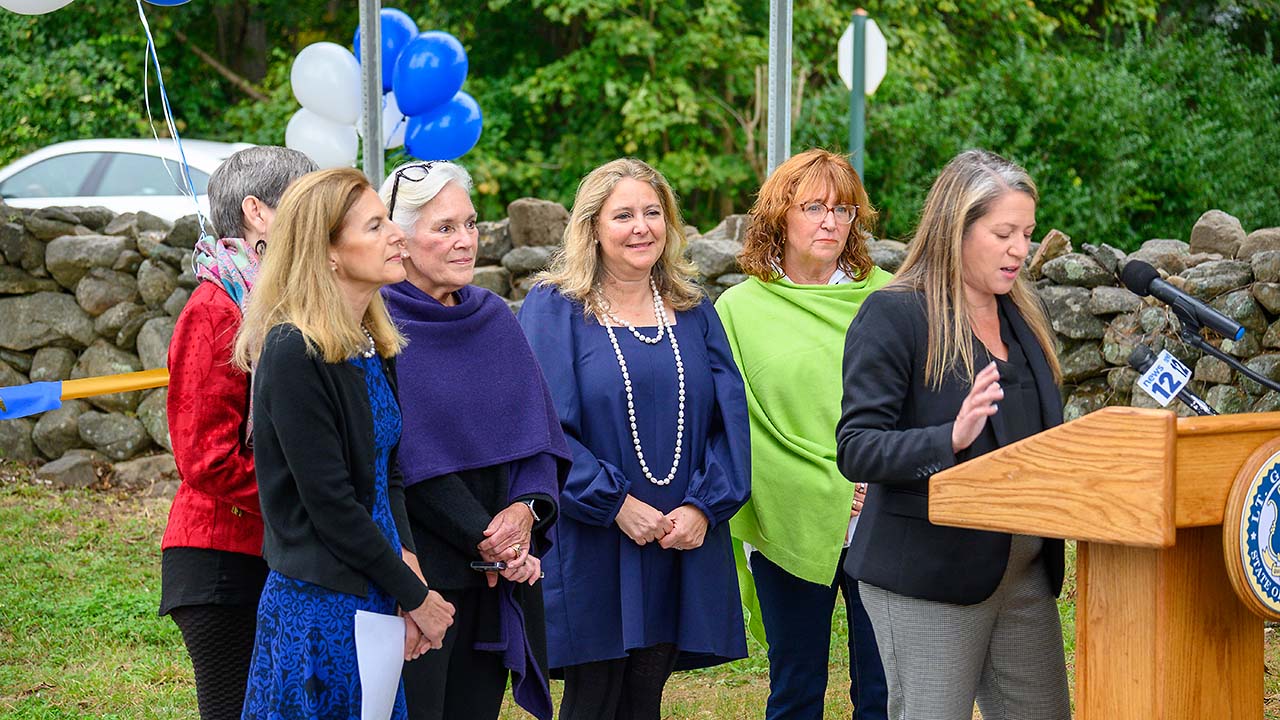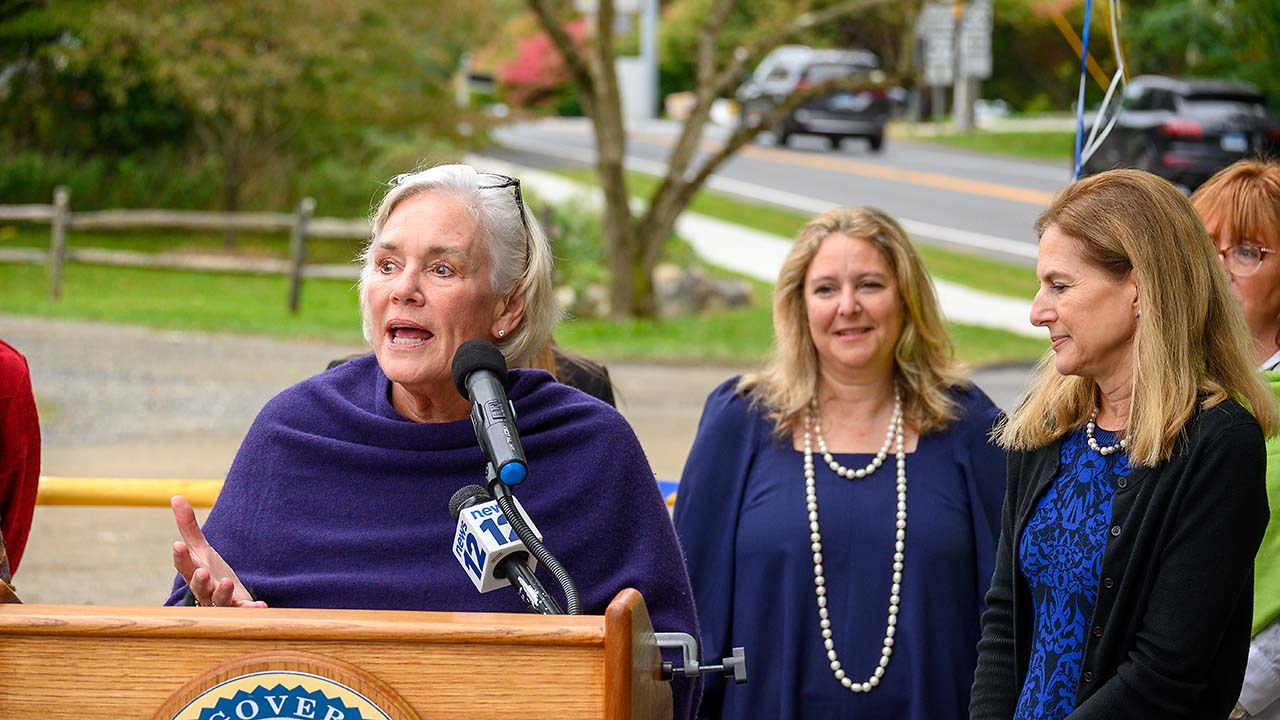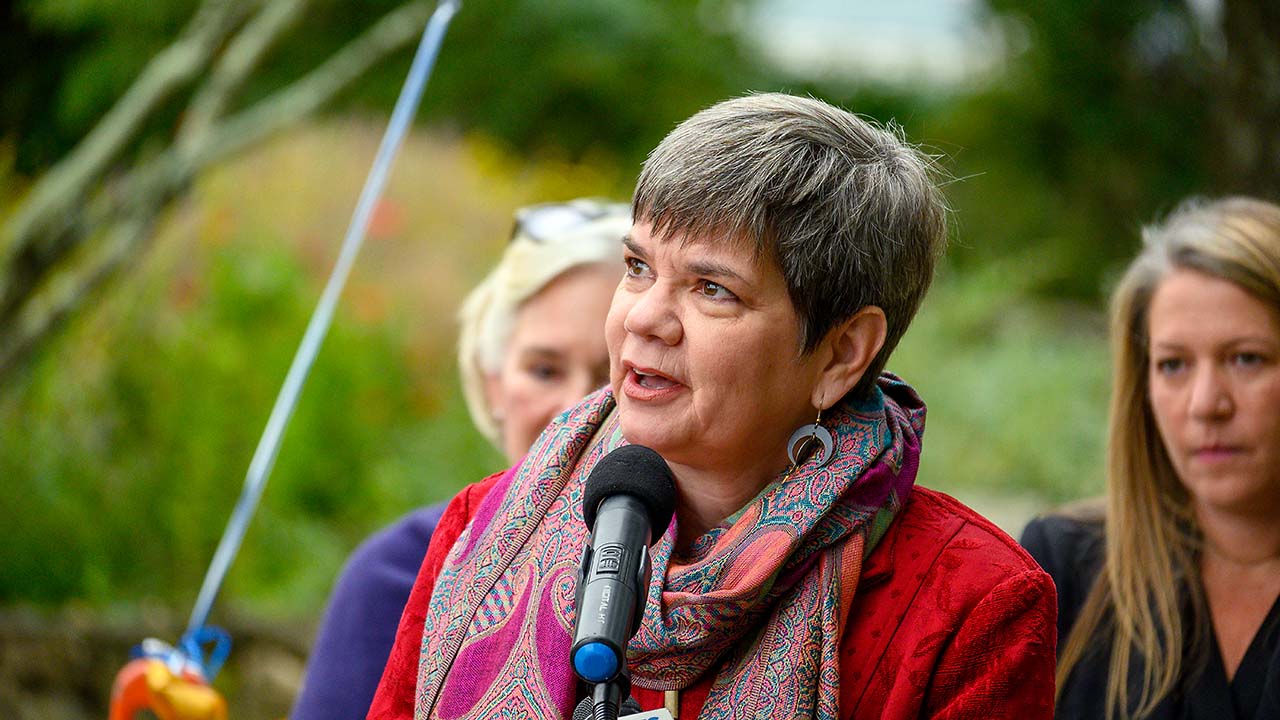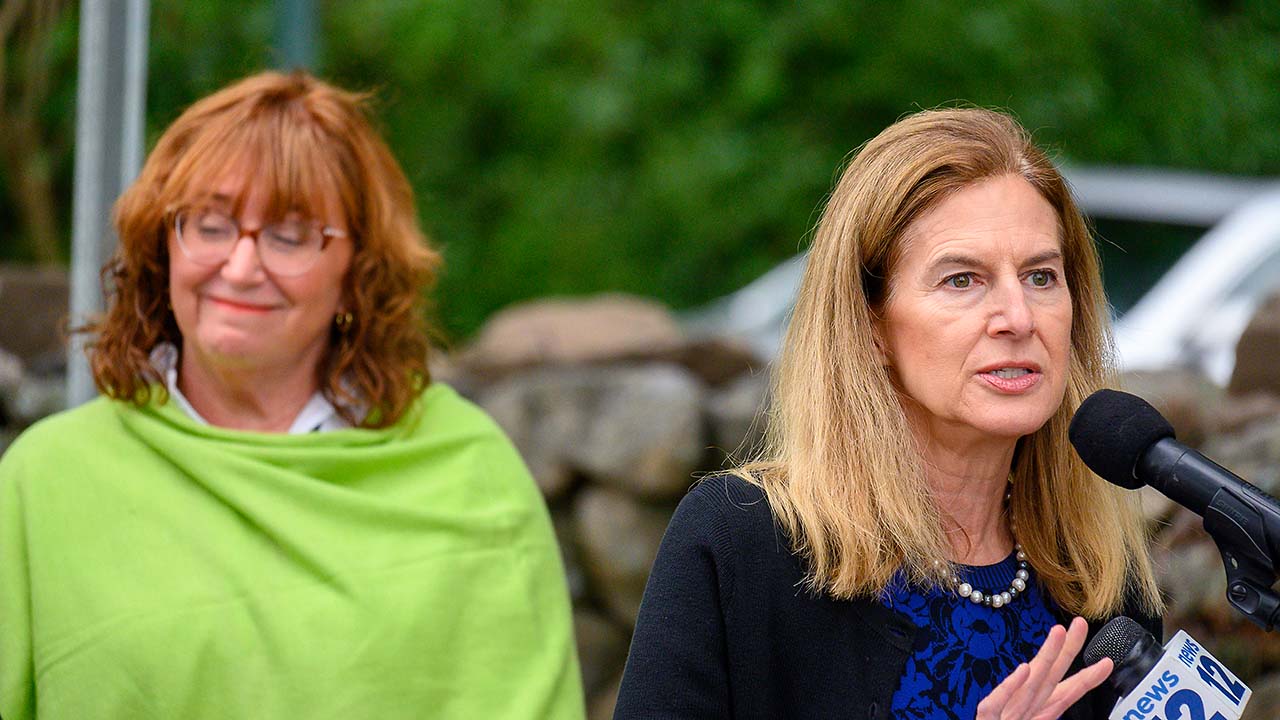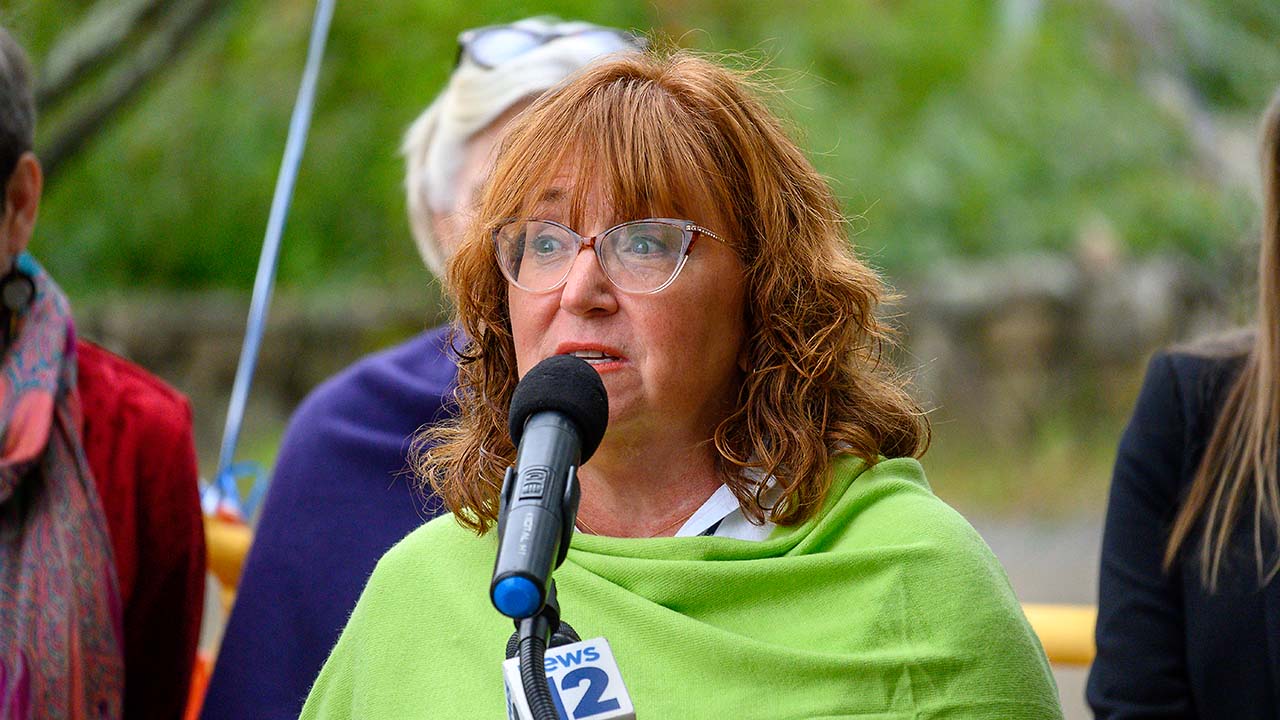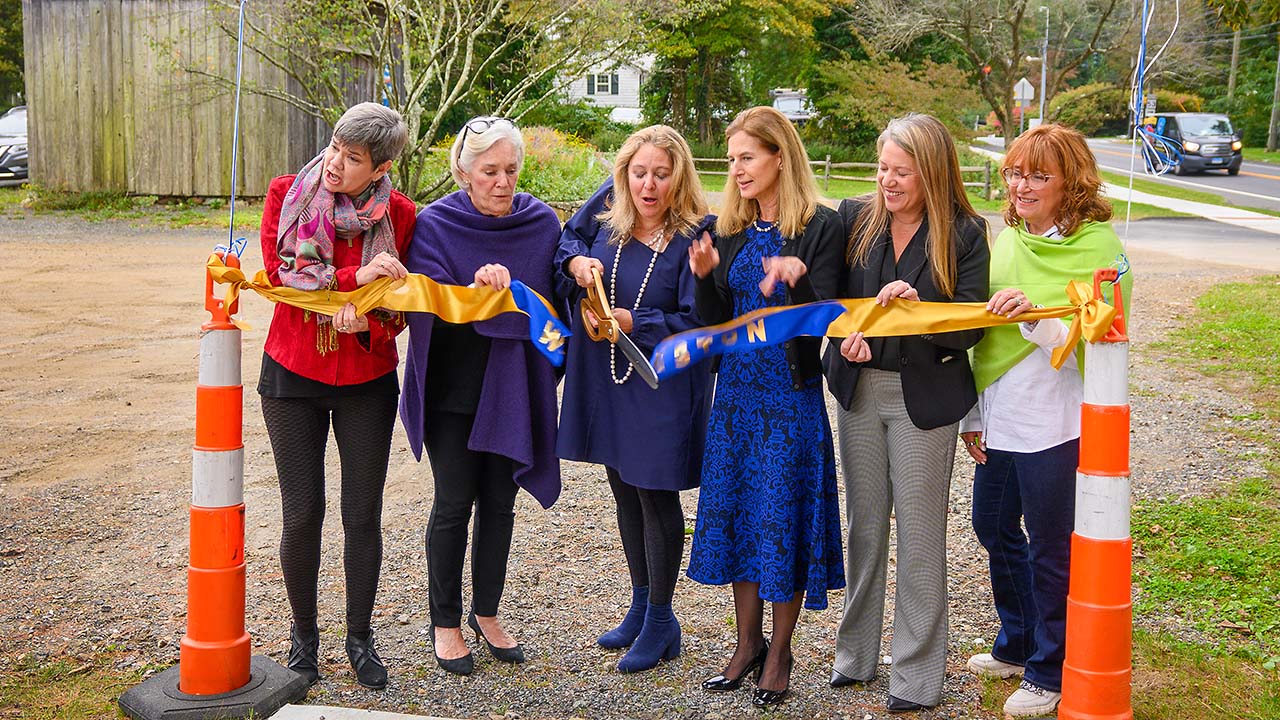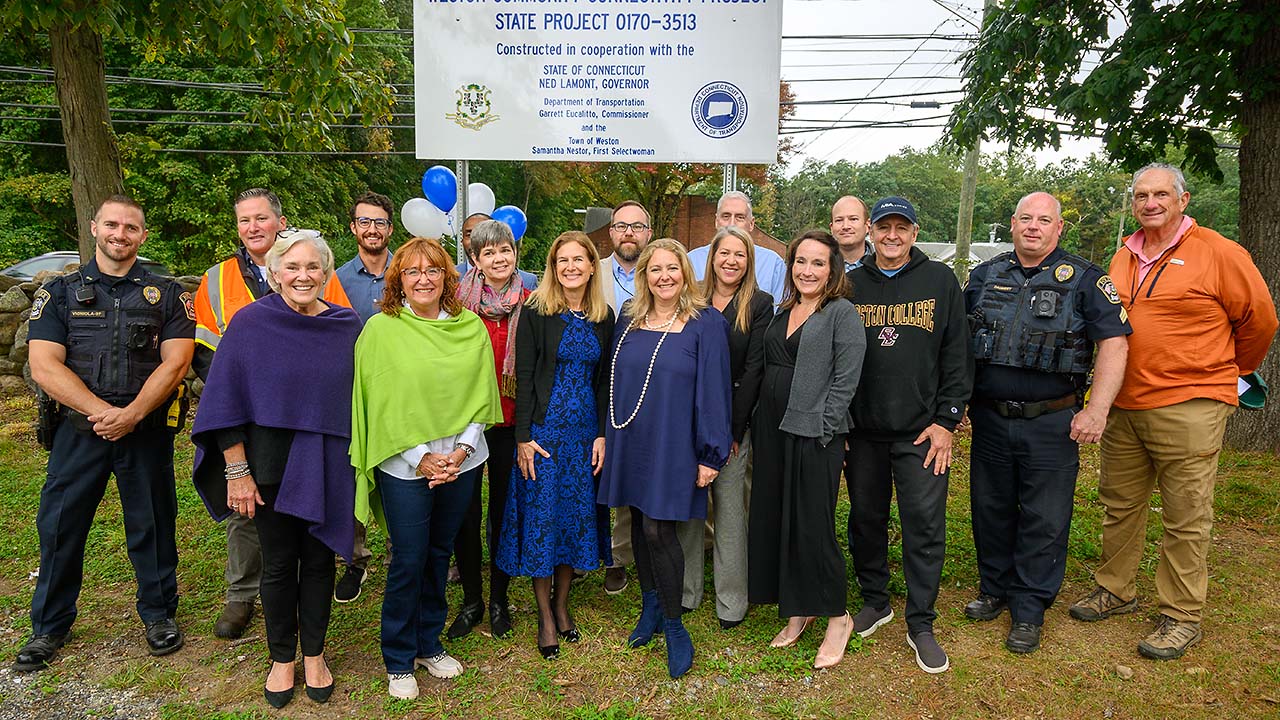 First Selectwoman Samantha Nestor introduced the lieutenant governor, describing her as "an amazing friend to Weston and the entire state with her tireless efforts to improve everything big and small."
"These sidewalks may seem like a small thing to some," said Ms. Nestor, "but they're a really big deal to us in Weston."
It was to the lieutenant governor that Ms. Nestor reached out when project costs rose to more than twice the funding originally granted. The First Selectwoman thanked Ms. Bysiewicz and DOT Commissioner Garrett Eucalitto for responding quickly to close the funding gap.
"Partnerships between the State of Connecticut and its towns have the power to be transformative," said Ms. Bysiewicz. "And I can't think of a better project than a new network of sidewalks in this beautiful town. This is going to create a safer, more welcoming space for Weston's town center."
"This is an example that 'it takes a village,'" said Ms. Nestor. She thanked predecessors Nina Daniel (who signed the original grant application) and Chris Spaulding, the DOT liaisons, engineers who designed the project, contractors who built it, and a host of officials and staff from the Town and school district.
WestCOG, the Western Connecticut Council of Governments, got a shout-out for facilitating the grant, which when announced in 2018 was the first of its kind awarded to Weston. The project was delayed by Covid-19 restrictions, attendant supply chain issues and design changes, all of which drove up costs.
Shovels finally met earth, following a concerted push at Town Hall, as soon as schools dismissed this spring.
Connections
DOT Deputy Commissioner Laoise King said, "This project and others around Connecticut help make town centers more vibrant, useable, and safer for residents and visitors. Increasing pedestrian safety and improving connectivity are top priorities for us, and we know towns like Weston share our goals."
"This project will benefit the community and I'm excited it is moving forward after years of planning and work," said State Senator Ceci Maher. "Students will be able to walk from school to Lily's Market and the Lunch Box, while residents will find it easier to access Town Hall and St. Francis Church on foot."
State Representative Anne Hughes said, "This collaborative investment provides a boost to local businesses and increases property values with our thriving village vibe. It makes the center of Weston a more interconnected, safer community hub for everyone."
Schools Superintendent Lisa Barbiero said she sees the sidewalk connections in a larger context. "We have a great synergy between the town and the schools to make sure our children feel a sense of belonging," she said. "Not just to their classrooms and classmates and school campus, but also to the community." She said being able to walk "safely and securely" between school buildings and other facilities creates that sense, which is "what Weston is all about."