Mr. Wilhelm and Jolantha (as Barbie)
Jolantha, the well-dressed pig (sculpture) on Kellogg Hill Road, is the work of husband-and-wife artists Hans Wilhelm and Judy Henderson, both of whom are prominent in their own chosen fields and media.
Mr. Wilhelm, a renowned illustrator and writer, has published over 220 books for readers of all ages. His titles have been translated into more than 30 languages and sold over 40 million copies worldwide. He also shares thoughts on life and spiritual matters in books, videos, and on a website, lifeexplained.com.
His artistic journey began as a child in Bremen, Germany. His aunt Hedwig, who owned a printing shop, supplied encouragement and as much paper as he desired. This was just after World War II, when art materials and paper were luxury items in Germany.
"These sheets of paper, which often still had the delicious scent of the printing shop, were pieces of heaven to me," said Mr. Wilhelm.
In his work, he seeks to spread the joy of art in his books and to show people of all ages that they can be and do whatever they desire. That belief is grounded in his own experience, as one who initially attended business school and entered the business world, but then switched careers in his mid-thirties.
His first publication — a children's book on the 12 signs of the Chinese zodiac — was a huge success.
"It's a wonderful and lucrative career," said Mr. Wilhelm. "It's always nice to receive letters from teachers and children about how their books touched them, and to read comments about how my videos make an impact on viewers."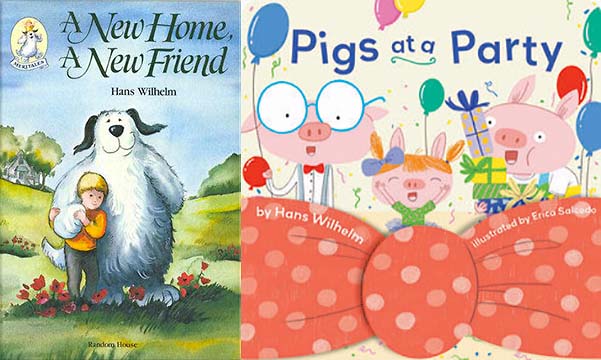 Mr. Wilhelm's 1985 book about a dog named Waldo (left) led to a series of more than 50 books and a TV show. On the right, a 2021 title.
Judy Henderson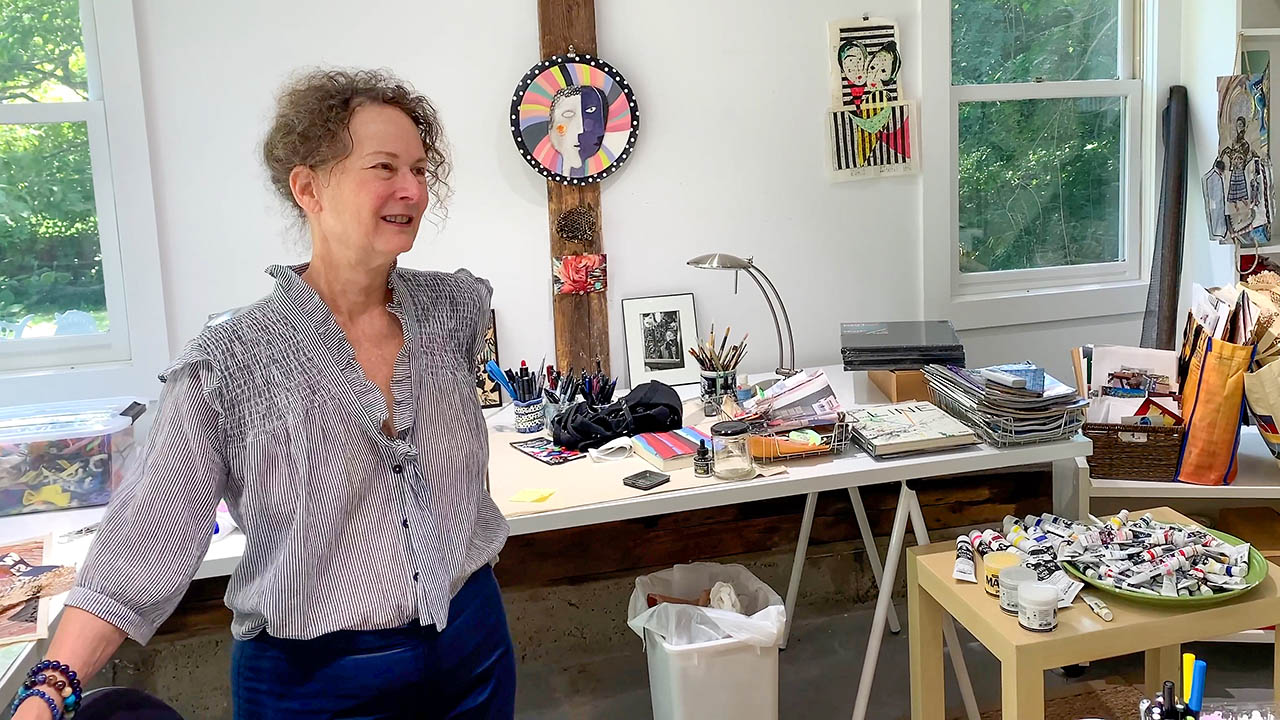 Ms. Henderson. Weston Today photo
Ms. Henderson also had artistic inclinations from an early age. "I was born an artist," she said.
She grew up in South America, still a source of inspiration for her work. She attended art school with a double major in commercial art and illustration, but chose not to become an illustrator.
"I didn't like being told what to do and redo," she said. "I had more to say, and that was what I wanted my art statement to be." She creates in all mediums and styles.
"Different styles come out of me at different times in my life," she said. During the Covid-19 quarantine, she made crafts out of shopping bags and tea bags. She is typically drawn to ceramics, a form she has been working with for over 25 years.
Some of Ms. Henderson's most memorable ceramic collections were hand-painted vases and dinner sets for Henry Bendell and Saks Fifth Avenue. She fondly recalls working on them. "It was quite a feat," she said. "I had to work from early morning to late at night to create all the pieces."
Currently, Ms. Henderson is working on a number of paintings and collages. Going forward, she hopes to create pieces that are both art and functional.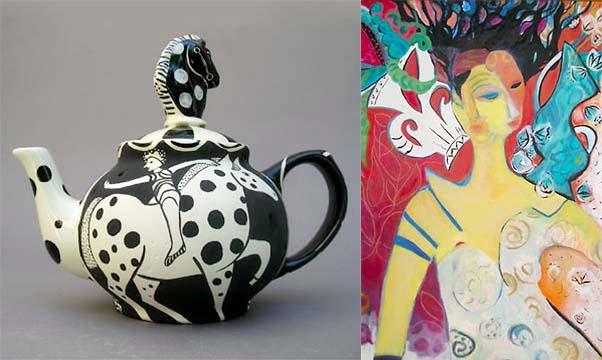 On the left, a black and white ceramics teapot by Ms. Henderson. On the right, her painting titled "Vessel One."
"We share the beauty of the world"
In years of experience as artists, the couple have developed certain techniques to maintain their creativity and search for new ideas. They are, first and foremost, each other's cheerleaders and editors. They find inspiration from extensive travel, the beauty of nature, and the world around them.
Their grandson has been a recent inspiration, especially for Mr. Wilhelm's children's books. "You see the world differently in the eyes of little ones," said Ms. Henderson. Through their art, they look for the light in every situation and work to convey it.
"We don't share the misery of the world," said Mr. Wilhelm. "We share the beauty of the world. The moment I create work that has a positive impact, I feel better. It's a selfish thing. Why concentrate on negativity when you can use that energy for the positive?"
"Art is our life, our expression," said Ms. Henderson. "We would not survive without art."
Jolantha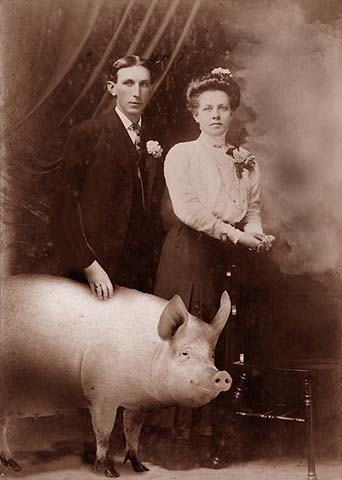 The well-dressed figure on Kellogg Hill Road has a website and an interesting story of her own. She memorializes a pig who lived on the property long, long ago, and once saved a young man named Ebenezer.
Mr. Wilhelm and Ms. Henderson told Jolantha's story and spoke more about their art in our October 2021 story.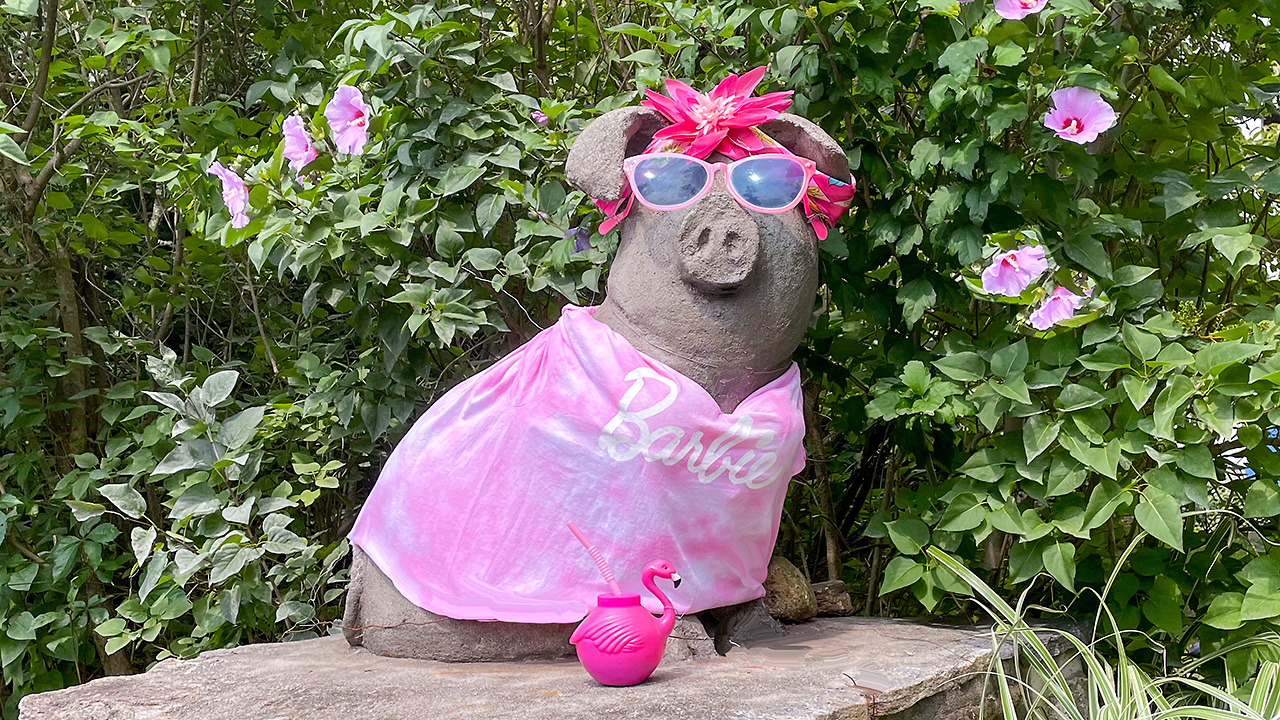 More about the couple's lives and their art can be found on their websites: hanswilhelm.com and judyhenderson.com.