On July 21, a Superior Court judge granted a request to evict Laura Friedman and Anthony Villano from Cobbs Mill Inn, which they have occupied for most of two years since an offer to buy the property was accepted and 18 months since the transaction closed.
During that time, according to the court, Ms. Friedman and Mr. Villano blocked buyers Kleber and Sandra Siguenza from accessing the property and taking possession, defied notices and a court order to leave, attempted to sell the property, sold off some of its assets, and attempted to claim rightful ownership with falsified and fraudulent documents.
Ms. Friedman is the widow of previous Cobbs Mill Inn owner Drew Friedman. Mr. Villano is described by the court as Ms. Friedman's business and romantic partner.
Following a June 26 – 28 trial, Judge Sheila Ozalis ordered their eviction, ruling that they "have no legal right" to be there. The judge gave them 15 days to return to the property, supervised, to retrieve personal effects.
Mr. and Ms. Siguenza, doing business as Cleves & Siguenza Properties, LLC, purchased Cobbs Mill Inn from the late Mr. Friedman's estate. Their $1.1 million offer had been accepted in early 2021 by the estate executor and approved in Probate Court over the objection of Ms. Friedman, who argued that the purchase price was too low.
The inn had been shuttered and in limbo since Drew Friedman's death in February of 2016, less than three years after his marriage to Ms. Friedman. Probate Judge Lisa Wexler deemed the sale in the best interest of the estate, noting that, over the course of five years, the property had been shown to prospective buyers 72 times without result.
According to the Superior Court finding, shortly after Ms. Friedman was notified by email of the sale, she and Mr. Villano moved in to Cobbs Mill, had the locks changed, padlocked the doors, and hired two "security guards" to block access.
Those actions brought the matter back to Probate Court, where in June of 2021 Judge Wexler ordered Ms. Friedman to vacate and to revoke permission she had given others (Mr. Villano) to be there. Judge Wexler ruled that only executor Thomas Sargent could legally grant access to Cobbs Mill Inn and said no further trespass, vandalism, or intimidation would be tolerated.
Around that same time, according to Judge Ozalis's finding, Ms. Friedman took it upon herself to list the property for sale with Coldwell Banker without notifying the estate or the Probate Court. The finding says Ms. Friedman testified that this was done as "retribution," that she and Mr. Villano "joined forces with respect to the property as she believed she was cheated by attorneys for the estate."
Questionable claims
Through 2022, according to the court ruling, Ms. Friedman made several efforts to establish that she had an interest in Cobbs Mill Inn. So did Mr. Villano. At various times, according to the court, both attempted to support their claims with documents that were fraudulent.
A document filed at Town Hall by Mr. Villano claimed that he had signed a 20-year lease agreement with Mr. Friedman before the latter's death, and alleged that Mr. Siguenza had removed it from a safe. Those claims, said Judge Ozalis, were proved false.
The judge wrote that Mr. Villano also claimed, without evidence, that he had purchased certain items at the inn from Mr. Friedman. But he admitted at trial that he had only met Mr. Friedman once, and not at the inn, but at a Westport restaurant.
In March of 2022, Ms. Friedman filed an affidavit at Town Hall, one claiming that Mr. Villano had a "a long term lease of the Inn from my deceased husband." The court found the claim to be fraudulent.
The court also found that Ms. Friedman filed a financing statement in April of 2022 with collateral that appeared on a fraudulent bill of sale. A second financing statement filed in June contained another fraudulent bill of sale, according to the court.
At trial, a document purporting to be a purchase and sale contract submitted by Mr. Villano prior to the Siguenza offer, at a higher price and signed by the estate executor, was found to be fraudulent.
The court concluded that the executor's signature "appears to have been copied and pasted from another document that Mr. Sargent signed." Asked who had done so, Mr. Villano "took the fifth amendment."
The defense
The court rejected all points in Ms. Friedman's and Mr. Villano's defense against the eviction, except a note that they should have an opportunity to retrieve their personal effects, which she gave them 15 days to do at arranged times with attorneys from both sides present.
The heart of Ms. Friedman's defense was a claim that she cannot be evicted because she owns 48 percent of the property, and had a perpetual right to occupy Cobbs Mill Inn by virtue of an "oral partnership" she had with her husband to run the property.
Regarding the claimed partnership, in the absence of evidence, the court found her not to be "a credible witness."
To the claim of ownership, Judge Ozalis noted that Mr. Friedman's last will did not name Ms. Friedman as a beneficiary.
The court found no credible evidence that Ms. Friedman owned any portion of the property. The judge noted that Ms. Friedman had negotiated to receive 48 percent of the net proceeds from the sale of Cobbs Mill Inn. But there were no net proceeds. The sale barely paid off the mortgage, and in fact came up $35,000 short, which the bank waived.
The court found that Ms. Friedman had accepted and signed an agreement "which specifically provided what assets she was to receive from the estate," which did not include properties. She "received cash instead," including an advance distribution of nearly $1.5 million and five years of monthly spousal support and payment of all living expenses.
Judge Ozalis added that, "interestingly," Ms. Friedman did not claim ownership of the property when it was "heavily debt ridden" in 2022, but claims an ownership interest in 2023, when it is "free and clear of any mortgages."
Judgment
Judge Ozalis found for the Siguenzas on all counts, ruling that they own the property, that Ms. Friedman and Mr. Villano never had the right to occupy it or store personal property there after it was purchased, that they were properly served notice to leave, but did not.
The judgment gave the Siguenzas "immediate possession," awarded costs, and gave Ms. Friedman and Mr. Villano the limited permission to retrieve personal items.
Joseph Cherico, the lead trial lawyer of McCarter & English representing Cleves & Siguenza Properties, said, "We appreciate that the Judge devoted the time necessary to understand the facts of this case, and we are thrilled for our clients Kleber and Sandra Siguenza. They are excited for the day when they can renovate and reopen this special property."
Still on the docket
The Siguenzas have a lawsuit pending against Elizabeth Rose-Deering, who, according to the filing, organizes and operates tag and estate sales as Deering Rose Organizers. Ms. Friedman and Mr. Villano are also named as defendants.
The lawsuit states that Mr. and Ms. Siguenza became aware of a Cobbs Mill sales event Ms. Rose-Deering was organizing in October of 2022 for Ms. Friedman and Mr. Villano. It alleges that a cease and desist order was sent to Ms. Rose-Deering, informing her that the Siguenzas own all of the property and that an eviction was underway. Despite this, the sale proceeded.
The defendants are charged with stealing property or knowingly receiving and concealing stolen property, embezzlement, obtaining property by false pretenses and false promises, unjust enrichment, and criminal conspiracy. Deadlines for discovery and filing motions extend until the end of this year.
Ms. Friedman is being sued by attorney Stephen Nevas, who represented her in Probate Court, for nonpayment of fees. Ms. Friedman, in a counterclaim, asks for a judgment against Mr. Nevas for malpractice.
Mr. Villano, recently jailed for a few days for removing a court-ordered ankle bracelet and refusing mandatory drug tests (charges he denies), has numerous upcoming court appearances, most not yet scheduled, for arrests in Stratford, Milford, Orange and Shelton dating back years.
Felony charges include forgery, larceny, tampering with physical evidence, burglary, impersonation of a police officer, and intimidation of a witness. Misdemeanor charges include disorderly conduct, breach of peace, reckless endangerment, carrying a firearm while under the influence, and operating a motor vehicle under the influence. He has entered not guilty pleas to all charges.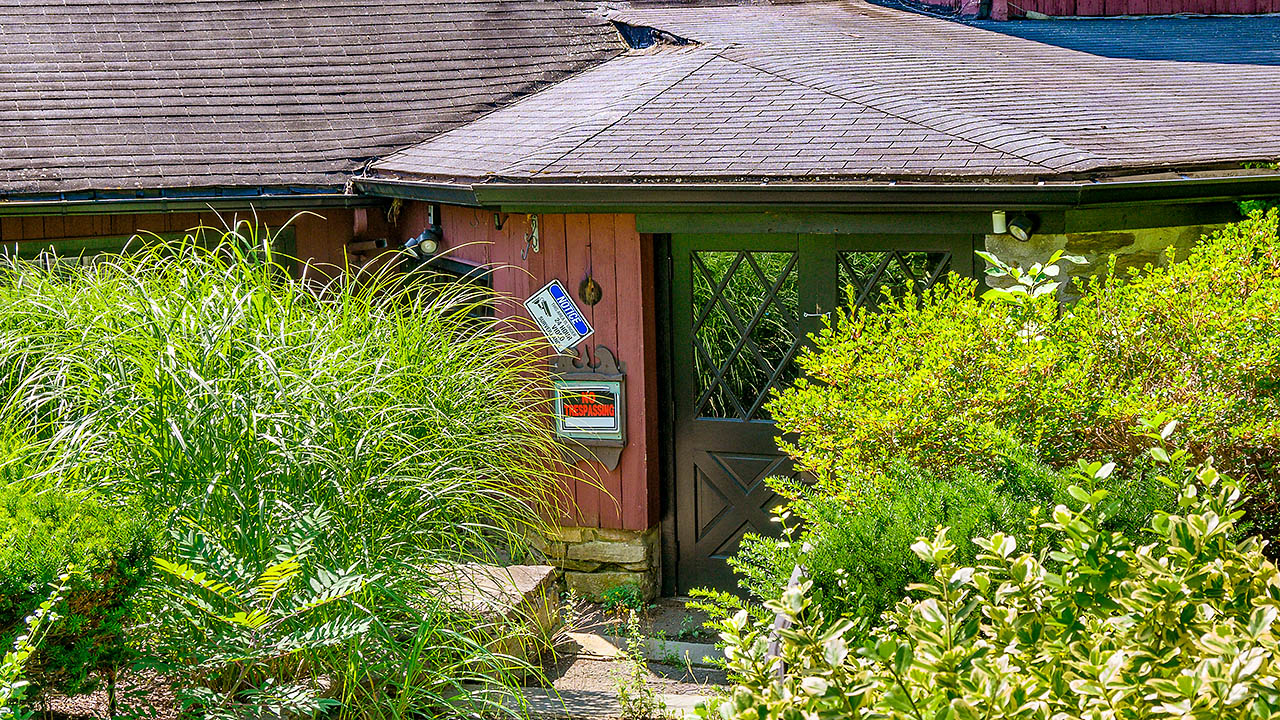 The overgrown entrance to Cobbs Mill Inn, July of 2023