Block Captains Needed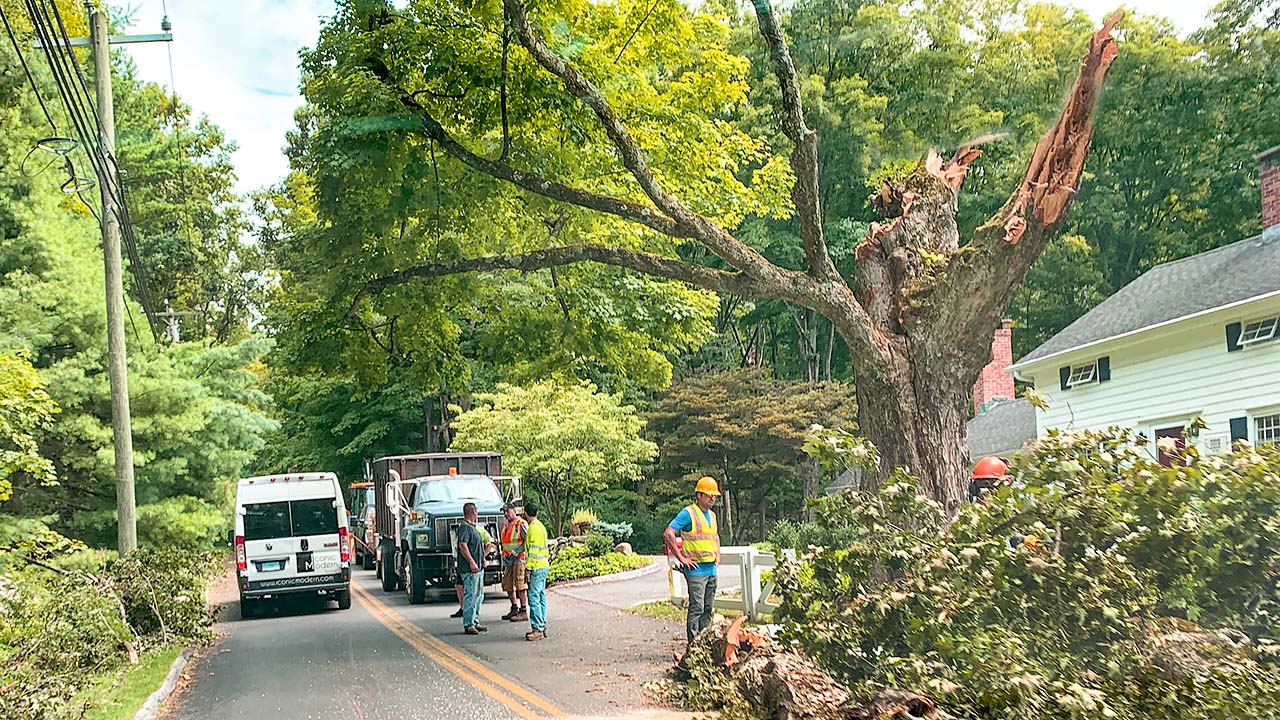 2020 storm damage. Weston Today photo
The town's block captain program is more than a little shorthanded at the moment, so volunteers are needed who can lend a hand as a reliable point of contact in times of emergencies. Think violent storms that knock out power for several days.
Block captains help make sure neighbors know what's going on in emergencies and offer support, especially to those who may be vulnerable or in need of assistance. Their efforts may include identifying nearby residents — on longer roads there may be several block captains — and checking in on them if it is safe to do so.
You can volunteer to be a block captain by contacting Dawn Egan by email or calling (203) 451-4964.
The following is a list where block captains are needed for all or parts of roads:
Arlen Road
Banks Drive
Beaverbrook Road
Bernhard Drive
Bittersweet Road
Brierbrook Lane
Broad Street
Brookwood Lane
Calvin Road
Cannondale Road
Cindy Lane
Codfish Lane
Covenant Lane
Cricket Lane
Curiosity Lane
Deepwood Road
Deer Run Trail
Dogwood lane
Forest Road
Garden Road
Glen Lane
Great Hill Road
Grey Fox Lane
Harvest Lane
Hickory Lane
Hidden Hill Road
Hidden Spring Drive
High Acre Road
High Meadow Road
High Noon Road
Hills End Lane
Hillside Road
Homeward Lane
Indian Valley Road
Laurel Lake East
Laurel Lake West
Little Fox Lane
Lords Highway East
Maple Street
Michael's Way
Narrow Brook Road
Nimrod Farm Road
Nordhold Drive
Norfield Woods Road
North Avenue
North Calvin Road
Old Rock Road
Overbrook Lane
Pilgrim Lane
Pinefield Lane
Pink Cloud Lane
Quail Ridge Road
Richmond Hill Road
Ridge Lane
Rogues Ridge Road
Sasqua Trail
Saw Mill Road
Scatacook Trail
School Path Road
Shinnecock Place
Spring Valley Road
Tannery Lane South
Timber Mill Lane
Tobacco Road
Twin Oak Lane
Walker Lane
Wood Hill Road
Old Easton Tpke (#s 00-76)
West Branch Road (#s 01-24)
Old Hyde Road (#s 116-167)
Norfield Road (#s 1-46)
Eleven O'Clock Road (#s 1-51)
Old Hyde Road (#s 1-56)
Steephill Road (#s 15-72)
Lyons Plain Road (#s 192-253)
Goodhill Road (#s 1-95)
Weston Road (#s 202-252)
Godfrey Road/Pent Road (#s 207-292)
Newtown Turnpike (#s 245-300)
Lyons Plain Road (#s 254-306)
Catbrier Road (#s 4-62)
Weston Road (#s 48-171)
Catbrier Road (#s 63-101)
Godfrey Road/Pent Road (#s 67-136)
Georgetown Road (#s 6-81)
Lyons Plain Road (#s 69-191)
Lords Highway (#s 75-143)
Georgetown Road (#s 81-112)
Valley Forge Lane (#s 87-186)