Weston History & Culture Center Honored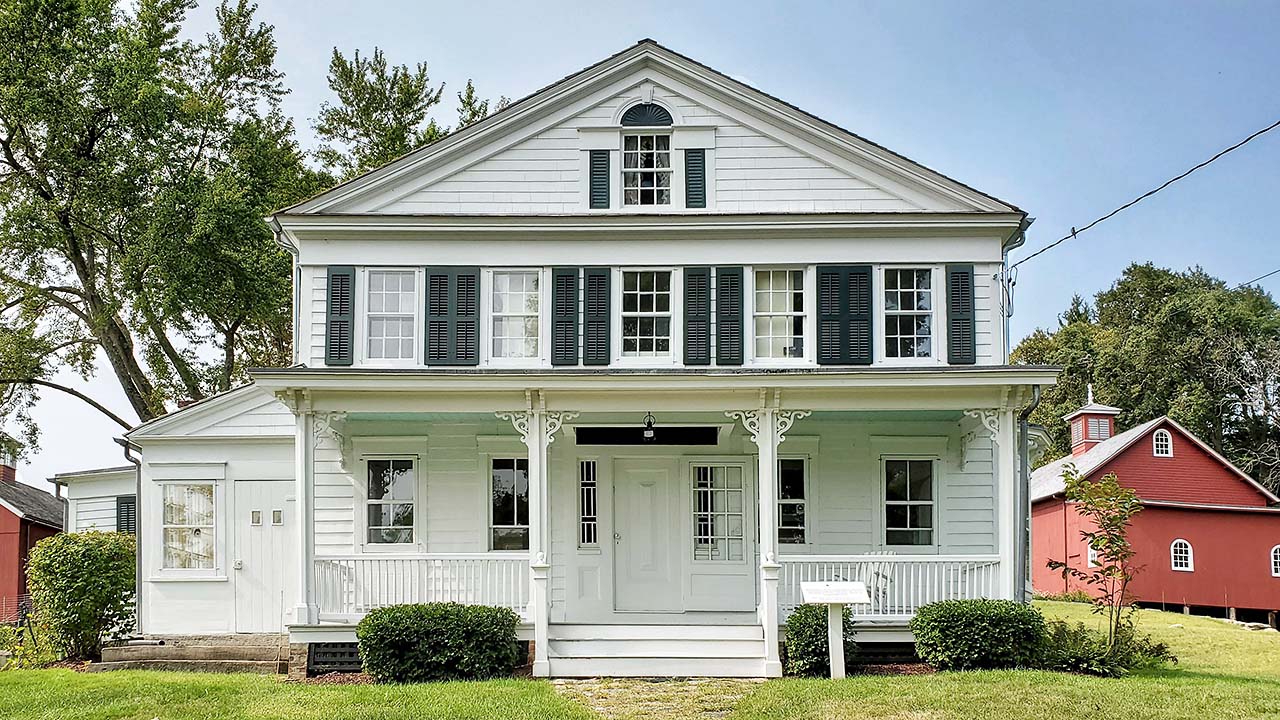 For its remarkable transformation of the historic Coley House into a slice of life in the 1940s, the Weston History & Culture Center has received the prestigious Award of Merit from the Connecticut League of History Organizations.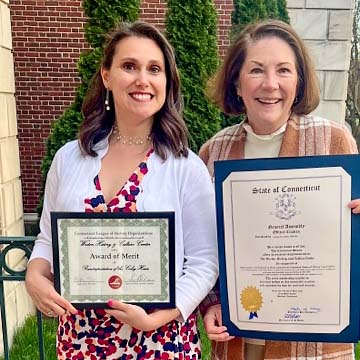 Samantha Fargione, the Center's executive director, and trustee Kathy Failla accepted the award on April 18 at the CLHO's headquarters at Central Connecticut State University.
CLHO Executive Director Amrys Williams said, "the committee found this reinterpretation to be a true gem, reflecting excellent research, a wonderful balance of micro and macro histories, and a thoughtful and creative combination of exhibition and historic room interpretation."
"The project stands out as an example of interpretation of a period rarely covered by historic house museums in Connecticut," said Ms. Williams.
That uniqueness is not lost on visitors to the Coley House, many of whom travel a considerable distance to experience it.
History you can connect with
"People from all over the state came to see the Coley House decorated for Christmas," said Ms. Fargione. "Many of them brought photos of their own from the era."
For some visitors the house offers an opportunity to reminisce about childhood. For others, it is an opportunity for an older generation to connect with a younger one, to share a tangible view of life before cellphones, the internet, and even television.
The influx of visitors was exactly the idea when the Weston Historical Society became the Weston History & Culture Center last year. It was more than a name change.
"Our vision is for the Center to become a destination," said Ms. Fargione. "We always want to have interesting exhibits, but we also want to blend history, education, and culture into unique programs. The Coley House is a good example. We want to be more than a traditional historical society."
In fact, the Center's programs integrate a variety of assets. Concertgoers at the popular Music at the Barn series — which returns on June 4 — can tour the Coley House, stroll around the grounds for a look at Daniel Offutt's sculptures, and take in crafts demonstrations. On June 4, the demonstration is 18th century woodworking.
It's worth mentioning that the Weston History & Culture Center has its annual fundraiser on Saturday, April 29: a whiskey tasting, where one can sample five whiskeys from around the world, enjoy appetizers and cocktails, and maybe win two Jet Blue tickets in a silent auction. Visit the Center's website for tickets.
Also on the website — or at the door — tickets can be purchased for a tour of the Coley House. Through the end of July, guided tours are conducted on Sundays and Thursdays, except certain holidays, at 1:00, 2:00, and 3:00.
For a look inside, see our story from opening day.