Sidewalks Phase 1 Good to Go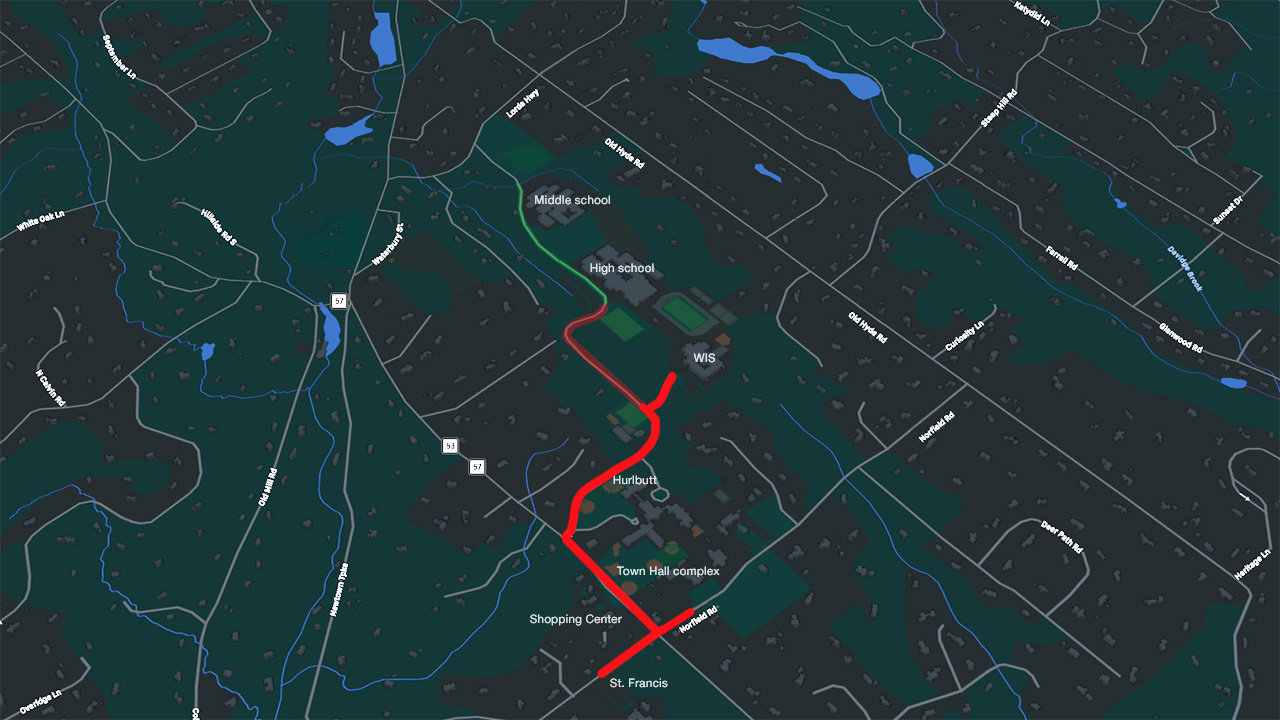 Graphics: Weston Today
The first phase of long-standing plans to build a network of sidewalks around the center of town is officially in motion. Designs have been approved by the state, construction bids are being solicited, and an outreach to state officials has produced additional funding.
This is the phase where sidewalks run from St. Francis to the Town Hall complex, up Weston Road (Route 57) to School Road, then make a right turn and go past Hurlbutt Elementary to the Intermediate School.
In the image above, the sidewalk path is in bright red. In darker red, a stone dust path connects to an existing sidewalk (in green) leading to Weston Middle School.
Later phases two and three, currently in the early design stage, would extend the network to form a 3½-mile loop. More about that in a second.
A long process
A year ago, it was announced that bid solicitations were about to go out. But there were issues.
Among the complications: mid-design word from the Department of Transportation — which must approve all plans, since construction is funded by the state — that a crosswalk and signalization would be required at the intersection of Weston Road and Norfield Road. That added design time and cost.
Then it was learned that town-owned fiber optic cable running along School Road had not been buried deeply enough. Other issues manifested as well.
Last July, the Town engaged engineer Victoria Houle to take the lead on several infrastructure projects, including this one. All issues were addressed with a new design, which was approved this week by the DOT.
First Selectwoman Samantha Nestor said bid notices are going out this week and construction will begin as soon as school lets out. Some work, such as reburying the fiber optic cables, may be done earlier, on spring break.
The bad news is that construction costs for the project have more than doubled. But there is good news in that regard.
Reaching out
It came as something of a surprise in 2018 when the Town was awarded a $397,860 Community Connectivity grant for sidewalk construction, because the Town had never won one before. (The Town is responsible for design costs, $40,000, which have already been budgeted.)
But now, six years after the grant application was submitted, several new design features, Covid-related delays, and prices rising for almost everything combine to make the original grant come up short. By a lot. Cost estimates have more than doubled, rising by $484,500, a 122 percent increase.
Briefing the Selectmen last week, Ms. Nestor said she reached out to Lt. Governor Susan Bysiewicz to see if Weston could qualify for additional funds when a new round of grant applications opens in July.
Ms. Bysiewicz introduced Ms. Nestor to Pam Sucato, Director of Policy and Intergovernmental Affairs for the DOT. Ms. Sucato, the department's key liaison to municipalities, suggested that the First Selectwoman could instead request an addition to the original grant.
Ms. Nestor did so, and four days later received official notification that her request for the extra $484,500 was approved in full.
"I'm so grateful for the advice and support from Lt. Governor Bysiewicz and Pam Sucato at DOT," said Ms. Nestor. "We reached out to the right people, and we had a compelling case. I was told that our project, the first sidewalks in Weston, is exactly what this grant program was meant for."
Phases 2 and 3
Plans for the other proposed sidewalk phases are progressing.
Phase 2, funded by a different grant program, picks up where Phase 1 leaves off, going up past Revson Field to Lords Highway, making a right turn, and ending at Old Hyde Road. A separate section connects the Town Hall campus to Norfield Church. In the image below, the paths are in pink.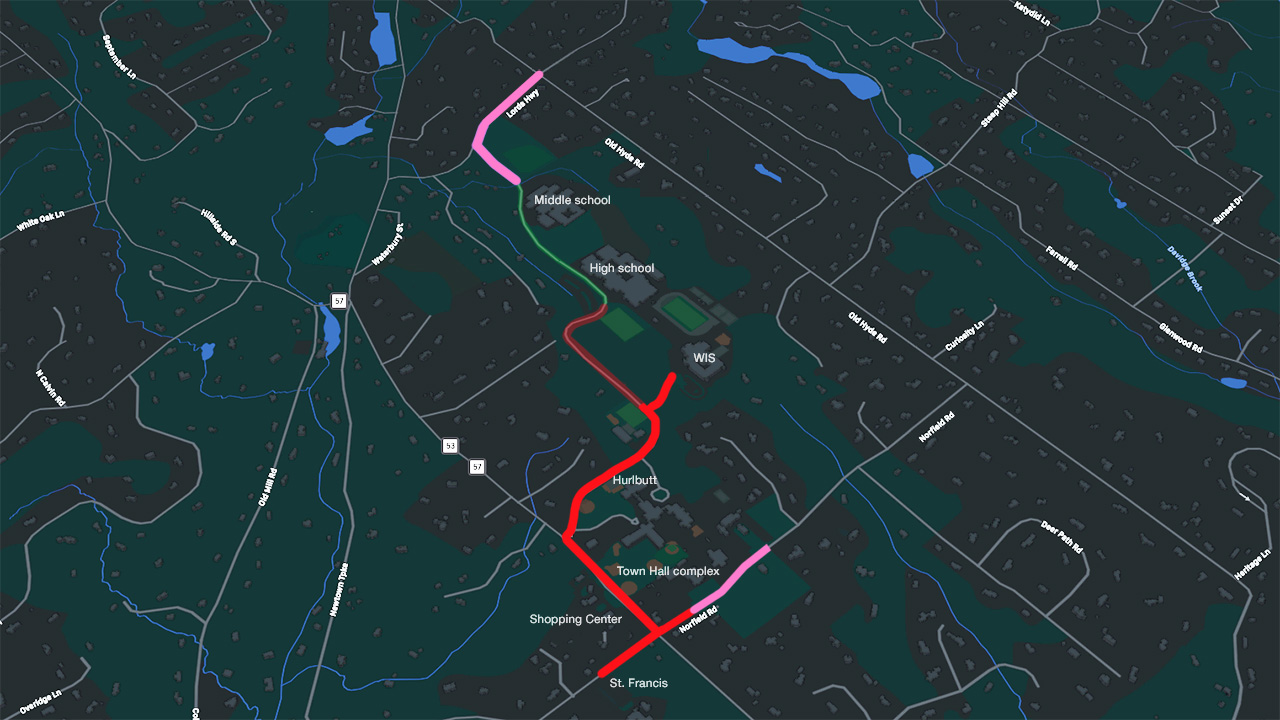 Phase 3 (in orange below) closes the loop. Sidewalks would be built from Lords Highway down Old Hyde Road to Norfield Road, then go right to Norfield Church. 80 percent of costs are covered by a federal grant, administered by the state DOT. If the project is eventually approved locally, the Town will fund 20 percent.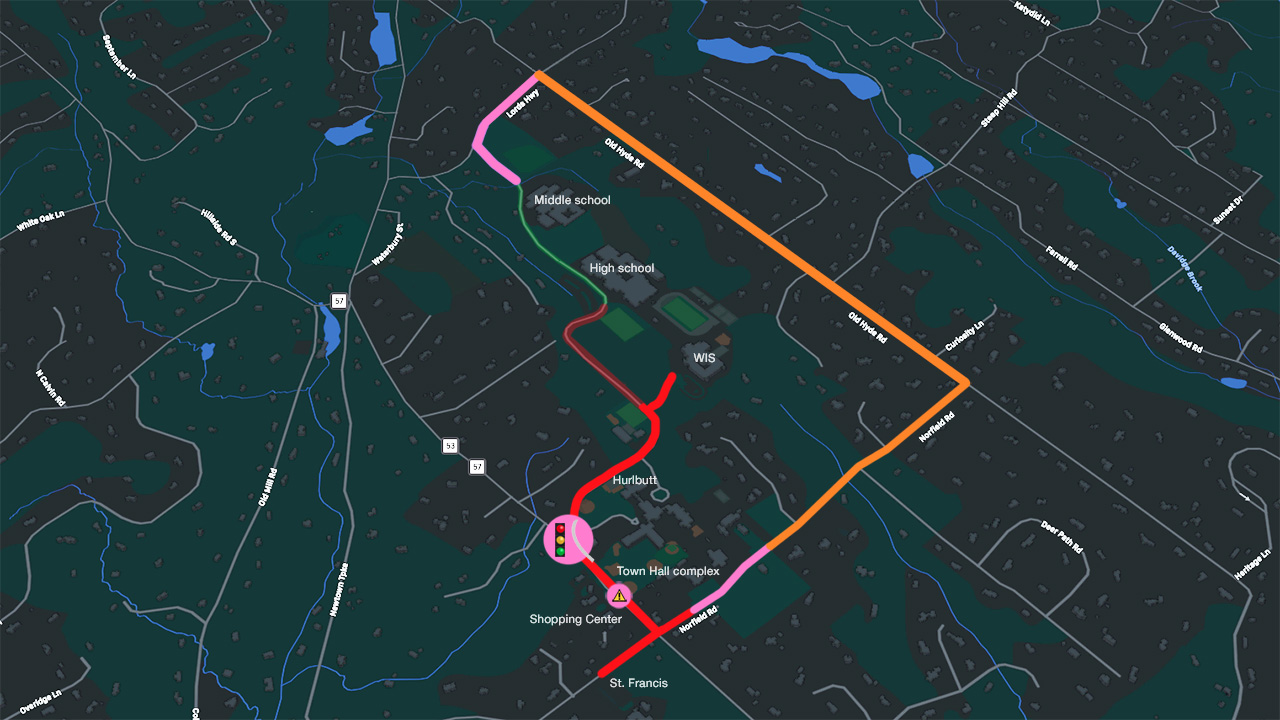 In both cases, First Selectwoman Nestor says design is about 30 percent complete and almost ready to submit to the DOT for approval. Public information sessions and various hearings will be held over the next few months. Meetings with stakeholders along the route of Phase 3 will be held in the next few weeks.