Company Presents "Once Upon A Mattress"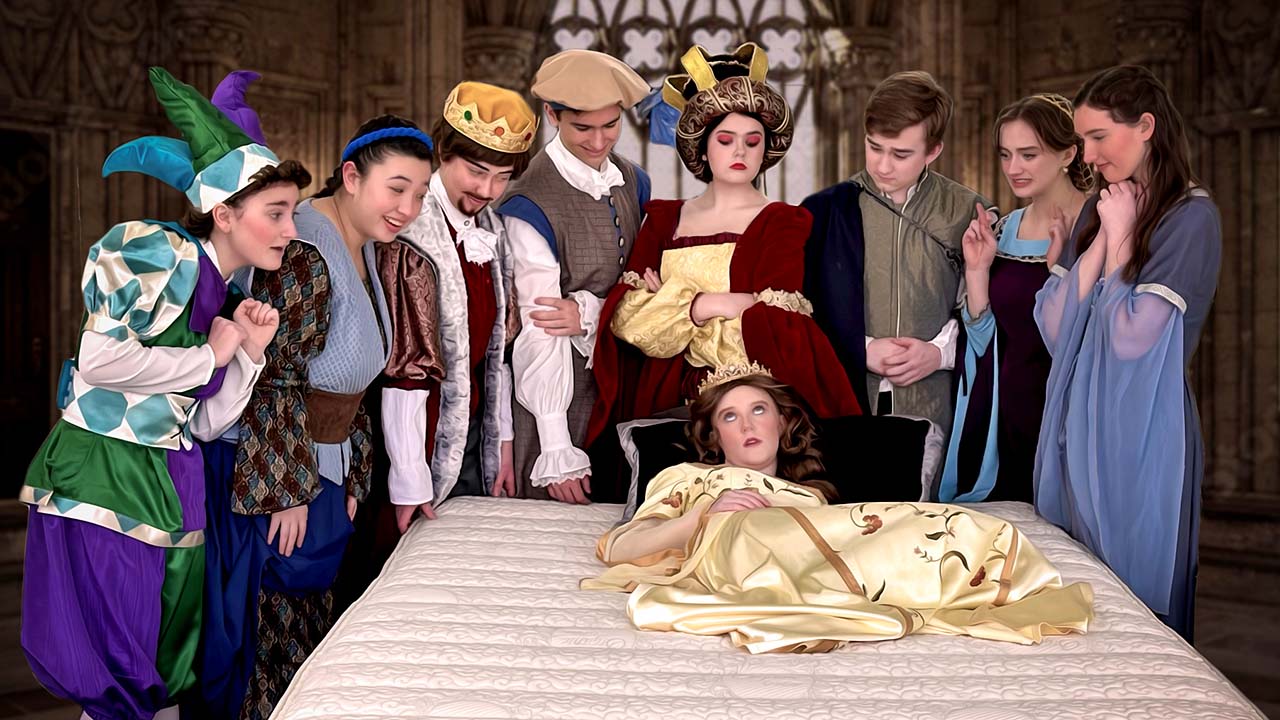 Photo: Jihane Farhat
Weston High School Company's production of "Once Upon A Mattress" takes the stage from March 23 – 26, a rollicking retelling of The Princess and the Pea. As described by Company …
Many moons ago, in a far-off place, a kingdom is held in matrimonial limbo by Queen Aggravain (June Skodis, '24), until her son Dauntless (Patrick Sullivan, '25) marries.
Alas, each royal candidate for Princess must pass a rather unfair test designed to prolong the suffering of lovers like Lady Larken (Madeline Lawler '23, and Emma Seoane '24) and Sir Harry (Brian Lombardi '23).
Hope seems lost after Princess #12 (Aubrey Hankin '24) fails to impress, but Winnifred the Woebegone (Kennedy Boehme '23) swims the moat to rescue the kingdom with her lute playing skills and swamp-grown brazen charm.
Hilariously narrated by the Minstrel (Madeleine Revzon, '23), pantomimed by the mute King Sextimus (Paige Latham '24) and the Jester (Alyssa Pignataro '24), this story will leave you in stitches. Raise the goblet high! A cheer and a toast to #13, for you can recognize a lady by her elegant air, but a genuine princess is exceedingly rare!
Will Winnifred pass the Queen's test? Will she sense the pea under that stack of mattresses? Experience the real story set to Mary Rodgers' musical stylings.
Tickets are now on sale at whscompany.com for shows at 7:00 pm on March 23rd, 24th, and 25th, and for the 3:00 pm matinee on March 26th.
In the photo above, from left to right: Alyssa Pignataro, Madeleine Revzon, Paige Latham, Patrick Sullivan, June Skodis, Brian Lombardi, Madeline Lawler, and Emma Seone. In front, Kennedy Boehme.