Weiner, Miles Excel at State Meets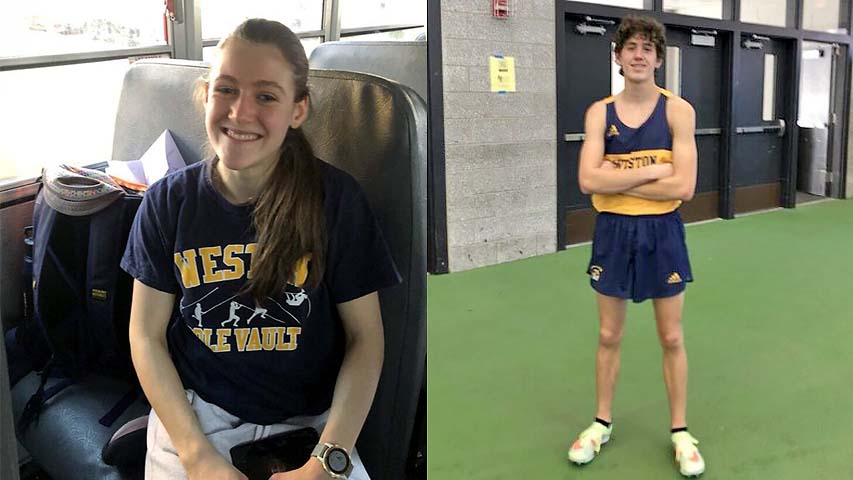 Contributed photos
By winning their final two events, the Trojans Girls Indoor Track team were able to boost their total to 34 points and claim third place at the state Class M meet on February 11. Hillhouse dominated, scoring 82 points to take the championship.
Senior star captain Ellison Weiner defended her title in the pole vault with a leap of 11'6" and also anchored the winning 4x400 relay. She and teammates Sofia Taylor, Isabella Fournier, and Keira Seibert recorded a time of 4:10.81.
Weston's 4x200 and 4x800 relays both placed third, adding 12 points to the total. Taylor, Weiner, Brooke Wagner and Emma Love ran the short relay, while the 4x800 team was composed of Nicole Bartlett, Campbell Clemens, Paige Cobrin and Charlotte Carter.
Sofia Zharyy (shot put) and freshman Fournier (600 meters) added sixth place finishes. Fournier is improving rapidly and was a mere 0.5 seconds behind second place.
The Boys
In the boys Class M tournament, Cameron Miles continued his strong season with a come-from-behind victory in the 1000 meters in 2:36.75, giving the Trojans 10 of their total 15.5 points. East Lyme won the championship with 54 points.
Miles also anchored the fifth place sprint medley relay, with teammates Jay Watson, Tyler Schiffer and Nicholas Masters. The latter three joined Xavier Egurbide on the fifth-place 4x200 relay. Blake Robinson cleared 5'8" to take fifth in the high jump.
Weiner wins State Open
On February 18, Ellison Weiner captured the State Open indoor pole vault championship, tying her lifetime best of 12'0" to repeat as champion.
Weston's long tradition in the girls pole vault includes four indoor Open titles coming in this one event over the past 14 years.
Four other Trojans have gone over the 12-foot mark, a group headed by Connecticut state record holder Emily Savage, who jumped 12'7" in 2013.