EMS President Jon Weingarten Steps Down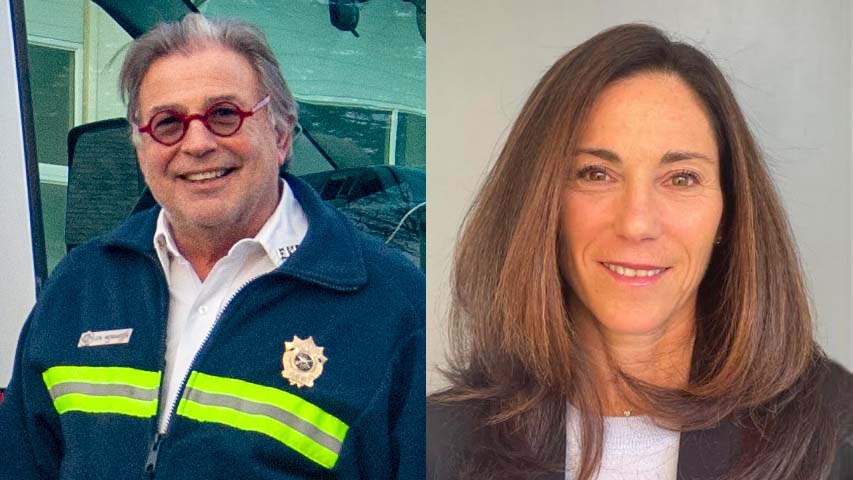 Jon Weingarten and Alycia Angus of Weston EMS
On Monday, January 2, Jon Weingarten, longtime president of Weston EMS, presided over his last meeting before handing over the reins to the newly elected president, Alycia Angus.
Jon has served as a member of Weston EMS since 1979, and as president for the past 26 years. Under Jon's leadership, Weston EMS grew from a one-ambulance department with only basic medical equipment to a well organized, highly-trained group of volunteers who provide emergency medical care 24/7, 365 days a year for free. Weston EMS also provides mutual aid to the towns of Westport, Wilton, Fairfield, Easton, Georgetown and Redding.
Alycia Angus, the incoming president, joined Weston EMS in 2016 and has served as vice-president since 2021. Alycia is the co-founder and CEO of Kids U, a chain of children's recreational facilities and a workforce consultant at Advance CT, a nonprofit economic development corporation that drives job creation and new capital investment in Connecticut.
Michael Schlechter, chief of Weston EMS, had this to say about Jon's leadership: "During my tenure as chief, I've had the chance to work closely with Jon behind the scenes. There is so much that goes into running a system like this and Jon has done it with the same quiet confidence and diligence with which he does everything."
"I've learned so much from him about leadership beyond the running of an organization like Weston EMS. Jon is the most humble person I've ever worked with, and one of the most impactful. I carry his lessons into my 'day job' in management consulting more often than I can count."
"As I look at the status of Weston EMS, I have no doubt that his vision, passion and commitment combined was the force that made us so successful."
"In the final analysis, EMS is about the people — responders and patients, public safety partners, and town leaders, bystanders, and family members. On this Jon was crystal clear. His impact will be felt for generations to come. His successor, Alycia Angus, is smart and capable and has enjoyed Jon's mentorship for some time. She is the perfect fit to continue his stewardship."
Find out more about Weston EMS at www.westonems.com.